One year ago, I was finally willing to risk embarrassing myself by getting on a horse almost 20 years after I had taken lessons as a young girl.
Just how foolish will I look next to a bunch of 8 year olds? Do adult lessons even exist? What is the time commitment? I wondered.
Sound familiar? Maybe you took lessons when you were 10 years old, or your best childhood friend was an equestrian, and you always envied her a bit. Perhaps you went on a trail ride during vacation, and now you want more.
The dilemma as a grown-up can be how exactly to 'get back in the saddle,' whether you have experience with horses, or you have harbored little more than a longstanding dream of riding.
It can be done.
It's been an interesting, challenging, and incredibly fun ride to rediscover and develop my riding skills as an adult, and I'm sharing five tips to encourage other aspiring equestrians to follow suit, so Giddy Up!
1. Do your research.
I scoured the Internet. I asked my friends. I posted questions on Facebook. I slowly compiled a list of potential riding centers and inquired about beginner lessons for adults. You can tell a lot about a stable simply by speaking with the manager over the phone. The more welcoming they sound to newcomers, the better.
Get more advice on finding the right riding lesson program for you >>
2. Don't commit immediately.
Try one stable and see if you're comfortable there. Do they offer the discipline you're interested in? Do you like the instructors? Will other adults be in your group? If you aren't in love with the barn, instruction, the type of lesson horses used, or anything else, it is perfectly reasonable to try others until you find that perfect fit.
I first started at a center that only focused on western training. While it was a nice re-introduction for me, I decided to keep looking until I found a place whose instructors specialize in a variety of riding disciplines. It may take some time and exploration, but finding your ideal riding center is worth the effort in the long run.
3. Make time.
One of the toughest hurdles as an adult looking to cultivate a hobby is making time to do so. Adults have a constant stream of commitments, whether it's a career, family, community obligations, or all of the above.
Mark your riding time on the calendar; if you treat it like an appointment you can't miss, you're more likely to stick with it.
For me, a weekly Saturday afternoon lesson is perfect; my husband can spend time with our children, and I can be away from the house for a bit. For others, it may be one evening after work or an early Sunday morning. Committing to a routine and making it a habit will improve your riding skills and your familiarity with the barn, horses, and fellow riders.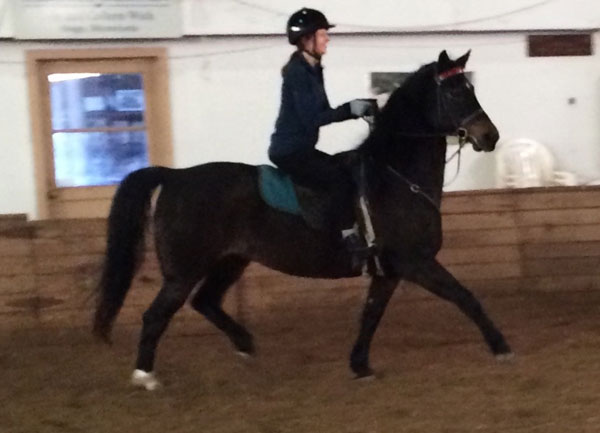 4. Cultivate horsey friendships.
Horse people get it. They are the people who understand the simple joy of grooming a horse or improving your posting trot. They know the fun of splurging on a new pair of boots or attending a horse show.
Find a few friends where you end up riding, or try volunteering at a horse non-profit to meet likeminded people. I met several good friends who share my passion for all things horse-related when I volunteered at an equine therapy program. Your horse pals will be the ones who will keep you motivated on your new equestrian journey.
5 reasons why horse friends are the best friends >>
5. When in doubt, trail ride.
If you're still unsure where to begin, sign up for a guided trail ride with a riding facility in your area. It'll spark your interest, reintroduce you to the joy of riding, and give you the confidence you need to get back on that saddle for good!