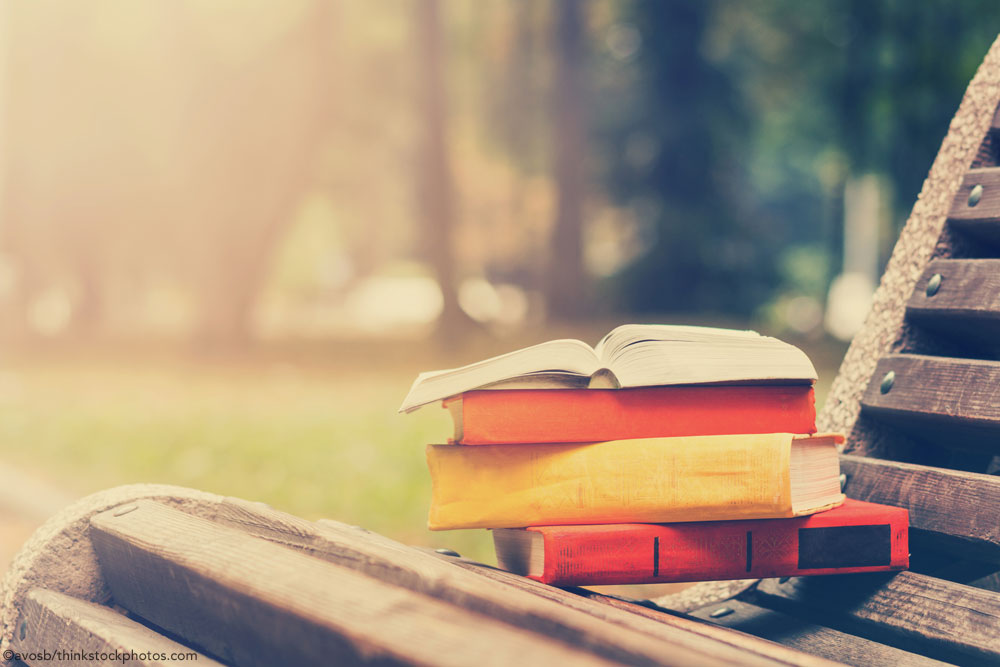 Summer vacations are great—unless you (gasp!) can't take your horse with you. Then it just becomes a period of time in which you're separated from your equine best friend. But while you're relaxing at the beach, soaking up the sun, you can stay close to your horse in another way: by reading books about horses, of course!
Our Summer Reading List has 20 options to help pass the time on your vacation. Before you know it, you'll be home again and back to your horse! (Don't you love a story with a happy ending?)
Misty of Chincoteague by Marguerite Henry (no matter what your age, this is a must-read summer classic.)
101 Ground Training Exercises for Every Horse & Handler by Cherry Hill (boy, is your horse going to be surprised when you get home and start on some new stuff.)
Wonderful World of Horses Coloring Book by John Green (because coloring is fun at any age!)
The Most Glorious Crown: The Story of America's Triple Crown Thoroughbreds from Sir Barton to American Pharaoh by Marvin Drager and Ed McNamara (learn about some of the most amazing Thoroughbreds in history.)
Braiding Manes and Tails: A Visual Guide to 30 Basic Braids by Charni Lewis (it's makeover time for your horse when you get home!)
The Horse Conformation Handbook by Heather Smith Thomas (so next time someone says "pigeon-toed," you'll know what they mean.)
Draw 50 Horses: The Step-by-Step Way to Draw Broncos, Arabians, Thoroughbreds, Dancers, Prancers, and Many More… by Lee J. Ames (because summer is the perfect time to cultivate your artistic skills.)
Horse Owner's Field Guide to Toxic Plants by Sandra Burger and A. P. Knight (brush up on your knowledge of toxic plants—it's a good skill to have.)
Black Beauty by Anna Sewell (it's a classic—you should read it again.)
Stables: Beautiful Paddocks, Horse Barns, and Tack Rooms by Kathryn Masson and Paul Rocheleau (summer is the time for daydreams!)
Chicken Soup for the Horse Lover's Soul: Inspirational Stories About Horses and the People Who Love Them by Jack Canfield and Mark Victor Hansen (perfect for times when you need a little encouragement.)
The Field Guide to Horses by Samantha Johnson and Daniel Johnson (yes, I wrote this one.)
My Friend Flicka by Mary O'Hara (another must-read classic.)
The Essential Fergus the Horse: The Life and Times of the World's Favorite Cartoon Equine by Jean Abernethy (for the lighter moments of summer.)
Horse Owner's Veterinary Handbook by Thomas Gore, Paula Gore, and James M. Griffin (when you are in the mood for some serious studying.)
And Ride Away Singing by Mary Jane Parkinson (hard to find but OH-SO-WORTH the read… the story of Bazy Tankersley and the Al-Marah Arabians.)
Equine Color Genetics by Dan Phillip Sponenberg (the answers to all the questions you've ever had about equine color genetics.)
Summer Pony by Jean Slaughter Doty (because it's, um, summer.)
Complete Training of Horse and Rider by Alois Podhajsky (another must-read classic.)
Scarlet Royal by Anne Emery (if you can find it—read it!)
What's on your summer reading list? Which ones have you read on this list?
Samantha Johnson is a freelance writer and the author of several books, including The Field Guide to Horses, (Voyageur Press, 2009). She raises Welsh Mountain Ponies in northern Wisconsin and is a certified horse show judge. Follow her on Twitter: @miraclewelsh.