My heart was racing a mile a minute. I remembered all too well the adrenaline rush I had felt many times before as the imposing 7-ton bull elephant strolled in our direction as we carefully made our way through the thick undergrowth on horseback. We were in the depths of Kenya, and I was truly in heaven.
For any rider, game viewing in Africa on horseback is, without doubt, a bucket-list item. To canter alongside giraffes or zebras, and then get within a hair's breadth of the continent's largest inhabitants—there really is nothing else quite like it.
On my most recent trip to Africa, a short stay in Kenya took me to the stunning Olepangi Farm, home to the exciting new equestrian venture, Go Wild Africa.
Go Wild Africa has been a lifelong dream for owners Clinton Lucy and Elizabeth Loker, who have spent the past three years investing in this stunning 120-acre property, which welcomes equestrians and wildlife enthusiasts all year round.
This affable couple has been involved in horses all of their lives and, aside from this business, often spend their weekends playing chukkas at the local polo club in Nairobi.
Warm Welcome
On arrival to Olepangi Farm one early autumn afternoon, I was greeted by their marketing manager, Louise Holman-Baird, a British citizen drawn in by the beauty of Kenya who had been instrumental in setting up Go Wild Africa several months earlier.
Designed by American architect Elizabeth Calabrese, the main "round house" and adjacent cottages at Olepangi resemble something out of a fairytale with their spectacular thatched roofs and wooden balconies.
Not surprisingly, inside they are also finished to the highest standards. Four-poster beds are a welcome retreat after a long day in the African sun.
Head chef Stephen learned much of his trade in Spain, and, as expected, did not waste any time in impressing me and my five fellow riding guests with his culinary skills at our welcoming lunch and again that night at dinner, with filet steak being the order of the day.
Ready for Riding Adventure
A few hours earlier we'd all had an opportunity to meet our horses at the stables and enjoy a leisurely ride across the private farm to become acquainted with our trusty steeds, and also to give Louise an idea of our riding ability.
Although the riding is not as fast-paced as other outfitters in Kenya, riders must be competent at all paces on varied terrain.
Over dinner I had a chance to meet Clinton's son, Stewart, another polo fanatic who had returned from a stint in Australia to lead some of the busy rides through the Lolldaiga Hills. A high-goaler with many wins under his belt, he was equally at home on one of the many Thoroughbreds used as safari horses on the farm.
Many of the horses have come following short careers on the racetrack, with others being sourced through Louise's many connections within the Kenyan equestrian community.
After a lazy evening chatting in the spacious lounge, I was happy to retire to my bed before 11 p.m. The next morning, we had a 7:30 a.m. breakfast ahead of what would be a four-hour ride into our campsite on the privately-owned Lolldaiga Ranch for the next four days.
Owing to my obvious rustiness after a lengthy absence from the saddle, I was paired up with a delightful Thoroughbred mare named Segera. I was assured she would take good care of me throughout my stay.
I need not have worried though, as within the first hour I was totally relaxed and enjoying every minute of our many canters across the grassy vistas.
Stewart takes guiding in stride, and his quick wit made for an entertaining few hours as he shared with us the history of the ranch and the unique opportunity given to guests who choose this particular four-day ride.
Stunning Scenery
Set on some 49,000 acres, Lolldaiga Ranch is said to be one of the most beautiful properties in the country. We were not disappointed as we encountered zebras, giraffes, elephants and a wide range of antelope as we weaved our way through a network of trails in the warm morning sun.
The immense organization of companies such as Go Wild meant that our campsite had been hand-picked weeks earlier to ensure the best views of this stunning landscape. As we rode into camp in time for lunch, there before us was wilderness as far as the eye could see. It was truly breathtaking.
Riding safaris are all about adventure. Naturally, everyone was keen to check out our camping arrangements, especially our bathroom facilities. Fly camps on safari are certainly not for everyone, with one-bucket showers and hole-in-the-ground latrines among the facilities provided by most outfitters. The option to share is open to all guests, but on this occasion I was happy to be the sole occupant of a rather spacious tent.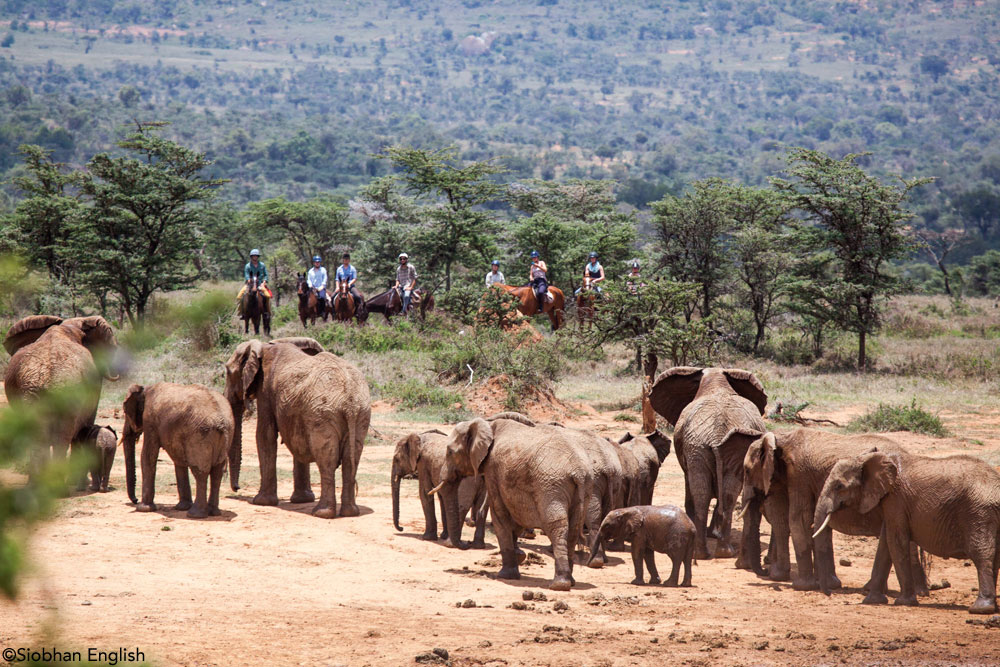 After a lazy lunch and power nap, the wonderful sight of a herd of elephants passing through camp was followed by a fun evening on the hills, where a local named Hunter Marian treated guests to paragliding from one of the highest points of the ranch. The rest of us sipped our drinks on the rocks as we watched the sun go down.
Stephen and his team served up another delicious dinner from their mobile kitchen that night. Afterward, we sat around the campfire sharing travel tales before retiring to bed for a good night's sleep.
In the Wild
Wakeup calls at 6 a.m. are common on riding safaris to avail of the cool morning air. But Kenya in autumn is perfect for riding, with temperatures never rising above the mid-70s. Nights, however, can be cool, so much so that our horses were always snug in their blankets along their tie lines adjacent to camp.
I was keen to get some photos, so for my second day in the Lolldaiga Hills, I decided to follow alongside the ride in the Jeep with one of the guides.
Elephants are in abundance in the Lolldaigas, and it wasn't long before a close encounter with the riders made for some exciting viewing. Soon after that we spotted a small herd of buffalo, then an African wild dog hiding in the long grass.
Long canters across open terrain made for some wonderful images before the riders made their way to a nearby watering hole to give the horses a welcome drink before returning to camp. It had been a five-hour ride, and lunch was calling.
Another relaxed afternoon saw us take to the Jeep for some more game viewing across the western side of the ranch. Deep in the valley we spotted some female elephants and their calves on the move. Our road trip back to camp gave us a prime opportunity to spot some nocturnal animals, such as the adorable bush babies heading out on their nightly feeding ritual.
A tip-off that night alerted me to a surprise bush breakfast on the hill overlooking Mt. Kenya. This was one of the many highlights of the week for everyone as we gazed in amazement at a large herd of giraffes (called a "journey") as they passed just a few hundred yards from our table.
As the riders moved on after breakfast, a guide and I took the game Jeep toward one of the many watering holes and saw a herd of some 40 elephants wandering in for a morning dip.
To be able to watch such a close family community wallow in their mud bath was truly memorable, and one of the main topics of conversation that night. The other was our brief sighting of a lone leopard setting off for a night's hunting at dusk.
As we gathered for our final breakfast, not surprisingly, no one wanted to leave. Our time at Lolldaiga Ranch had sadly come to an end, and we now prepared to make the four-hour ride back to Olepangi Farm, where we went our separate ways.
We had arrived as strangers, but left as good friends. The hope is that, one day, we can reunite in Kenya to do it all once again.
Go Wild Africa is situated in Timau, a four-hour drive from Nairobi. It operates year-round and offers a wide range of activities for riders and non-riders. For further details, go to gowildafrica.com
Siobhan English is an Irish-based photojournalist specializing in the equestrian industry. She writes for numerous publications worldwide.
---
This article originally appeared in the March 2016 issue of Horse Illustrated magazine. Click here to subscribe!