Although I've lived on both coasts as well as in the Midwest and have driven cross-country a few times, somehow I'd never made it to Montana. I jumped at a chance to go on my first ranch trip, which just so happened to be in this beautiful state.
The Ranch at Rock Creek is much more than your average guest ranch. It's a five-star luxury resort that manages to maintain all of the rustic charm you hope for when taking a ranch vacation. Based on the East Coast, owner Jim Manley spent 20 years searching for the perfect parcel of land to buy for his friends and family to vacation on, and in 2010 he opened it to the public as a resort.
Situated a comfortable distance from the small town of Philipsburg, Mont., the Ranch covers 6,600 wild and beautiful acres at 5,200 feet elevation. Formerly a working cattle ranch, the property was first homesteaded in the late 1800s.
And if you like food—who doesn't?—The Ranch at Rock Creek has some of the best food I've ever tasted. Executive chef Josh Drage uses locally sourced organic ingredients to cook up dozens of imaginative dishes that pay tribute to the region.
Planning an equestrian vacation? Here's how to pack for it >>
Another nice perk when coming to the Ranch is that you can pack lightly. The Rod & Gun outfitters provide all of the gear needed for any of the activities. In addition to horseback riding, there's fly fishing, many types of shooting, archery, a ropes course, mountain biking, hiking, geocaching and wildlife tours. The Ranch is open year-round, and winter activities include snowshoeing, ice skating, cross-country skiing, snowmobiling and sleigh rides.
Getting Acquainted
After landing at a small but efficient airport in Missoula, Mont., a driver from the Ranch was ready and waiting to transport me and several other guests the 100 or so scenic miles back to the ranch. I took pictures out the window the whole ride because the landscape was so stunningly unique—steep hills rising out of green flatlands just off the roads and highways.
After arriving and touring the grounds, I was excited to see my room. It turned out that I would be "glamping" in one of the permanent canvas tents—exactly what I'd hoped for. Not to worry, they all have fully built-out bathrooms and cozy gas fireplaces for heat. Since the tents are lined up along the ranch's pristine private stretch of Rock Creek, each one is named after a species of trout; mine was Brook. Each tent has a private screen porch facing the creek where you can relax while reading or listening to the water.
If you don't like the idea of a tent, you can stay in rooms at the Granite Lodge or Historic Barn, or rent out cabins of various sizes.
Since the tents are a ways from the lodge, each guest is provided with a mountain bike for getting around. (You can always call the front desk if you'd prefer to have someone pick you up in an SUV.) Dress code is jeans/casual at all times, which makes hopping around between meals and activities a breeze.

Upon arrival at the lodge for dinner, we were served the chef's tasting menu, made up of five delicious gourmet courses. Each one was unique and something I'd never tried before, all plated beautifully.
Equine Excursions
Daylight comes through the tent canvas at around 5:30 a.m. in the summer, and I actually panicked for a second that I'd overslept. Since my body was on Eastern time, I was wide awake and ready to go, but waited until around 8 a.m. to go up to the Granite Lodge for a hot breakfast. I was so blown away by the lemon ricotta blueberry pancakes that I proceeded to get them the next two mornings as well.
At last it was time to head to the stables for my first ride. The head wrangler, Joe, had picked out a special horse for me to ride, one that he was trying out to be the personal mount for the ranch's owner. There are over 70 head of horses on the ranch, around 40 of them safe for beginners to trail ride. Many of them are Quarter Horses, although there are also drafts and a variety of other types—certainly something for any rider's ability.
We set off in a small group led by Joe and two other wranglers. Since Rock Creek is down in a grassy valley, there's nowhere to go but up, up, up! The hills that rise steeply out of the valley give the horses a real workout and quickly ascend to the most beautiful views you can imagine. Even though it was late May, there were snow-capped peaks in the distance. The landscape varies from cattle rangeland to forests, all with plenty of rugged terrain to keep you busy actually riding your horse.
Before I knew it, time had whizzed by and we headed back down the hill for lunch, where I devoured an amazing grilled steak salad. Since I'd signed up for riding again in the afternoon, I biked back to the barn. This time I got to ride wrangler Joe's own horse, Skipper. He was a very stocky, sleek dark bay—gorgeous. As we picked our way up a rocky slope on the other side of the ranch, he was sure-footed and perfectly behaved. Old logging roads wound around the hills, providing the perfect means to get up the steep terrain. The views and landscape were entirely different than where we rode in the morning, and after a challenging climb, it was time to turn back.
That evening we had dinner and a hoedown at the Buckle Barn. This enormous space is used to hold events like wedding receptions, and has an indoor grill and exhaust hood the size of a car that was fired up cooking our food. Before dinner, we went outside to play lawn games and practice roping dummy calves. Dinner was served in a buffet line, and once again all of the food was fresh and fabulous. As the sun set, a line-dancing lesson commenced, with everyone laughing, stomping and clapping as we learned different dances to every song.
On the Ropes
On day two I couldn't wait for my morning activity—the ropes course! I'm a teeny bit of an adrenaline junkie, and swinging and dangling 35 feet in the air seemed like a good idea.

After a safety orientation, we scaled our way to the first platform. Built just last year, there are six lower elements and 13 at full height, making the course suitable for kids or thrill-seeking adults.
After almost two hours of crossing logs, swings and wires, it was time to zip line down to the ground. Unlike other zip lines, this one didn't have a handlebar. Once the guide clips you onto the pulley, you just jump off the platform 40 feet above the ground as auto-brakes above you slow your descent along a 45-degree wire to the ground. This proved too big a leap of faith for some in the group. Since I went last, I had the advantage of watching for a while, so when my turn came, I just ran to the edge of the platform and took a flying leap off. It was a total blast, and I even managed to land on my feet without falling down. (We were told it was about 50/50 for first timers.) Mostly I just didn't want to get my pants dirty.
We concluded with a session on the outdoor rock-climbing wall for anyone who wanted to try it. I'd never done one before, so I figured why not. I'm glad I did, since it turned out to be my favorite part of the course. Scaling the wall was just like being a kid again, climbing as high as you could.
Rodeo Nights
My afternoon was scheduled back at the barn, where the wranglers were all practicing for the evening's rodeo activities. I got to ride a third horse, Ferrari, a former reiner. Unlike his name, Ferrari much preferred to move at a very slow pace.
He'd never run barrels, and it had been almost 20 years since I had ridden barrels at summer camp, but the girls gave me a lesson and we had a few practice rounds. Wrangler Joe asked if I'd like to compete at that night's rodeo; this was definitely an offer I couldn't refuse.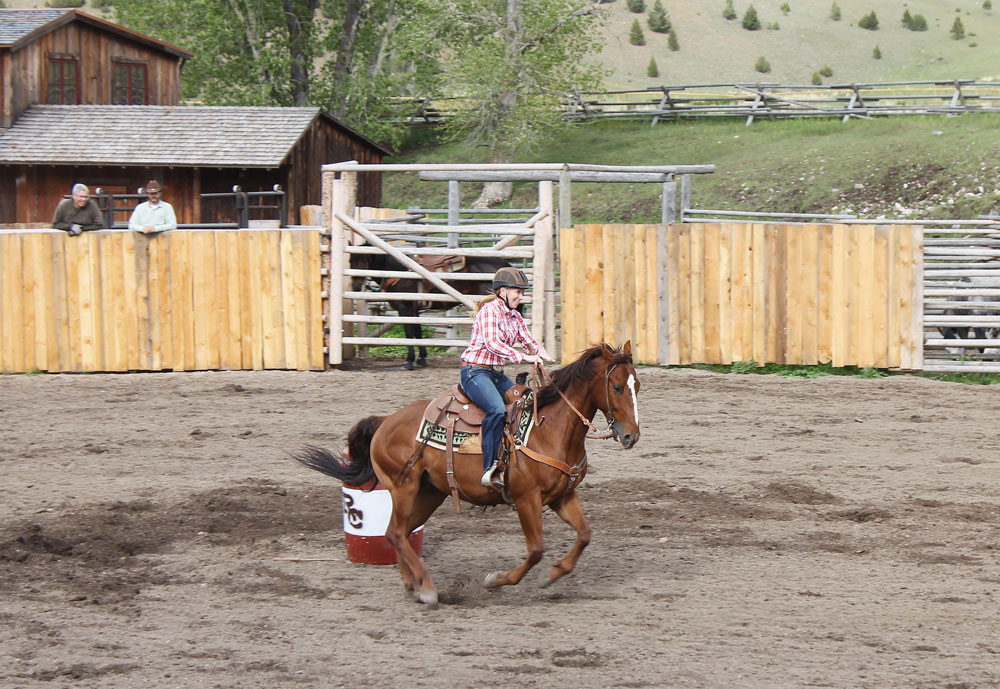 Come rodeo time, it was exciting waiting in the wings for the barrel event, and soon it was time to go. Our time was probably a little embarrassing compared to the 20-year-old wranglers on their experienced barrel horses, but it was still a hoot.
After a few more events like bronc riding and team roping (local rodeo pros were invited to test their skills), the festivities concluded with a casual barbeque at the Blue Canteen, a tent kitchen near the cabins. The food, as usual, was delicious and had me going back for seconds … maybe thirds if I'm being honest.
A few of my new friends and I decided to check out the Silver Dollar Saloon after dinner, and I'm glad we did. There's a full-size four-lane bowling alley (complete with shoes to borrow), a movie theater, pool table, darts and karaoke. Drinks at the saloon are served to guests seated on western-saddle stools, a fun and clever touch. We bowled until our arms gave out and then headed back to our tents while there was still just enough light for biking.
One Last Hurrah
The next morning I was scheduled to leave for the airport, but since my flight was later in the afternoon, I was able to get in one more activity before departing. I chose to do archery, something I've always wanted to try.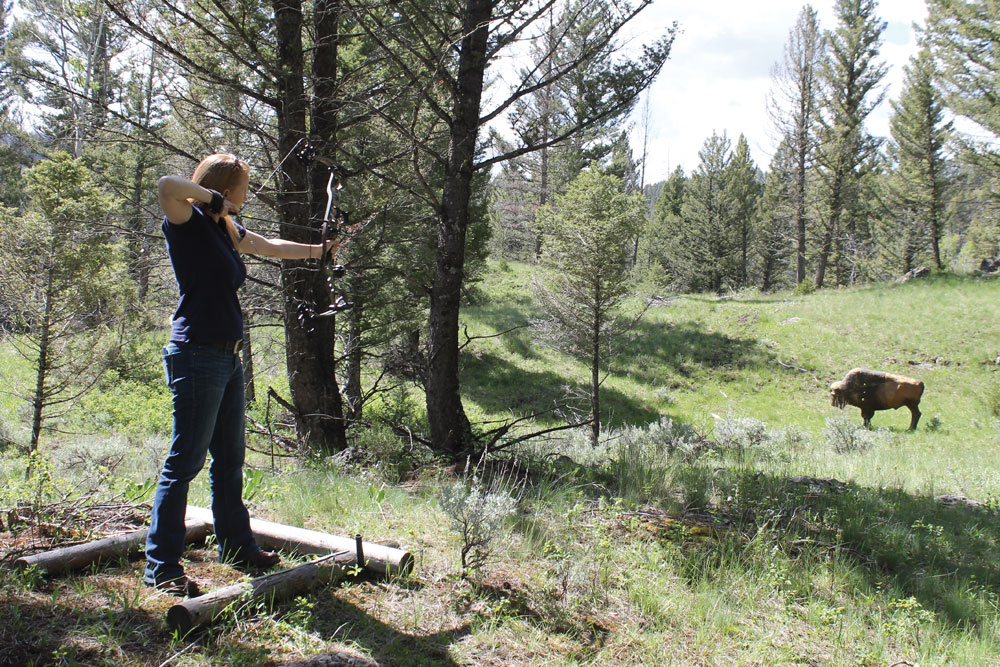 After a lesson in how to use the Ranch's high-tech bows, we hiked up and down some steep paths on a target course complete with foam deer, bison and other woodland creatures. I was very glad they weren't real because it took some practice before any of us could make an accurate shot.
Before I knew it, a driver was whisking me off to the airport. It was sad to bid farewell to Montana, but I'm hoping to return again soon.
Visit www.theranchatrockcreek.com for more information. Special thanks to Ariat for providing apparel and boots for this trip, and to Troxel for providing the helmet.
---
This article originally appeared in the November 2015 issue of Horse Illustrated magazine. Click here to subscribe!