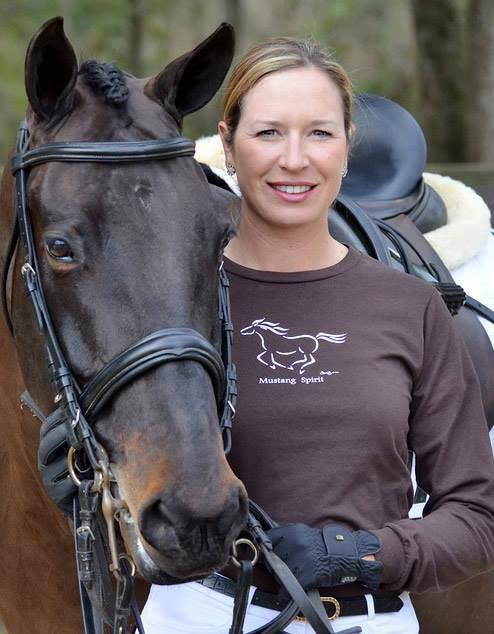 Any breed of horse can compete in dressage, but as you look further up the levels, the competitive field becomes a bit less diverse. Tall, muscular European warmbloods dominate the upper levels as they have been bred for generations to do.
Cobra is an American Mustang, selectively bred by nature for traits that optimize survival in the wild. In spite of that inauspicious start to life, the now 10-year-old gelding has been a serious contender in both the traditional and western dressage arenas, competing—and winning—against those purpose-bred warmbloods. His owner/trainer, Marsha Hartford-Sapp, describes how her relationship with Cobra began.

"Cobra came to us as part of the Extreme Mustang Makeover in 2010," says Hartford-Sapp. "That year, trainers were allowed to select the horses they'd compete on. I saw a 15 second video clip of Cobra and then bid on him. He was six at the time and had never been touched by human hands."
The Extreme Mustang Makeover is an initiative of the BLM's Wild Horse and Burro Program and the Mustang Heritage Foundation. In these events, trainers are paired up with a wild horse that they then train for 100 days. At the end of that period, the trainers show off what they've accomplished with their horses at a competition.
In 2010, participants in the Makeover selected their horses from a herd of what are known as "three strikes" horses. These Mustangs had been through public sales and passed over for adoption three times. The trainers in that year's event would be tasked with showing off what a so-called "unadoptable" horse can do.
Mustangs have a loyal following in certain segments of the horse world, particularly in working western and trail riding circles, but Hartford-Sapp, whose business is centered on hunter/jumper and dressage training, had something else in mind when considering a horse for her Mustang Makeover project.
"I was looking for more of an English type horse, which is different from what other trainers were looking for," explains Hartford-Sapp. "I wanted something more uphill with a better shoulder reach and drive from the hind."
Cobra fit the bill conformationally, and his good looks didn't hurt, either. With his dark bay coloring and four socks that accentuated his movement, he had a sport-horse look that stood out from the others in the herd.
"The Extreme Mustang Makeover is very much a western-focused show, even though you can show in any discipline you want," says Hartford-Sapp. "So the first days of [under saddle] training were more western. I taught him to spin and sliding stop, and I worked cows on him because that was part of the competition that year, and he quite liked it!"
Dressage Beginnings
Hartford-Sapp didn't have an agenda for Cobra's training following the Makeover, but it wasn't long before his talent for dressage emerged.
"After the makeover, I turned him out for a couple of months because he'd had a lot of training in a short period." says Hartford-Sapp. "I started doing dressage later that winter. He took right to it; we went to local shows and he did well, and that piqued my interest in pursuing dressage with him."
Cobra's record in the traditional dressage arena is remarkable for any horse, and more so for one who was completely wild for the first six years of his life. Together, Marsha and Cobra competed at First, Second and Third level and obtained all of the scores needed for Marsha to earn a United States Dressage Federation [USDF] Bronze Medal within a five-month period.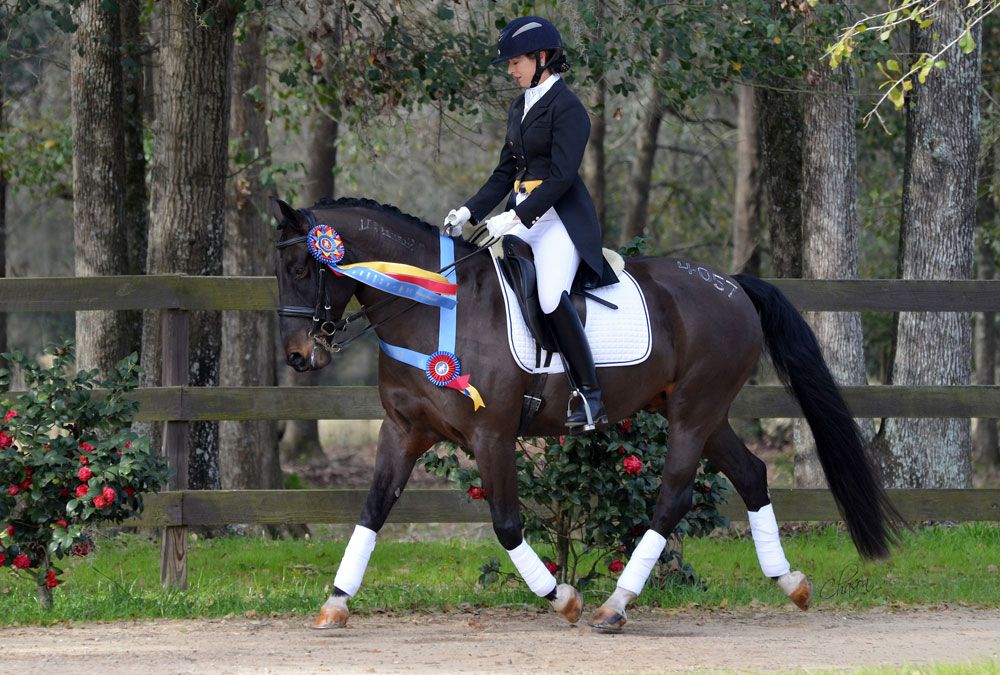 In his first year showing, Cobra earned the Adequan/USDF All-Breed Award Reserve Champion title for First Level. The following year, he earned the All-Breed champion title for Third Level and the year after that, 2015, he won the title for Prix St. Georges.
Also in 2015, Hartford-Sapp earned her USDF silver medal with Cobra. A silver medal requires riders to earn two scores above 60 percent from two different judges at both fourth level and Prix St. Georges and is a notable accomplishment for any rider on any horse. To earn this award with a Mustang who had been completely wild until five years earlier was an exceptional achievement. But Cobra and Hartford-Sapp found more challenges to take on.
Discovering Western Dressage
"I started to pay attention to western dressage when it became a United States Equestrian Federation [USEF]-recognized sport three years ago," says Hartford-Sapp. "I found it interesting because I do have a western background and I wanted to find something my Mustangs could do.
"Cobra's a little different [from other Mustangs] because I can show regular dressage with him," Hartford-Sapp continues. "Most Mustangs are a little smaller than other breeds and they're a different type, so traditional dressage isn't always the best fit. But western dressage is."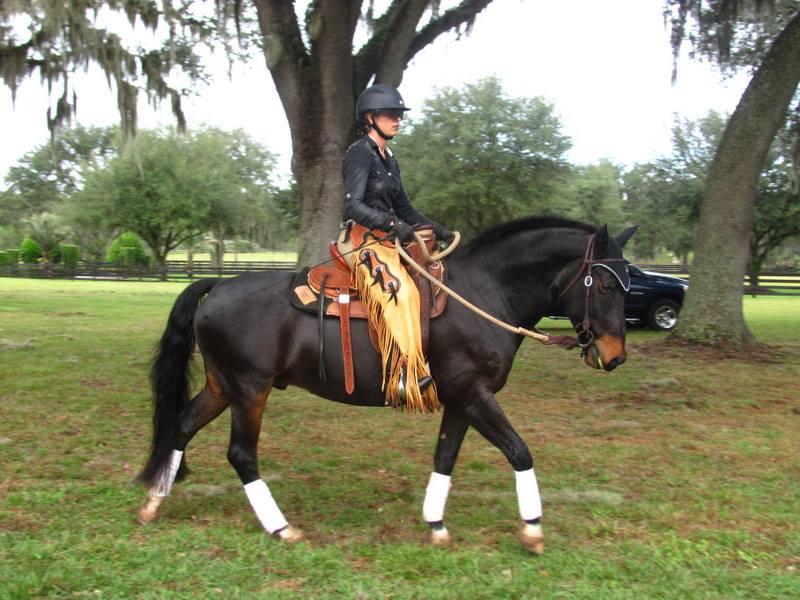 The western dressage tests used in USEF competition are based in the same fundamentals as traditional dressage, but designed for the working western horse.
"The western dressage tests are interesting for me because they gave me different exercises and have different elements for me to work on, which improved my classical dressage," says Hartford-Sapp. "I went on a campaign to show my Mustang in western dressage because it was a good fit for him."
Western Dressage is a new sport, and its popularity is growing rapidly among riders from a variety of backgrounds. Marsha reports that the sport's diverse following was on display at this year's Western Dressage Association of America (WDAA) World Championship Show in Tulsa, Oklahoma.
"There were 600 entries ranging from Amateur Intro to Open Level 3, which is the highest level offered right now," says Hartford-Sapp. "Some of the classes were over 40 entries deep.
"Cobra is a very seasoned competitor. He's been to a lot of shows," Hartford-Sapp continues. "But the venue [for the WDAA Championships] was different than what we're used to in Florida. It was an enclosed coliseum, and it was a bit intimidating because there are bleachers. Cobra wasn't used to having people so high above him!"
Nevertheless, the Mustang's training worked for him and he left the show as a WDAA champion. Cobra is the 2015 World Champion in the Level 1 Musical Freestyle and Reserve World Champion for Level 1, Test 1. He is also on track to receive the USEF Western Dressage Horse of the Year award for 2015, the inaugural year for the award in this discipline. But there's still plenty left for Cobra and Marsha to achieve together.
"My goal for 2016 is to improve our scores at Prix St. George in regular dressage and to play around with the higher level western dressage tests," says Hartford-Sapp. "I want to do both because, as a rider, it's really helpful for me to do the different exercises. And it's excellent cross-training for my horse. I've seen tremendous progress doing both."

When asked if there's anything else she wants people to know about her horse and her sport, Hartford-Sapp doesn't hesitate.
"If you adopt a Mustang, get it trained for western dressage! It's a super fit for them. Let's get more Mustangs in the show ring!"
Find out more about the WDAA at westerndressageassociation.org.
Find out more about Marsha Hartford-Sapp and her horses at www.southernoaksequestrian.com.