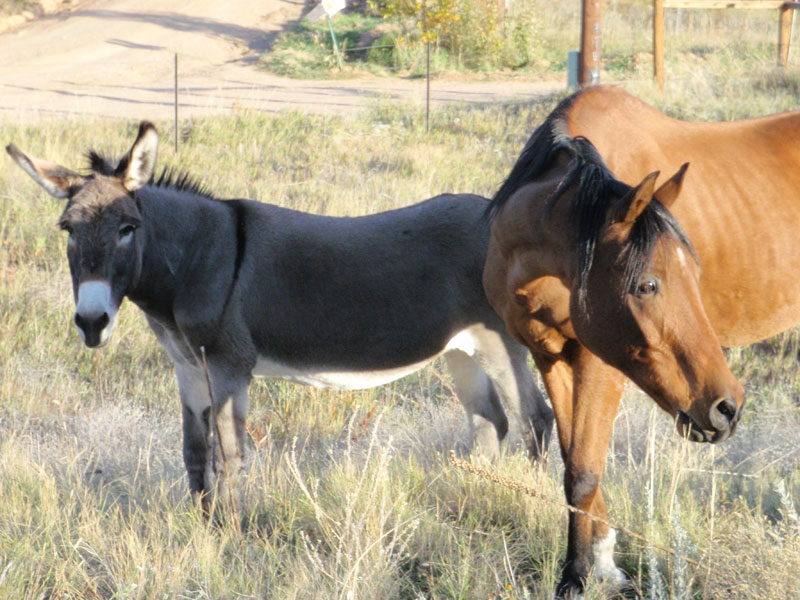 Eddie the Arab and his friend, Serena, in Colorado before Eddie's big move.
Did you miss the first part of the story? Click here to read Adventures in Moving Part I: Decision Time for a Senior Horse.
Once I found the place where Eddie the Arab would be living in California, the next step was figuring out how to move him.
I'd sold my truck and trailer in preparation for my move west. Even if I still had my own rig, however, I didn't think hauling Eddie 1,200 miles in a straight-load, two-horse trailer would be the most comfortable option for him.
I thought about flying back to Colorado, hiring the use of a friend's truck and stock trailer and hauling Eddie myself. The stock trailer would allow Eddie to move around and put his head down during the two- or three-day trip. I started looking at horse B&Bs along the way and reading about logistics, since I'd never hauled a horse that far.
My bigger worry was that it was spring in Colorado, which meant notoriously fickle weather. A 70-degree day could be followed by a two-foot blizzard the next day. The idea of hauling Eddie over the mountain passes of I-70 by myself in a sudden snowstorm did not sound like something I wanted to risk.
Again, I turned to my vet for advice. Dr. Streeter recommended a commercial shipper as a good option. After all, shipping horses safely was what these companies did, and they would have the experience and equipment to make the trip as safe and uneventful as possible.
Nikki, the barn owner where Eddie was moving, recommended a great smaller shipper. He prided himself on his personal care of each horse and the direct routes he took.
In talking with him and doing more research, I learned that this was not necessarily the norm. Some shippers crisscrossed the country, picking up and dropping off horses along the way, adding sometimes days to a trip – and more stress to the horses.
This small shipper was my first choice, hands down. The only problem? He was completely booked for a couple months. He was sorry, but happy to provide names of large commercial shippers he'd recommend, others he would never use, and gave me tips on what to look for and the right questions to ask.
For example, did the rig have box stalls or were all the horses tied for the entire trip? How many stops would they make along the way? Would they stop overnight or drive straight through? If they used a semi-truck and horse van, how would they transport Eddie to his final destination – a small ranch miles from the next major town, with a narrow driveway unable to accommodate a huge rig?
He strongly recommended that Eddie be transported in a loose box stall, due to his age and his prior hoof injury. Yes, it would cost more, but it's what he would do for his own horses.
I called a few of the companies that he and my vet both recommended and I was delighted that Big Name Equine Shipping Company could schedule Eddie's trip in an acceptable timeframe and provide a box stall.
The company also would drive straight through. From the time Eddie was picked up in Colorado to the time he would walk off the trailer in his new California retirement home would be about 20 hours.
I reserved Eddie's box stall and worked out the logistics with my designated shipping manager at the company. He was a great guy. Responsive, helpful, genuinely interested in giving Eddie the best moving experience possible. It gave me a high level of confidence that all would go well.
The shipping manager also confirmed that Eddie would be offloaded from the van near Los Angeles and put on a smaller rig for the three-hour trip to Nikki's.
It was all set. Eddie would be picked up on Saturday, April 4th, and be delivered Monday, April 6th. This surprised me a bit, as the original timeframe was about 20 hours, but I figured they'd have an overnight layover, and Eddie would get a good night's sleep in his box stall.
The shipping manager introduced me to the dispatcher, who would be my contact point from then on. He said the dispatcher and the van drivers would call me with updates on Eddie's trip. He sincerely thanked me for the trust I was putting in Big Name Equine Shipping Company and he knew Eddie would be taken care of just as the race horses, dressage horses and other famous horses that made up the majority of their equine clients.
The dispatcher called the day before Eddie was scheduled to ship and gave the time window for pick-up. I called Nikki and confirmed with her that Eddie would be arriving on Monday. All was set. Eddie was moving to California!
I didn't hear anything from the shipper on Saturday, but I knew they were on the road so I didn't worry. Being it was the day before Easter Sunday, I went about preparations for dinner the next day at a friend's house.
Easter Sunday morning, I still had not heard from the shipper. Where was Eddie? Was he OK? I thought it odd, but figured all was well. After all, this was Big Name Equine Shipping Company. I'd put Eddie in their care because they shipped thousands of horses every year.
As Easter hors d'oeuvres transitioned into Easter dinner at 2:00, I kept my phone close by in anticipation of status updates on Eddie's trip. Right after dinner, I got a text from Nikki. "Have you been getting calls from the shipper?" she asked.
"No…," I responded.
Nikki texted back. "They must think I'm the owner because they've been calling me. And guess what? Eddie is due to arrive in two hours, not tomorrow like they originally said. And, they don't have the smaller rig they promised, so I need to go pick him up."
What?!
Thankfully, Nikki was at home, able to postpone her own Easter dinner, hook up her trailer and drive the 20 miles to the parking lot where she would meet the van with my precious Eddie and transfer him to her trailer for the ride to her ranch.
That's when the macabre realization set in. If it hadn't been for Nikki's honesty, I may have never seen Eddie again. My beloved horse might have been unloaded in LA, taken to some mystery location, or sold to someone between LA and his new home. Lost forever. This is every lost-dog owner's nightmare: they never learn what happened to their canine family member. This wasn't supposed to happen with a horse being transported cross-country by a reputable company.
Because of how horrifically the situation could have turned out, I sent an email to my original shipping manager. I explained how he had been the shining star of the company and had done a great job. I thanked him. I also let him know that when I was handed off to the dispatcher, Big Name Equine Shipping Company went silent. For two days, I had no idea where Eddie was, if he was OK, nothing. And then, the company did not have the small rig they promised to transport Eddie to Nikki's ranch. What would have happened if she was not so graciously willing and available to pick him up?
The response from the company? My shipping manager was, again, a rock star. He apologized sincerely, and said he would let the dispatching group and others in the company know what had happened.
You can probably guess what communication I received from Big Name Equine Shipping Company in response to these very valid and real concerns. Yes, it was my bill for $2,400 to ship dear Eddie the Arab from Colorado to California. That was it.
In the end, it all worked out fine. Eddie arrived safe and sound in his new home, and for that I am thankful.
Kara L. Stewart is a frequent contributor to Horse Illustrated and now resides in California with Eddie the Arab. www.kstewart.com