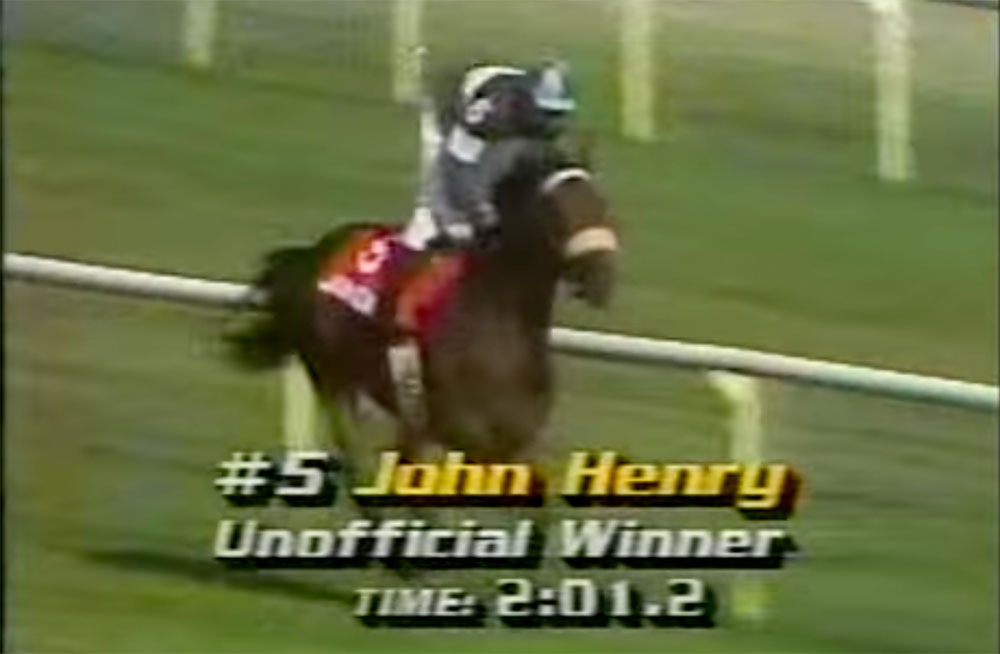 A Hall of Fame member… a legend in his own time… an amazingly talented athlete that set records that are still standing more than thirty years later. All of these descriptions apply to John Henry, one of the greatest racehorses to ever set foot on a racetrack.
John Henry was the classic "horse that nobody wanted." He was small for a Thoroughbred, had an ornery temperament, didn't have the best conformation, and hailed from obscure lineage. His sire, Ole Bob Bowers, had found little success siring good racehorses. As a yearling, John Henry sold for just $1,100; as a three-year-old gelding, while running in low-level races, he was purchased for just $25,000 by a man named Sam Rubin.
But underneath John Henry's bad temper and unremarkable exterior was the heart of a champion, both literally and figuratively. Studies would later show that John Henry's heart was much larger than that of the average Thoroughbred, and when John Henry came under the care of trainer Ron McAnally, that massive heart had a chance to shine.
As John Henry got older, he slowly began to improve. By the age of five, when most horses reach their peak, John Henry was just getting started. He won eight races in 1980, his five-year-old year, most of them on grass courses as opposed to dirt tracks, and was voted champion grass horse at the year-end Eclipse Awards. But John Henry rose to even greater heights in 1981 while winning some of the greatest races in the United States. His biggest win came in the Arlington Million, the first million-dollar horse race in history; a longshot named The Bart looked like a certain winner, but then John Henry started gaining ground. It appeared that The Bart crossed the wire in front by a nose, but the photo finish camera revealed that John Henry's determined rally had enabled him to prevail by the slimmest of margins.
Studies have shown that most racehorses begin to slow down once they reach the age of seven, but no one told this to John Henry, who kept on winning big races at an age when many horses are retired. In 1984, at the remarkable age of nine, he won six races—including another Arlington Million—and was voted Horse of the Year once again. To put this in perspective, since the Eclipse Awards were inaugurated in 1971, John Henry is the only horse older than six years of age to win the Horse of the Year title.
John Henry's longevity and durability didn't just apply to his racing career—after retiring to the Kentucky Horse Pack, he remained remarkably sound and healthy even in old age. As writer Steve Haskin describes in his book John Henry: Racing's Grand Old Man, when John Henry "had precautionary X-rays taken in 2000, the vet was so amazed at how clean they were" he believed they could be mistaken for X-rays from a yearling.
Even in mid-2007, at the advanced age of 32, John Henry was still active. A daily walk for exercise at the Kentucky Horse Park helped keep his intelligent mind occupied, and John Henry was even allowed to choose his own route through the park, with his handlers being guided to whichever areas of the park John Henry wished to visit on a given day.
Old age finally got the better of John Henry, and he was humanely euthanized due to kidney issues on October 8th, 2007. But the legacy he left behind will live on forever. In a sport where so many things are measured in numbers, John Henry proved time and time again that age was just that; a number, and nothing more.
J. Keeler Johnson is a writer, blogger, videographer, and racing enthusiast who considers Zenyatta to be his all-time favorite racehorse. He is the founder of the horse racing website TheTurfBoard.com and writes for the Bloodhorse.com blog Unlocking Winners.