If you live in the Midwest or Northeast, the last dreary days of winter can drag on endlessly. Perhaps you're tempted to load up your horse and drive down to Florida, but it's just a bit too far. You might instead want to consider a trip to Aiken, S.C.—a shorter drive with generally balmy temps in late winter and early spring.
This equestrian outpost offers lots of short-term stall rentals for horses and has plenty of hotels and B&Bs for their human counterparts. Don't worry if you live too far to drive; there's plenty do even without your horse in tow.
Hitchcock Woods is free for all riders to enjoy. Fox hunts come through periodically. Photo courtesy Visit Aiken S.C.
Riding & Equestrian Attractions
If you love a relaxing day of exploring trails on horseback, Hitchcock Woods is not to be missed. Now owned by a nonprofit foundation, over 2,000 acres are free to enjoy, providing 65 miles of sandy trails through the longleaf pines. For the more adventurous riders, an assortment of small and large brush jumps on the wider tracks provides the thrill of steeplechase.
If you don't bring a horse along on your visit, Seahorse Stables offers rental horses to ride in Hitchcock Woods
(www.seahorseaiken.com).
Thoroughbred trainers bring young horses to the Aiken Training Track to break them for racing, as well give their experienced campaigners a tune-up or some time off. In mid-March, the track holds the Aiken Trials, which draws up to 10,000 spectators annually. Six races, tailgating and shopping provide entertainment for the whole family. The Friday before the Trials, Breakfast at the Gallops is a fundraiser from 8-10 a.m.
(www.aikentrainingtrack.com).
You can also catch some steeplechase action on March 26, 2016, when the Aiken Horse Park hosts the Imperial Cup Steeplechase.
The Aiken Thoroughbred Racing Hall of Fame and Museum is another must-see for racing fans. Free admission gets you in to the hall of fame for Aiken-trained horses that went on to become champions. Trophies and photographs of some of American's best-known riders, polo players and steeplechase jockeys are also displayed.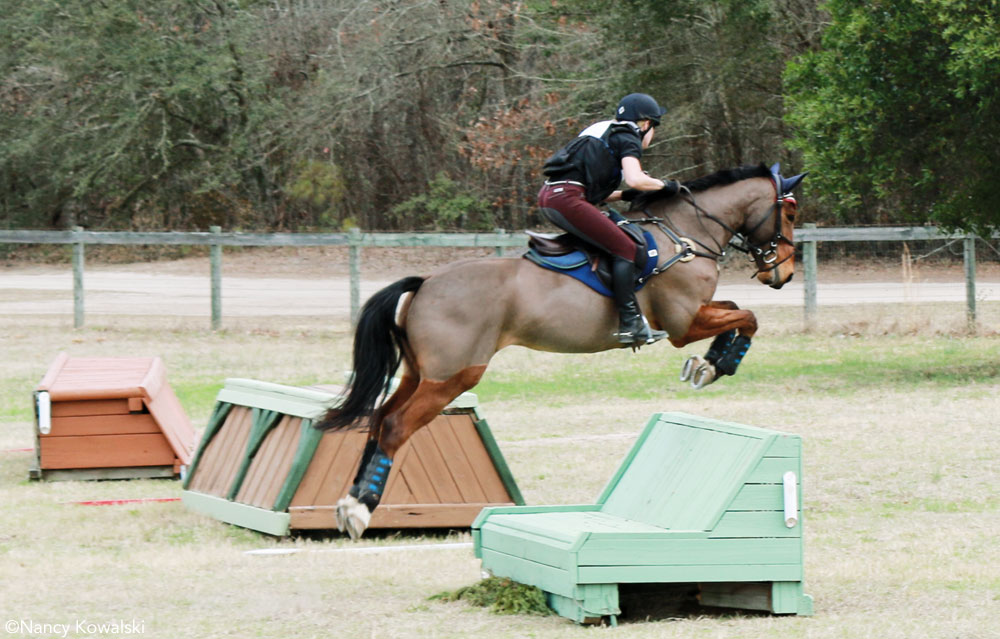 Several farms in Aiken offer cross-country schooling for eventers by appointment.

Photo: Nancy Kowalski

Eventers coming to Aiken for a pre-season head start can cross-country school their horses at Paradise Farm, Jumping Branch Farm or Full Gallop Farm, all of which also host competitions throughout the year. Appointments must be made in advance for schooling.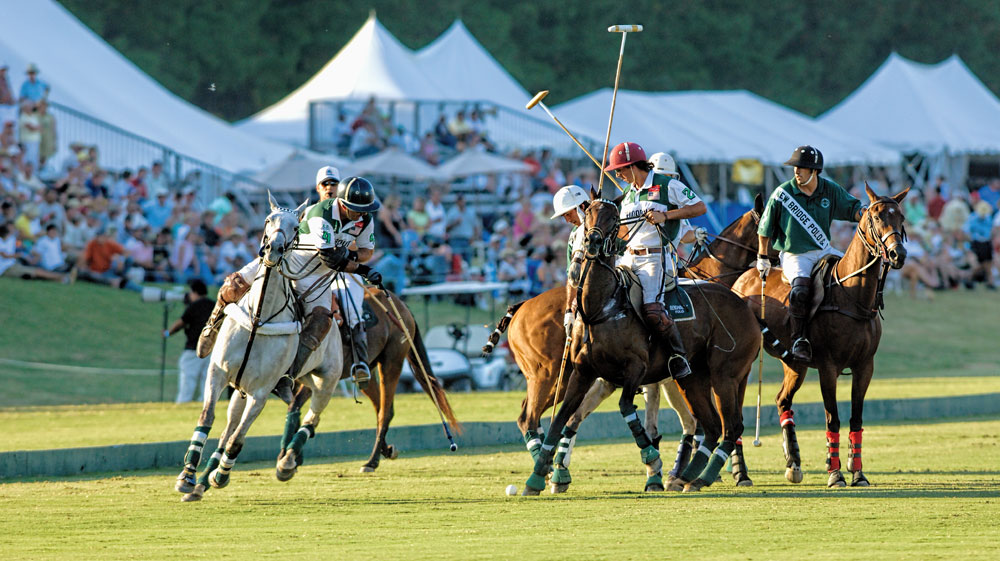 The Aiken Polo Club holds matches every Sunday during their regular season.
Photo courtesy Visit Aiken S.C.
If you fancy taking in a polo match, Aiken Polo Club plays every Sunday at 3 p.m. during the season at Historic Whitney Field (www.aikenpoloclub.org). General admission is $5, but $30 will get you into the social pavilion with food and beverages.
Food
Downtown Aiken has all the quaint charm you'd expect of a historical Southern town, and plenty of shops and cuisines for every taste. The Southwest/Asian fusion restaurant Takosushi has become a nearly legendary required stop among visiting equestrians.
The Willcox Hotel is a historic treasure, and houses a top-class restaurant.
Photo courtesy Visit Aiken S.C.
The Willcox is a grand hotel and restaurant accentuated by stately columns out front. It was built when Aiken started booming in 1870 with wealthy Northerners flocking south every winter for horse racing, fox hunting and high society.
Outdoors
When you're ready to diverge from the horsey attractions, outdoorsy types can visit the Aiken Citywide Arboretum. The designated Arboretum trail begins at Aiken County Public Library and has a handy cell phone-guided tour feature—just dial the number posted at each tree along the trail to learn more about it.
Aiken County Historical Museum is a great place for history buffs to learn about Aiken's past from ever-changing exhibits. Set in one of the town's famed "Winter Colony" cottages, the museum itself was originally built in 1860 as two homes and has 32 rooms, 15 bathrooms and a ballroom.
Go to aikenhorsenews.com for horsey happenings and www.visitaikensc.com for visitor info.