The tropical forests, cobalt-blue sea and towering mountains of Maui lure thousands of visitors to this beautiful Hawaiian island every year. But only a few opt to see it from the back of a horse.
Exploring the West Maui Mountains on horseback is a treat, and the Makani Olu Ranch, just 30 minutes from Lahaina, can provide you with that experience. Managed by horse trainer Yod Neal, the ranch resides on private property and features riding through a variety of terrain, typically in small groups of two to four riders.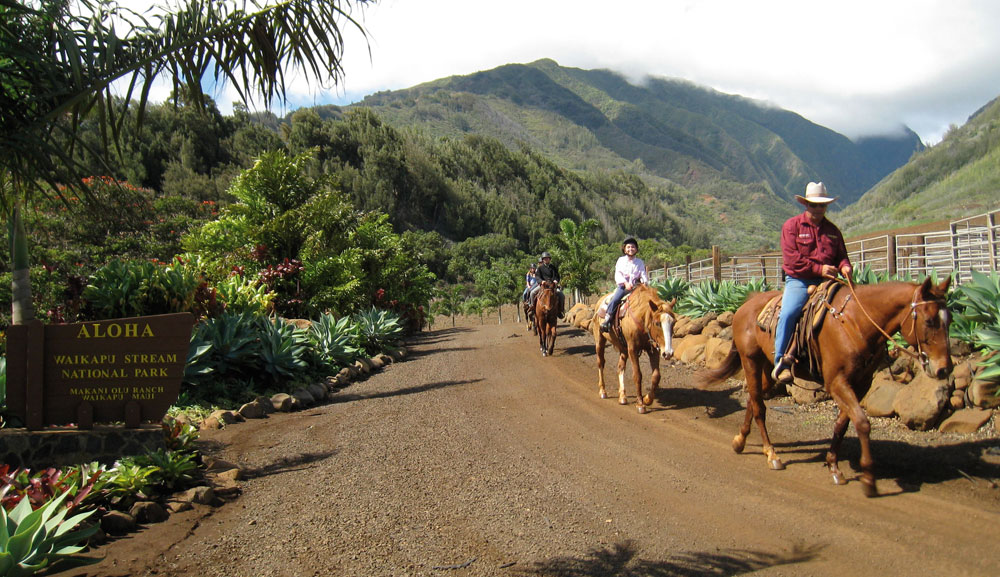 Guests ride through a working plantation complete with fruit trees and longhorn cattle.
The Ride:
The ranch's two- to three-hour ride takes you through pastures and manicured gardens with plumeria, palms and mango trees. After crossing a stream that comes from Mauna Kahalawai—the Hawaiian name for the West Maui Mountains—you ride through a plantation that is home to Hawaii's largest herd of Texas Longhorn cattle.
"The plantation is peaceful, and riders switch back their way to the top of the slopes, where the bicoastal views of Kahului and Maalaea Harbors take your breath away," says Neal. "Guests love having the opportunity to ride through pastures with the cattle, and at times see cows with their newborn calves." The trek also includes riding through the organic farmland of Kumu Farms, where the aroma of fresh basil and rosemary fills the air.
Once on top of the valley, you can enjoy a catered lunch and relax to the sounds of rushing stream water from Pu`u Kukui, one of the wettest spots on earth.
"Pu`u Kukui is the highest peak of Mauna Kahalwai, and offers majestic views," says Neal.
Experience Level:

Riders of all experience levels are accommodated at Makani Olu. All guests are given a horsemanship lesson before mounting, and are encouraged to continue their involvement with horses after they leave.
"The goal of Makani Olu Ranch is for guests to want to continue in some level of horsemanship, whether it's frequenting a stable near home for a lesson, or advancing with their own horse," says Neal. "It's very important that our guests leave the ranch understanding that horses are smart, loving, living, breathing and thinking creatures, just like people."
There are horses to accommodate every riding level, from beginner to professional.
The Horses:
The horses at Makani Olu Ranch are an eclectic bunch, offering riders a range of experiences, according to Neal.
"Each horse is selected to meet the needs of the rider, and every guest is accommodated, whether they are a first-timer or a professional," he says. The ranch features a variety of horses, ranging from Quarter Horses to Thoroughbreds.
"They have a wide range of backgrounds and abilities, and include jumpers, barrel racers, ropers and dressage horses," says Neal.
One of the nicest aspects of riding at the Makani Olu Ranch is knowing the horses are loved and well cared for.
"Guests often comment on how well behaved our horses are, and this is because of the way they are kept," says Neal. "They live together as a herd in a natural environment, with open pastures. This helps them maintain a great frame of mind. The horses are our partners, and are loved very much. They live a great life, and they love their job!"
For more information, visit the Makani Olu Ranch website at
www.makanioluranch.com, or call 808-870-0663.
Here's what and how to pack for your future equestrian vacation >>
Audrey Pavia is a freelance writer and the author of Horses for Dummies. She is based in Southern California.
---
This article originally appeared in the January 2016 issue of Horse Illustrated magazine. Click here to subscribe!