Your first horse is a very special animal, one that lodges in your heart forever. However, sometimes there are first horses that make you earn their respect and a test of wills becomes a rite of horse-owning passage.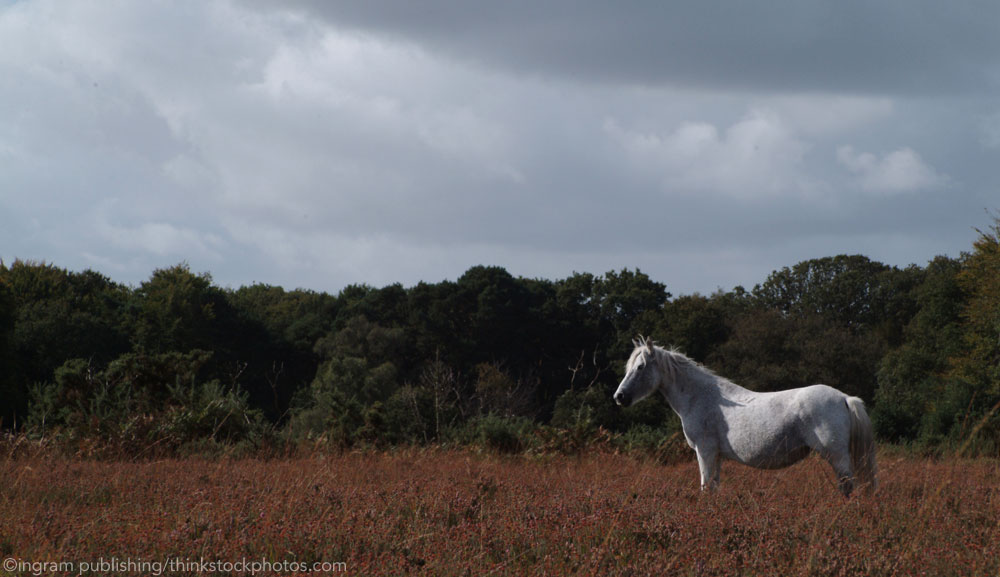 Wimpy was my first horse, a 25-year-old gray Connemara gelding. Bombproof in every way, he was perfect for a novice 15-year-old girl. Wimpy taught me about founder, colic, and lost horseshoes. He also taught me that sometimes, friendship must be earned.
The first day I had Wimpy, a challenge was set before me. Tentatively letting him out in the pasture to graze for the afternoon, I came back at dinnertime. It wasn't until one hour later, after the rest of the horses had been brought in, that Wimpy allowed himself to be caught. I was furious. The barn manager was greatly amused and advised me to keep Wimpy's halter on him next time in the pasture. Oh, and next time to come out with a carrot.
The next afternoon, I determinedly headed out to the pasture, lead in one hand, and the biggest, yummiest carrot in the other. Again, another hour went by, this time with me fighting off the other horses interested in the carrot and Wimpy allowing me to come within five feet of him before he gaily trotted off, over and over again.
The relationship was not going the way I had planned.
Half the season passed with me wondering whether I'd spend precious afterschool riding time walking the pasture in pursuit of a peevish horse who, I had no doubt, was laughing at me.
Eventually, however, the night came when I knew I had won Wimpy's respect. One warm spring evening, all the horses were out in the pasture. As the night turned cooler, thunderous clouds rolled in and what was at first a peaceful twilight had morphed into a tempest—winds howled, rain lashed, and lightning cracked. The horses were whipped into a frenzy, galloping madly across the field.
My dad drove me out to the gate of the pasture and I stood, uncertain, with a lead in one hand and a flashlight in the other. I could just make out the ghostly silhouettes of Wimpy's pasture mates flying past in the near distance and thought I caught sight of my own gray gelding trotting unsure at the back of the pack.
My dad watched me walk out to the field, the flashlight bobbing in time with my step. Then, once over a small hill, I disappeared. And he waited.
From my vantage point, I recall trying to keep my footing in the muddy field and not spook the horses unnecessarily with my flashlight. Locating Wimpy with peripheral vision, I slowly approached. A flighty chestnut mare came up behind my gelding, ears pinned back. Wimpy moved to the side, allowed her to pass, and watched as I approached. I had no carrot, nothing to entice him to stand. As the rain pelted us, I got close enough to make a grab for his halter. Wimpy stood perfectly still. With the most satisfying CLICK I've ever heard, I had the lead attached and Wimpy and I marched back to the gate and my waiting dad, the flashlight bouncing back over the hill.
Once in the stall that night, steam coming off Wimpy's drenched back, I brushed him down and gave him dinner, primping the straw to make him as comfy as possible.
Thinking back, Wimpy had probably tired of his game and decided, on his own, it was worth being caught to go into a warm, covered stall out of the storm. But ever since that night, I had no trouble catching him. Had I earned his respect? I'd like to think so, but I'm not sure. But I do know that we were a team forever after that night.
ANNA O'BRIEN, DVM, is a large-animal
veterinarian in Maryland. Her practice tackles anything equine in
nature, from Miniature Horses to zebras at the local zoo. Follow Dr. O'Brien on Twitter: @annaobriendvm