Kathie Norman and Susan Wingo are best friends of 25 years who enjoy outdoor activities together, including camping, fishing, hunting and of course, horseback riding. And now, they are champions together. After competing across the Southwest side by side in the saddle, Norman and Wingo achieved their goal of winning their respective American Competitive Trail Horse Association (ACTHA) divisions for the 2014-2015 riding season: Kathie in open and Susan in pleasure.
"We traveled to 10 different states," says Kathie. "Susan and I would meet somewhere on the road and travel together as much as possible."
"We had the time of our lives doing it!" adds Susan. "When we realized at the last weekend show of the season that we both had won our national championships, there were tears, hugs and cheers. For two longtime best friends, neither of us with any prior show experience, to both win a national title was an incredible feeling!"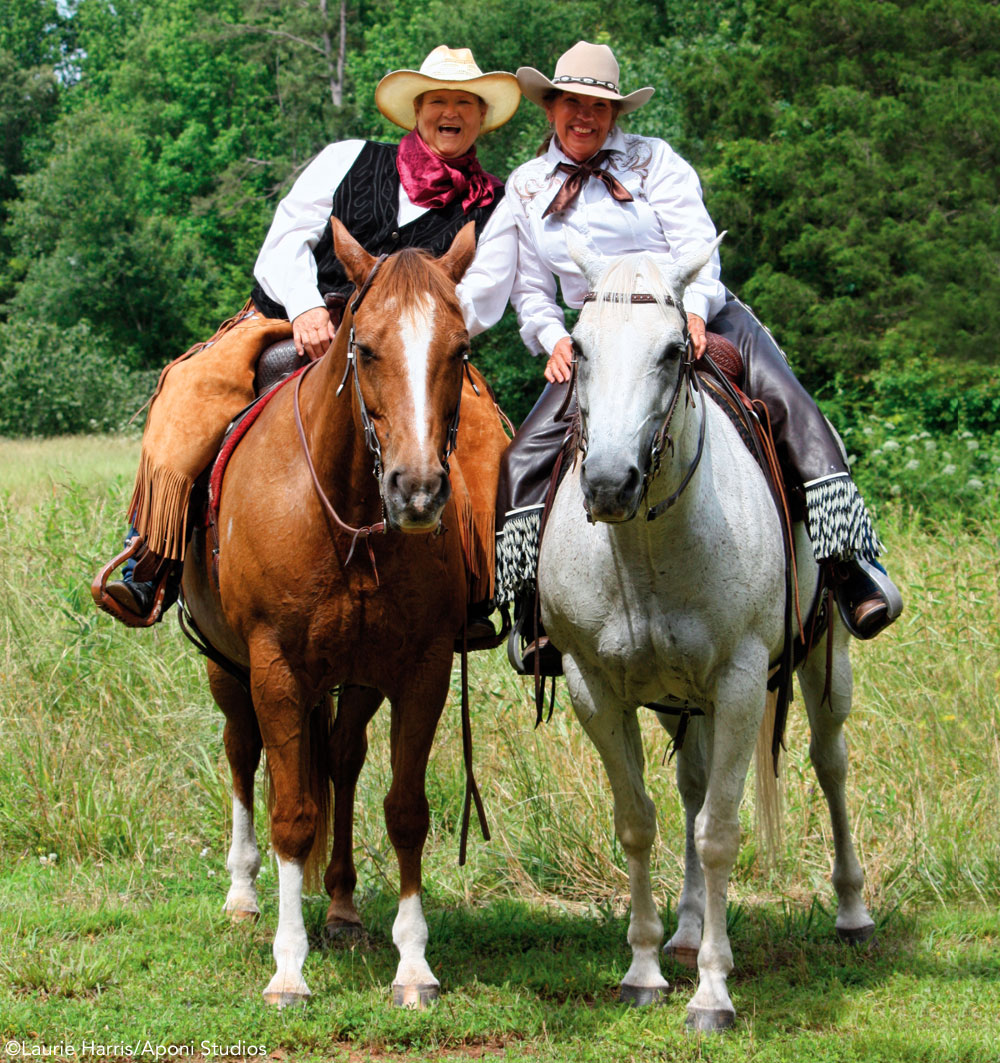 Kathie and Susan have shared many exciting exploits since meeting each other in a café 25 years ago, including countless road trips across the country. They particularly enjoy riding their horses through the Pecos Wilderness area in the mountains of New Mexico every year.
"[That was] our first horse trip together," says Kathie. "It was quite an adventure. We were flatlanders from Texas and had a lot to learn. Maybe that's the reason we had to keep going back almost every year for the last 15 years. You can't learn it all in one trip."
The Bridle Path to Success
Horseback riding, as we all know, is also something you can't learn all at once. From a young age, both Kathie and Susan learned as they rode. Susan received her first horse at age 6. "I did everything horseback from then on bareback because I was too short to get a saddle on at 6 years old," she says. In grade school, she rode horses for friends and family members, and gained experience as a ranch hand on her family's cow-calf operation.
"There was a lot of work done horseback in the Sabine River Bottoms [in Texas] where I grew up," says Susan. "I've never had formal riding instruction, and never had my horse trained for me. I always joke that my [ACTHA] mare and I are a DIY project!"
Susan's ACTHA champion mount, Cat Bar Bobby ("Cat"), is an American Quarter Horse mare raised by her brother, Kipp Wingo, DVM. "I got Cat from him when he found her to be difficult while halter-breaking. I decided to take her, and the rest is history. I've always joked that Cat was trained by every TV horse program aired: I would watch and run out to try it out on her."
Kathie's equestrian experience has been similar. She got her first horse when she was 12. "The horse was green, and so was I," she says. "I finally learned to stay in the saddle most of the time. There was no such thing as a sidepass, backup, or turn on the forehand. The only thing we were good at was going forward! However, that was enough at the time."
Like it does for many horse lovers, life stood in the way of Kathie's equestrian passion for almost 25 years. "I finally was able to acquire a horse with a skill level above mine," says Norman. "She was a beautiful black reining mare. Trial and error helped me become a better rider. Beauty died at the age of 22, and I never thought there could be another like her."
However, Kathie was lucky enough to find another special horse when she met her ACTHA champ, American Quarter Horse mare Handy Dulce Bar ("Dulce"). "Steve Kutie from Bowie, Texas, had her in training for reining," says Kathie. "When I saw Steve ride Dulce, I thought she looked like she was dancing. And then it was time for me to ride. I thought I was going to go out there and make her do everything Steve could do with her. She ran away with me. I had to have her!"
After some further training, Dulce went home with Kathie. At the time, her only goal was to prepare herself and the mare for the Pecos Wilderness rides, until she learned about ACTHA. "I tried my first ride shortly after and just prayed we wouldn't be on the bottom," she says. "We were close! However, being armed with obstacles to go home and practice was a beginning."
Following each competition, Kathie would add an obstacle to the growing course in her front pasture. And with each competition, she and Dulce became more seasoned competitors. "This was the beginning of my ACTHA addiction!"she says.
It's only natural that Kathie's zeal for ACTHA riding would rub off on her bestie Susan. "Kathie already had the experience of an
ACTHA national championship [in 2013], and she felt that Cat and I were good enough to be competitive," says Susan. "So she and I decided it was time to get on the road, meet new people, see new places and do what we both love best: travel, ride horses, and make new friends!"
Enjoying the Ride
"Competing in ACTHA events has been the best of all worlds for me," continues Susan. "Riding with Kathie, camping surrounded by other horse people, and the opportunity to ride in many beautiful places makes for many great memories. The competitions themselves are a measuring stick of how Cat and I are advancing as a team."
"Each new adventure brings me a little closer to my horse," adds Kathie. "You would be surprised at how close you and your horse become by spending so much time together."
Kathie's mare Dulce was ACTHA's high-point horse at the time of this writing, as well as the first horse to win nationals twice.
I am so very proud of this mare," says Kathie. "ACTHA has given her a job, and she loves it. It has also given me the tools to begin a sport not knowing anything and progress enough to become a national champ. It just proves that if there is determination and hard work, anything is possible. I am an old woman living a young girl's dreams!"
The greatest part of all, though, is sharing such an adventure with your best friend. "Kathie has taught me that a true competitor is someone who is gracious in defeat, cheerful in victory, and always willing to lend a hand or advice," says Susan. "I thank her for showing me how to be a champion."
About ACTHA
The American Competitive Trail Horse Association provides trail riders with an opportunity to compete in events that recognize the attributes of the great American trail horse, in an enjoyable atmosphere. The group promotes equine welfare and donates 20 percent of its member rider proceeds from each event to registered 501(c)3 organizations (usually equine charities providing care for horses in need), and offers a way for organizations to raise funds to support their cause. www.actha.us
Kim Klimek is a freelance writer in Kentucky who dreams of one day moving her family from the city to the country.
---
This article originally appeared in the October 2015 issue of Horse Illustrated magazine. Click here to subscribe!