By Rebecca Funk
As horse people, we accumulate any number of keepsakes and treasures from our equine friends. Framed photographs, locks of horsehair, bits of tack hanging about, trophies, dusty copies of equestrian magazines, are all mementos we fill our houses and adorn our lives to keep our fondest memories close. If you have run out of space amidst all the remembrances that accumulated over the years and want something that is different and a bit more personal, you may consider getting a tattoo.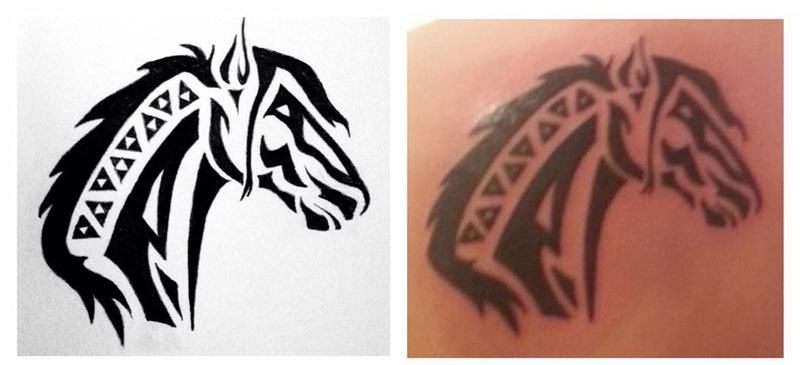 How to Choose a Horse Tattoo Design
If you are ready for the commitment of a tattoo, but haven't quite settled on a design, there is an abundance of information to get you started. You can begin gathering ideas with a Google image search (try starting with "horse tattoo designs"), or check websites that supply stock photos and images like shutterstock.com. If you want something more personal, you only have to go as far as home, or the barn, for inspiration. You may find an illustration in a favorite old horse book or a quaint image from a bygone era captured in an old postcard.
| | |
| --- | --- |
| Via Taylor Jump on Facebook | Via Gina Skinner on Facebook |
Horse Names and Other Text-Based Designs
If your design is centered on lettering, rather than a drawn image you may consider a tattoo of your horse's name, club name, or even an inspirational phrase (or what your trainer is always yelling.) If your horse has an identification mark, such as a Thoroughbred with a Jockey Club number tattooed under his upper lip or a Quarter Horse with a ranch brand on his hip or neck, you may consider one to match.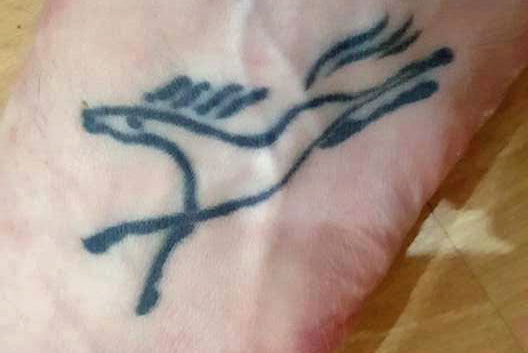 Tattoo Designs and Copyright
Unless your tattoo is intended to match someone else's, you will want to keep your design original and unique. Think freestyle. In the current legal climate, tattooing is still somewhat a gray area when it comes to copyright laws. If you use an existing design owned by a company, such as a specific logo, there seems to be little legal issue.
If the image you like is an existing piece of artwork, including professional photos, it is best to contact the artist first if possible and get permission beforehand. Unless the tattoo is a piece of "flash" art (the pre-made designs found framed or in books around a tattoo shop) it is considered bad form if it is an exact copy of an existing tattoo or an original drawing.
Artists have intellectual and proprietary rights over their own designs. If you find an existing tattoo that you like and your artist has not already mentioned it, don't copy it. It is common for a tattoo shop or artist to ban the use of copied images. Use these designs for inspiration to point you in the direction you want to take your own image. Your tattoo should be as unique as you are.
An EKG and horse wrap-around design combines the wearer's career as a nurse and love of horses. Via Victoria Parker on Facebook
Where Should You Get Your Horse Tattoo?
When you have a basic idea of what design you want, there are a few things to consider so that it maintains well over time. Your personal preference and work guidelines will help determine where on your body you would like to place the tattoo. For most people, this means the torso, legs, and possibly arms may be your first choice depending on how visible you would like your tattoo to be. These areas offer space for a varying number of sizes for your image. You may think about putting an anklet type tattoo, drawn to look like tooled leather, wrapping around your lower leg.

Size and shape can affect the part of your body the tattoo will be placed. A large, round image would distort when wrapped around a small, narrow area such as the forearm. Likewise a small tattoo would look out of place floating on a large, open, otherwise untattooed area. Perspective matters. Smaller tattoos, like your barn or club logo on the inside of your wrist for example, should be simple and basic.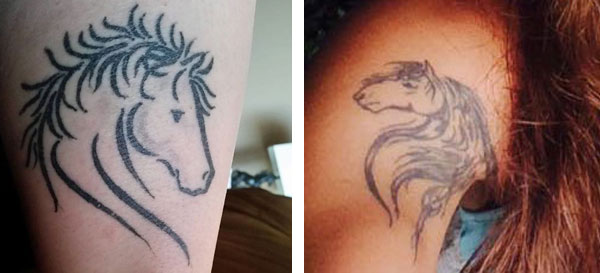 A Tattoo That Lasts
Skin is porous and over time the lines of the tattoo will soften and the color will fade. Good skin care and a lot of sunscreen will help maintain your tattoo's color over time. Lines that are too close together, such as over-detailing the hair in a horse's mane or tail, may blur together over the years and the linework will no longer look as crisp. It could soften and blur into a shapeless mark. In tattooing, the larger the area, the more detail you may incorporate into your design.
Think of it in equestrian terms: You wouldn't want to do an entire dressage test within a twenty-meter circle. It is just too much intricacy for too small of an area. If you're set on a detailed design, it is common to get a "back piece" (a single image or mix of several covering your back from shoulder to waist.) If you have the time and commitment this would be an ideal area for a portrait or photo-realistic tattoo. It must be larger because of the amount of detail that goes into the art to bring out the unique details.

Horse Portraits
Because of the amount of detail needed to make a portrait tattoo look accurate and stunning, there is a limit to how small they can be. This type of tattoo that looks best on the larger areas of your body, usually the back and sometimes the upper arm or lower leg. The tattoo artist will need good quality reference photos. Photocopies and retouched images are problematic. Blurry photos or pixilated digital images also translate poorly. The artist has to work directly and solely from the photograph you bring to him, so it should have crisp detail and good color contrast. Unlike victory pass photos, ears cannot be retouched to prick forward, highlights cannot be changed or championship ribbons added. These alterations would distort the image, and it wouldn't be an ideal representation. With a large, clear, crisp photo, a beautiful likeness of that special horse can be rendered.
Finding a Tattoo Artist
You wouldn't take your horse to the first trainer you see and you treat your tattoo design the same way. Find an artist whose style matches what you are trying to bring to your tattoo. Like trainers, tattoo artists have their own style and focus. You want to find someone who is skilled at the kind of design you like. Talk to your friends and family who have tattoos. Find a shop from an online website that catches your interest and stop by for a visit. Look at artist portfolios, and talk to them about their work. Keep looking until you find someone who will make your piece of art distinct and personal.
As with good horsemanship, with some time, thought and creativity, you will have a beautiful keepsake you can take with you forever.
---
Rebecca Funk is a freelance writer, caretaker at Wentz Stables in Orefield, Penn,, tattoo collector and bunny mom to her two mini-hay burners, Tribble and Susu.