Kim and her Haflinger, Bailey TOF, have competed through Second Level in dressage.

Handmade leather browbands accented with gemstones and beads are the centerpiece of Kim Phillips' business, Enter At A. She also offers jeweled stock-tie pins and leather memory bracelets that riders can have made to honor a favorite horse.
"I was looking for a browband years ago for a horse I used to ride," explains Phillips of the reason for starting her business. "I never bought one because I thought the prices were too high. Six years ago I started playing around with making a couple for myself. Friends were impressed and asked me to make some for them too."
Enter At A has been in business since 2009, focusing primarily on custom orders. Depending on the item, the design process can take a day or a month. Phillips strives to create unique pieces that complement the horses she's crafting them for.
"When I design a browband, I take the horse I am making it for into consideration," says Phillips. "Sometimes I need to use their eventing colors, but other times I have free rein. I see what colors look good on them, and if the horse is competing, or if it's for fun. I can design something subtle or something all-out blingy."
Bracelets can be accented with horsehair or beads to match a rider to her horse.

Phillips has received a wealth of positive feedback from customers and has found word of mouth to be the best marketer for her.
"Referrals are amazing and make me feel fantastic, whether in person or through social media," she says.
Another upside to being a business owner is being the boss. "I love working on my own and having the flexibility to change or try new things," says Phillips.
Although Enter At A hasn't reached the point where it can cover all of Phillips' horse expenses, it does help her pay for shows. Her goal, however, is to completely fund her horse hobby.
"A friend introduced me to the Haflinger breed and I fell in love," says Phillips. "I was able to lease Bailey TOF for several years before I convinced my friend to sell her to me. We mainly ride dressage and have competed through Second Level, but we jump every now and then too. I can pretty much take her anywhere and do anything!"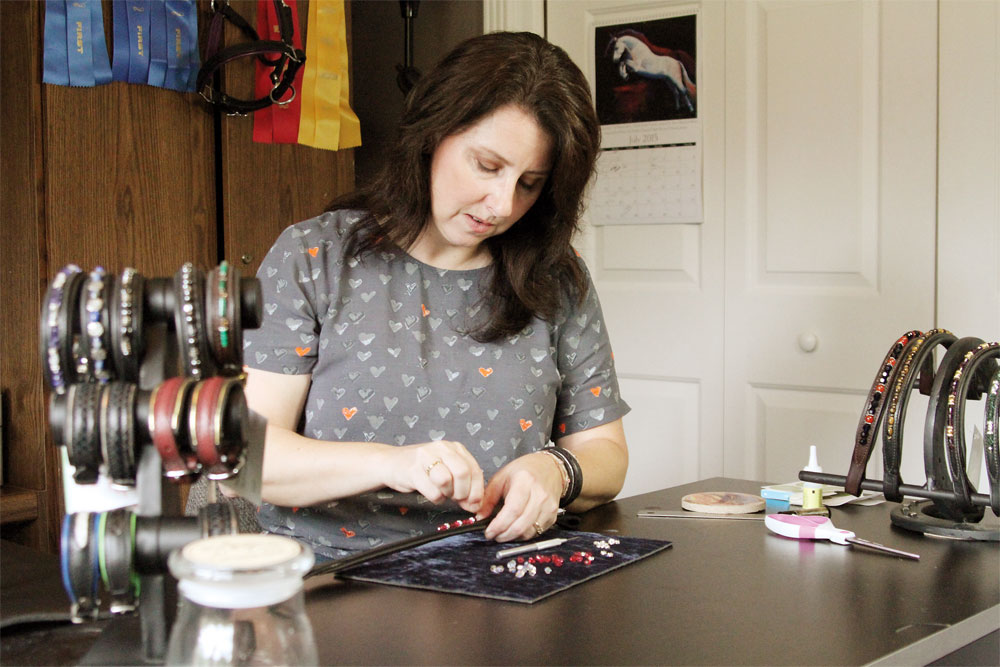 Kim started her own business in 2009 to offer custom browbands at a more affordable price point.

Phillips suggests that aspiring entrepreneurs research their intended market before getting started to be sure there's a need or desire for the product. "Make sure you bring something special to it to make your business stand out," she says. "Some cities also have small-business organizations that offer classes. I took a free class on start-up basics."

For more information about Enter At A's products, visit
www.enteratajewelry.com.
Kim Klimek is a freelance writer based in Kentucky.
---
This article originally appeared in the February 2016 issue of Horse Illustrated magazine. Click here to subscribe!