Rosie Napravnik is the only female jockey to have ridden in all three Triple Crown races and is well-decorated with wins in the Breeders' Cup Distaff and Breeders' Cup Juvenile as well as two wins in the Kentucky Oaks. Napravnik is known for her riding prowess and work ethic, which catapulted her to the top of her sport.
On her equine background:
I grew up in New Jersey, where my mom was an eventing trainer and coach. She managed a 25-horse boarding facility and my dad was a farrier. I grew up doing short-stirrup [hunters], then moved into eventing.
On what sparked her interest in race riding:
Dressage is really the reason I became a jockey. It was not my favorite! It was just something I suffered through to be able to run cross-country. All I wanted to do was go fast!
My sister and I also pony raced for about 9 years in the Delaware Valley area. Pony race riders can be as young as 5 years old and age out at 16. The races are determined by the height of the pony. There are both flat and jumping races. The jumping races are controlled so the kids have to follow behind the field master (like in fox hunting) over the jumps and then after the last fence they race for the finish.
My mom coached my sister and me on training and conditioning, and we practiced our starts; we were really competitive.
On her racing career:
The high point of my career was winning the 2012 Kentucky Oaks on Believe You Can [this was the first time this race had been won by a woman].
Other career highs were winning the 2014 Kentucky Oaks on Untapable and Untapable's 2014 Breeders' Cup Distaff win, when I announced my retirement.
Rosie with her family. Photo courtesy Rosie Napravnik.
On how she gets her horse fix now that she has retired from racing:
I love being in the barn and helping my husband, [Thoroughbred race horse trainer] Joe Sharp. I missed working with the horses when I was a jockey; you don't even tack or untack the horse; there are no day-to-day details with the horses. That's the part I am really enjoying now.
I bring [1-year-old son] Carson to the barn, and he loves the horses already. He pets them, and he's already sat on one, too.
On having a connection with a horse:
Your job as a jockey is to be able to adjust to different kinds of horses and get to know their idiosyncrasies. I would ride any horse, but there are some you have a huge connection with; you get to the point where you can predict what a horse might be like by the way he moves or acts.
On returning to racing:
I don't have any plans of returning to race riding. I enjoy the back side of it and I enjoy watching Joe's success. And I still get to go to the winner's circle!
On her favorite horse:
My personal horse, Sugar! I brought Sugar to New Orleans [where she and Joe are based in the winter] this winter after eventing all fall. I missed eventing so much and didn't realize it until I got back into competing.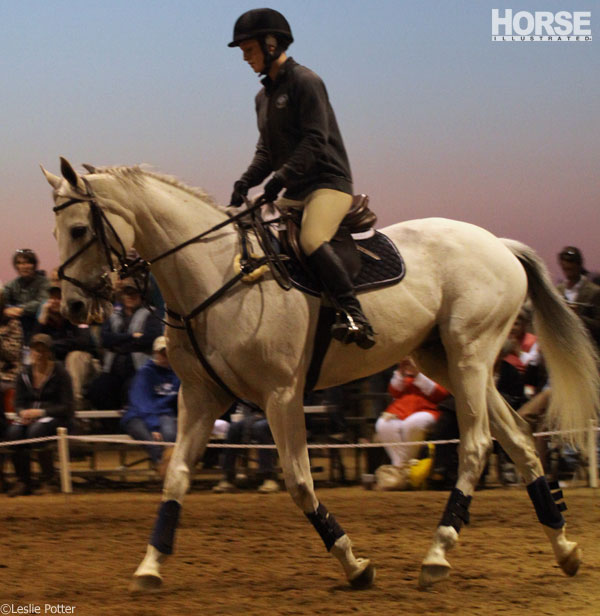 Rosie and Sugar at the Thoroughbreds for All event in 2014.
I am currently pregnant with our second child, so Sugar is leased to a woman in Kentucky, where he will be able to have a job while I can't compete.
On the Thoroughbred Makeover, where Rosie competed Dare Me in 2015:
The very concept of the Thoroughbred Makeover is incredible. Steuart Pittman and the Retired Racehorse Project staff are working hard to promote the breed and get the breed back on the sporthorse map.
I was spoiled in the fact that I was offered a really nice horse; once we got [Dare Me] in training, it was evident what a talented horse he is!
On being a female jockey:
I don't feel like I paved the way for females in the industry. There will always be the issue of sexism in society, and certainly gender can be an issue in racing–especially for a jockey. After establishing that I was capable, I was not lacking in opportunities.
I grew up in co-ed soccer, where there was no difference between the boys and the girls; with that mindset, it never occurred to me that I wouldn't be able to be a jockey. That was the attitude I had my entire career. If you're winning, you're winning, whether you're male or female. No matter your gender, you have to figure out how to win on the slow horses to get noticed, and then you get more opportunities. It's not just difficult for a female rider—it's hard to be a jockey at all.
Based in Lexington, Ky., Sarah E. Coleman is the director of education and development for New Vocations Racehorse Adoption program.
---
This article originally appeared in the June 2016 issue of Horse Illustrated magazine. Click here to subscribe!