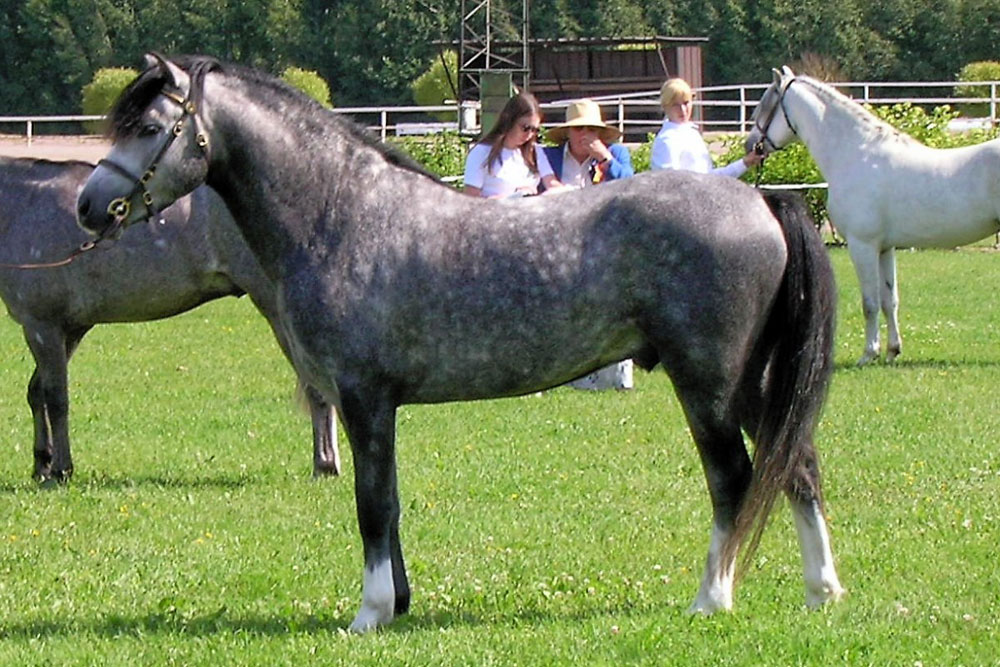 Welsh Pony
by
Hanna V
–
Own work
,
CC BY-SA 3.0
July 21, 2016
Dear Diary,
Big news! Big news!
Yours truly is going to the annual WPS (Wonderful Pony Society) show! Of all the ponies on the farm, the humans picked ME to go! Well, and Goldie, too, and Summer. But nobody else.
We leave tomorrow, and today we all got baths. I'm not really a fan of baths, but I behaved myself and stood still even when the water dribbled onto my belly. (I HATE water dribbling onto my belly!) I don't want to mess up my chances of going.
I'm so excited, I'm not sure I'll be able to sleep tonight!
— MAREY
P.S. Summer says she's going to win the Supreme Championship. I say HA, HA, and HAHA. We'll see who's the prettiest, championest pony around!
---
July 22, 2016, Morning
Dear Diary,
Writing to you from the back of a horse trailer on the highway! Wheee! I love horse trailers. I've heard some ponies don't like all the swaying and rattling, but to me it's exciting. Summer's nervous about the show. Goldie doesn't care either way. She says the most she can expect is a participation award because she rubbed her mane in the stall the other day and now there's a gap in her mane. I asked her why she did that and she said "because I can." Weird.
The humans have stopped. The truck is hungry and they have to feed it from a hose at this place called a "gas station." Funny, there's all kinds of places for trucks to eat along the road but no hay stations or anything for horses. Good thing we brought all our own hay along!
— MAREY
Evening
Dear Diary,
We're here at the showgrounds, all settled in to our (sort of strange and weird-smelling) stalls. We've got a nice spot in the middle of the barn aisle, so we can see and talk to a lot of other ponies around us. There's a pretty adorable buckskin stallion across the aisle from me, and I think he likes me.

Tomorrow we get up bright and early. The humans will come to groom us, and then we'll go the arena–and we'll compete for our blue ribbons!
— MAREY
P.S. I've eaten three four-leaf clovers for good luck.
---
July 23, 2016
Dear Diary,
I'm so happy and sleepy tonight! We had a big day.
Summer and I both won blue ribbons in our respective halter classes, and Goldie came in fourth, but she won a showmanship class later in the day with one of the younger humans, so she's happy. Summer and I went on to the next class, the CHAMPIONSHIP class, against a lot of other ponies who had won their classes, including that cute buckskin stallion. I think he danced around so much because he wanted to look impressive.
When the Supreme Champion was called, he was it. I was a little sad when they pinned that huge pretty ribbon on his halter. And I was even sadder when Summer won the Reserve Supreme Champion ribbon. She looked so fancy with it fluttering in her mane.
I didn't get any ribbon in the championship class. But here's why I'm not sad about it anymore.
After my class, my human hugged me around my neck and told me what a good, sweet, wonderful pony I am, and how proud she was of me because I'd behaved so well in the class. And that made me feel better than if I'd won a hundred ribbons.
Tomorrow morning we go home. It's been a great day!
— MAREY
P.S. Next time, I'm going to win the championship class. Just tellin' you now.
Read more Diary of a Pony:
Diary of a Pony: Summer Babies
Diary of a Pony: Happy Birthday, Marey!
Diary of a Pony: When Ponies Write Poetry

---
Samantha Johnson is a freelance writer and the author of several books, including The Field Guide to Horses, (Voyageur Press, 2009). She raises Welsh Mountain Ponies in northern Wisconsin and is a certified horse show judge. Follow her on Twitter: @miraclewelsh.