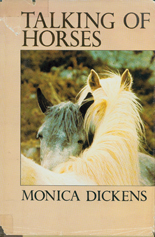 Here are just a few of the horse books on my reading list of lifetime favorites, from childhood fiction to go-to reference guides. (Keep in mind that I grew up before the Internet and The Saddle Club existed!)
Talking of Horses
by Monica Dickens
Practical information imparted through entertaining personal anecdotes. Sadly out of print—I treasure my tattered copy.
Summer Pony
by Jean Slaughter Doty
Required reading for any little girl who only has to convince her parents that a pony could live in the backyard. Other favorites by Jean Slaughter Doty are the Monday Horses and The Crumb, which explore the hunter show scene in realistic detail, including the seamier side of the business.
Training the Young Horse
by Reiner Klimke
Wisdom from one of the modern masters.
Complete Holistic Care & Healing for Horses
by Mary Brennan, DVM
Includes horse ailments from A-Z, and both conventional and holistic treatments.
Black Beauty
by Anna Sewell
Straight from the horse's mouth. I collect classic editions of this book. Best last line of a book ever, in my opinion.
Cherry Hill's Horsekeeping Almanac
A new favorite from the horsekeeping guru.
Pony Club Manuals
Not just for kids!
A Passion for Horses
by Cindy Hale
Horse Illustrated's own Cindy Hale captures the bond between horse and human like no one else.
Grooming to Win
by Susan E. Harris
You'll always be impeccably turned out with this old-school fave. An updated edition is said to be on the way.
Man O' War
by Walter Farley
I was a big fan of his famous Black Stallion series too, but this is my favorite Farley work. Just one of the many biographies of famous horses I devoured … Ruffian, Kelso, Snowman, Secretariat, Seabiscuit, and so on.
Anything by C.W. Anderson
The author who made "the look of eagles" a household phrase for horse lovers.
Dear Readers and Riders
by Marguerite Henry
Marguerite Henry is possibly the most beloved equine author of all time. Didn't we all cut our teeth on Misty of Chincoteague? This book, in which Henry answers hundreds of letters received from boys and girls, provides behind the scenes insight into the author's life and the creation of her books.
Riding Astride for Girls
By Ivy Maddison
I was fascinated by this dusty horsemanship tome, published in the 1920s, discovered in my high school library. I have yet to try riding sidesaddle, however.
Red Embers
by Dorothy Lyons
The story of a polo-playing girl and her best pony. Through the miracle of the Internet, I only just recently came to locate and purchase my own copy of this classic, published in 1940s.
Last horse book read:
Chasing Cans
by Laura Crum
The latest release in this horsey whodunit series features a fatal barrel racing wreck under suspicious circumstances. Equine veterinarian and amateur sleuth Gail McCarthy takes the case. If you haven't discovered these mysteries by Laura Crum, check them out!
On my Coffee Table:
Ultimate Horse Barns
by Randy Leffingwell
Architectural eye candy for horse lovers. This photo driven book highlights high-end barns from coast to coast, featuring incredible creature comforts and extravagant amenities.
---

I read Misty of Chincoteague every day after school in second grade. I absolutely loved the illustrations and dreamed of the day I'd get to visit Chincoteague and Assateague islands. Marguerite Henry does a wonderful job of capturing the heart of her readers, taking them on a journey every little girl hopes will come true. Misty is the kind of pony everyone wishes for: kind and loyal.
Bonnie Bryant's The Saddle Club was my favorite series. I even wanted my nickname to be Stevie, but my mother didn't think that was a great idea. I envisioned every Pine Hollow Stables adventure happening at my barn.
I would assign friends and family different books from the series for every birthday and Christmas. I couldn't risk getting one that I had already read. One friend gave me Saddle Club #14, Sea Horse, for my tenth birthday. He still remembers me saying telling him it absolutely had to be that particular book!
–Allison Griest, Assistant Editor
---

The Black Stallion
By Walter Farley
My all-time No. 1 favorite novel. I used to make a habit of reading The Black Stallion once a year. The relationship between youth and horse inspired my life-long passion for horses, and even had me creating my own series of short stories about a similar horse named "Storm."
Black Gold
By Margeurite Henry
The first book that ever made me cry. Kentucky Derby winner Black Gold broke down after being sent to race on an iffy leg, but finished the race on "three legs and a heart." I read Marguerite Henry's words in sixth grade and remember them to this day.
Centered Riding
By Sally Swift
A clear explanation of the esoteric concepts of classical riding and a proper seat. Sally Swift has a gift for teaching her craft, and thankfully it's been passed along to all of us in a wonderful reference book that we can learn something new from every time we read it.
Seabiscuit
By Laura Hillenbrand
Fabulously written and meticulously filled with historical detail, Laura Hillenbrand lovingly shares the story of one of the all-time underdogs in the world of sports. Coming from absolutely nowhere to become one of the greatest racehorses in anyone's memory, Seabiscuit gets readers rooting for him again, 70 years after his great victories.
Secretariat: The Making of a Champion
By William Nack
William Nack is usually deemed the greatest racing historian of all time, and this book shows us why, remaining perhaps the pinnacle of his work. If you never cared about racing or Secretariat, the human touch and fascinating details in this book will capture your attention on these subjects.
-Holly Werner, Associate Editor
---
When I was a horseless teenager daydreaming of winning world championships, I read and reread my autographed copy of Helen Crabtree's Saddle Seat Equitation, the veritable bible of the sport. But it's the great horsewoman's other book, Hold Your Horses, that makes my list of required reading. Through this series of Mrs. Crabtree's own memories of the champions she trained, the reader can experience the glamorous and sometimes strange world of the Saddlebred show ring in the mid-twentieth century.
-Leslie Potter, Assistant Website Editor
---
See HorseChannel's list of 30 Great Horse Books and add your own picks.  Read more >>
Learn about starting your own collection of classic horse books.  Read more >>