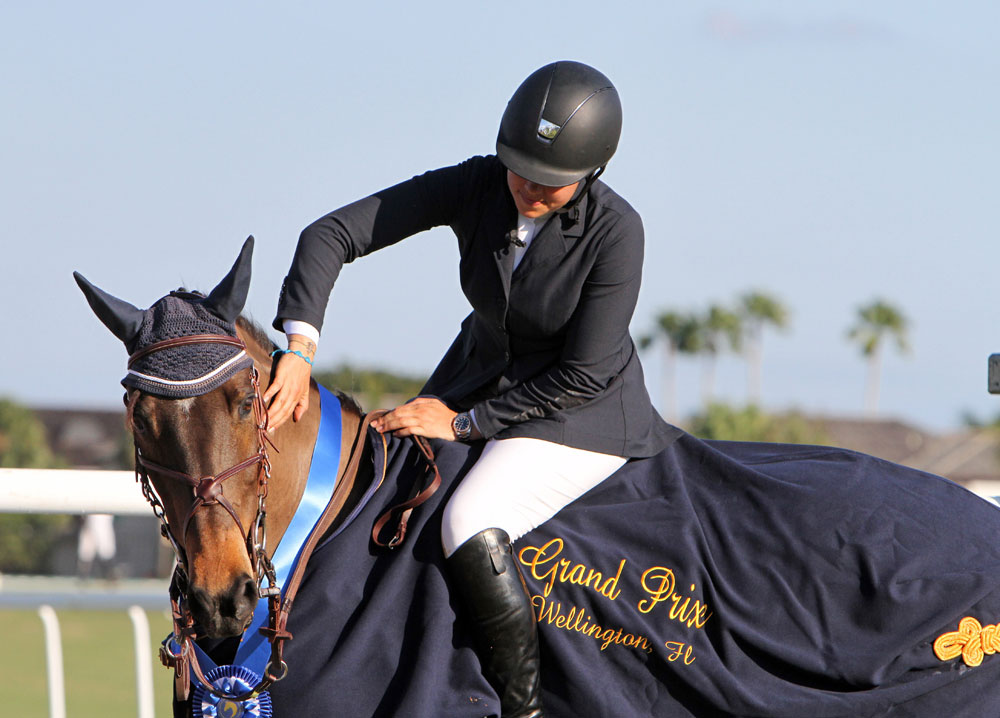 Brianne Goutal and Onira. Photo by Kenneth Kraus/PhelpsSports
Professional Equestrian Brianne Goutal's involvement with the ASPCA, a national non-profit organization, is an inspiration to horse lovers worldwide. After her win of the 2005 ASPCA Maclay Finals and subsequent commitment to embodying the ASPCA's mission, Goutal has continued to urge the horse industry to take action against horse cruelty.
After winning the Maclay Finals, Goutal had a meeting with Valerie Angeli, Senior Director of Special Projects for the ASPCA. She realized immediately that she wanted to epitomize the ASPCA's mission: "To provide effective means for the prevention of cruelty to animals throughout the United States." She left the meeting dedicated to becoming involved with the program.
Soon after, Goutal became the first official ASPCA Equine Welfare Ambassador. She has shined as a spokesperson for the organization's commitment to stopping various kinds of equine cruelty, specifically horse slaughter. She has been primarily involved with the equine division because of her involvement with the equine community. The protection of these animals is a matter that is very close to her heart.
"The ASPCA has a deep-rooted commitment to promoting equine welfare around the country. They work hard to protect at-risk horses through legislation, advocacy and grant funding," said Goutal. "As an ASPCA Equine Welfare Ambassador, I have learned about the serious threats our horses and all animals face today. I am able to make a difference by speaking out against industries that abuse animals."
Goutal strongly believes in the progress that has been made through awareness efforts and the progression of improvement to the lives of thousands of animals showcase the true potential of the ASPCA's efforts. Today, the ASPCA offers lifesaving resources for equine rescues and sanctuaries and fights for equine protection on the legislative level. Through a combination of financial help, in-person and online training and sharing of best practices, the ASPCA supports the organizations and individuals who are saving our nation's horses.
"Brianne's genuine compassion for horses coupled with her desire to actively improve equine welfare made her a natural fit to be the first official ASPCA Equine Welfare Ambassador," said Valerie Angeli, senior director of special projects for the ASPCA. "As Brianne has risen to the top of the ranks in the world of international show jumping, her dedication to equine welfare has continued to grow and she has used her voice to speak out on critical issues impacting horses today, including horse slaughter, overbreeding and promoting equine adoption. It has been a pleasure to work with Brianne and we thank her for her commitment to improving the lives of horses everywhere."
The ASPCA's rescue programs created to combat abusive practices and designed to save thousands of horse lives have continued to benefit the community. They have encouraged Goutal to applaud all horse owners and breeders who have pledged to take part in the necessary steps to protect these animals. Goutal's efforts have largely strengthened the ASPCA's voice in the equestrian community and overall. Her commitment to what the ASPCA stands for and her dedication to helping these animals that allow her to live the life she lives as a professional rider and trainer have made, and continue to make, a world of difference.