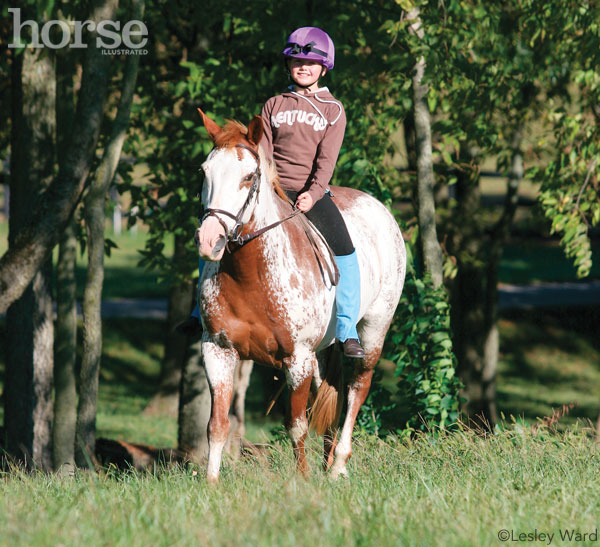 Though our love for horses is everlasting, our youth is not. That unfortunate fact means that with each birthday, it becomes more obvious that we aren't quite the same person, in or out of the saddle. Yet don't get glum. We're still diehard equestrians; we're just a tad different than we were back then. Here's a brief, humorous look at how the years can alter our perspective:
At the Horse Show

Then:


Between classes you flirt with the cute guys in the ring crew.

Now:
Throughout the day you confirm the precise location of the EMT.

Buying Riding Apparel

Then:
You excitedly ask the sales clerk, "Where are those new, low-rise booty jeans?"

Now:
You quietly ask the sales clerk, "What do you have that compresses cellulite?"

Naming Your Horse

Then:
Your horse's nickname honors a pop star or TV idol (or the character from a vampire novel).

Now:
Your horses are given the names you would've chosen for your children (if you'd had any).

Stable Stuff

Then:
You decide that turquoise and neon pink shall be your barn colors, and everything must match.

Now:
Heather gray and denim blue seem to camouflage horse slobber. Thus they become your barn colors.

On Hot Summer Days

Then:
You wear boots with a pair of shorts and ride your horse bareback.

Now:
Either you ride at sunrise or you make it a spa day… for you and your horse.

The New Horse Flick

Then:
Regardless of the storyline, you're captivated by watching beautiful horses on the big screen.

Now:
You spend 90 minutes in the dark critiquing the woeful riding skills of the actors.

Personal Style

Then:
Your wardrobe includes a smattering of equestrian jewelry and fabric with horsey imagery. It makes your connection to horses believable.

Now:
Your jacket bears chew marks and your jeans are stained with purple thrush medicine. No one doubts that you're a true horsewoman.
Liked this article? Here are more humorous musings from Cindy:
The 7 Stages of Aging on Horseback
Not Quite out to Pasture
---
This article originally appeared in the April 2015 issue of Horse Illustrated magazine. Click here to subscribe!