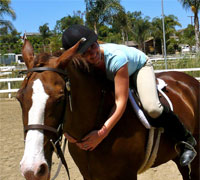 Karisa learned to overcome her fear with help from Libby the lesson horse.
"Nothing in life is to be feared, it is only to be understood."
– Marie Curie
When I first heard that quote, I felt like it was speaking directly to me. I have a secret fear, and hearing that quote inspired me to begin a life-changing adventure.
First let me introduce myself. I work in marketing at Troxel Helmets, and I have shocking secret I need to confess: I am TERRIFIED of horses.
How does someone with a full-blown fear of horses end up working at the world's largest equestrian helmet company? The short answer is I am passionate about everything I do, and working for a helmet company feeds that passion.
Before joining Troxel, I was a PR and project manager at a digital marketing agency, and Troxel was one of my clients. I was the person that received all of the helmet testimonials–the stories from riders thanking Troxel for saving their life or the life of someone they knew. But I also received stories that would just break my heart right in half, the ones from those wishing their loved ones had worn a helmet. Every single testimonial made me feel more and more passionate about raising helmet awareness.
After four years as my client, Troxel offered me a position in-house. Working in this field with no riding experience was a challenge of its own, but I went for it. Thankfully it turns out the equestrian industry is full of some of the kindest people you can imagine–even if you are secretly terrified of horses! Although I had little to no equestrian knowledge, I did know marketing, and I know you have to immerse yourself into the industry that you are marketing to to be successful. Normally if I have questions when writing an article or our Facebook or Twitter posts, I would ask my horse-loving employees, fans, riders that we sponsor, or my dear friend Google. I cannot tell you how many times people in the equestrian industry would ask what kind of horse I had, or what type of riding I do. I would usually try to steer the conversation elsewhere, but those down-to-earth equestrians can usually see right through it!
Now after five years, the equestrian world is starting to feel like home. So I decided it was time for me to follow that admirable quote: "Nothing in life is to be feared, it is only to be understood" and do something about it. After much hemming and hawing I decided to jump in the saddle, bring out that inner adventurer in me, and face my fear head on. I had always wanted to learn to ride horses. But fear has always held me back. I actually grew up on a ranch with two horses. One was a very kind gelding, but the other was a wild pony with an attitude. All it took was one painful buck from that pony and I hadn't been on a horse since. Since then I have perceived horses as big, strong, unpredictable creatures; as clinician and author John Lyons says, fear is often simply "common sense in disguise."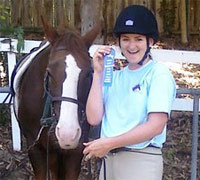 With Troxel's blessing, I began taking riding lessons at local riding facility by my office. My boss allowed me the next eight weeks to take lessons and overcome my fear. I can say now looking back that facing this fear was the most important life lesson I have endured. There were several times that I had to give myself little pep talks to keep going after nearly falling off, or being bit!
After my eight weeks of lessons were complete, the riding facility I was at encouraged me to compete in a local show where I would be 'showing' everything I learned. I decided – what do I have to lose? What is one more challenge? So I went to the show and competed in front of a crowd of about sixty people, along with some of my family, co-workers and friends. I had to compete against two other riders who were at the intimidating age of 9 and 10 years old. Embarrassing!
Long story short, I competed and I got first place! I couldn't believe it. The feeling when I won is almost indescribable. I was shocked, a little embarrassed, relieved and so proud of myself for facing that fear.
I have to give a big thank you to North Coast Equestrian Park for giving me lessons. They were so kind and helpful and never made me feel ridiculous for having a fear of horses at my age. I can look back to that fearful place I was in just eight weeks ago, and I can honestly say that I have officially gotten over my fear.
I am still a bit intimidated by horses, but I have learned to appreciate their beauty and their incredible calming ability (I never thought I would say that in my life!). At the end of the day, stepping out and doing what I've always wanted to do is saying yes to life. And that's something I'm sure we could all use a little more of.
I hope that my experience encourages others to get out there and face their fears. Here is a short video summarizing my experience: Enjoy!
Ten Things I Learned from Facing my Fear
"Nothing in life is to be feared, it is only to be understood." – Marie Curie
Horses have blind spots, learn where they are and don't stand in them. The irony of horse rider fear is that the more nervous you are the more likely that your horse will be nervous. They feed off of our body language and are very sensitive to our state of mind. The safest spot to stand around a horse, is at the side of the horse near and close to the horse's shoulder area.
Horses are like people, they need to be warned, if someone walks up behind you and pats you on the behind, it is very likely that you will spook.
Where your eyes go, so follows your body. So if you look down at the ground, eventually that's where you're going to land. Bottom line: LOOK UP.
Remember to breathe.
Peppermints = horse bribery. So grab a few extra after your next meal out
A tip to help you remember to ride on the correct diagonal: "Rise and fall with the leg on the wall."
If you don't tighten the girth, your saddle can end up on the side of the horse (WITH YOU IN IT!)
You're never too old to learn to ride or get over your fears
Read Karisa's full blog at TroxelHelmets.com