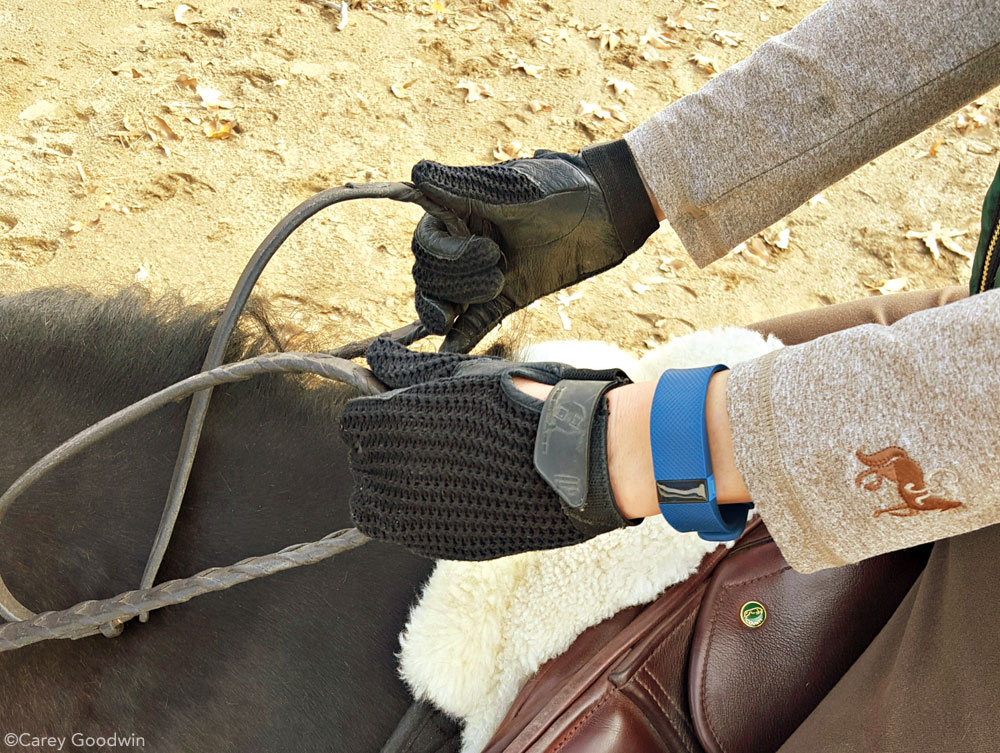 Riding with fitness trackers provides workout data for equestrians, such as heart rate and calories burned.
Fitbit, Apple Watch, Jawbone, Garmin. Fitness trackers are all the rage, and many equestrians have embraced them as a means to measure the health benefits of riding and working around the barn. Here are a few ways riders are using these wearable tech tools.
Track Workout Intensity of Rides
Blogger Kristen Smith of IfTheSaddleFits.com uses her Fitbit Surge as a gauge to ensure that she is riding with as much rigor during her dressage schooling sessions without a trainer as she does while in a lesson. "I know about how many calories I burn and where my heart rate sits during lessons, so it's a good self-check to I know when I'm going a little too easy on myself and my horse."
Christy Rettger, a dressage trainer from Illinois, uses her Fitbit for similar reasons. "On my older horse, Liam, I do more of a 'stamina' workout. I don't really get out of breath, so we can trot and canter for 10 or 15 minutes at a time. It gets my heart rate into the fat-burning zone and sometimes cardio, but I go for such long stretches that it burns a lot of calories."
She was surprised to discover that even though she thought she worked harder on her younger horse, Remy, because her muscles were more fatigued, the Fitbit data showed that on Liam, she spends more time at a higher heart rate.
Record Rides with the Touch of a Button
Rettger also likes to track her rides by entering her horses' names as the activity name instead of the general title of "horseback riding." It gives her a way to record how much time she spends on each horse with just a few simple touches of a button. In addition, she can determine the quality and intensity of the ride based on the minutes worked and cardio zone. This is also a simple way to keep a digital riding journal.
Measure Distances Traveled by Hoof or on Foot
Samantha Hobden of Hay-Net.co.uk, the UK's equine social blogging network, began using an iWatch recently (thanks to Father Christmas). She learned her daily routine consistently places her at nearly double the daily recommendation for steps.
"Hacking out for 45 minutes and then mucking out stables, grooming, filling haynets, and sorting the field I average around 8,000 steps," says Hobden. "Add my usual dog walking, shopping, et cetera, and my daily total adds up to around 17,000 steps." Riding and living with horses clearly translates to a healthy, active lifestyle.
The distance tracking feature is great for trail riders who like to track their mileage; it's also helpful for a simple walk (without the horse) around the neighborhood.
Recently while walking my dogs, I was shocked to discover that looping around a street two blocks from my house and returning home is one mile.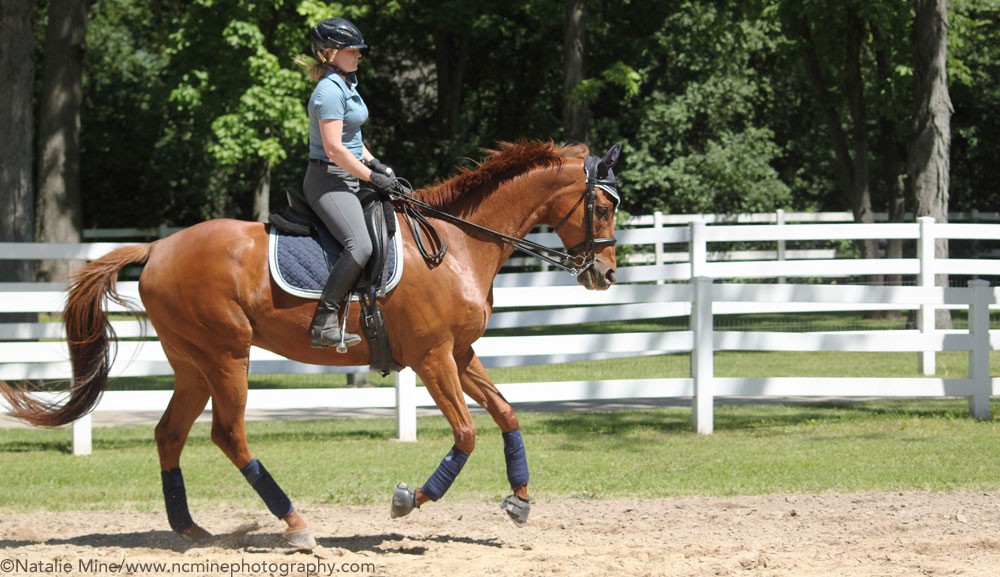 Christy Rettger keeps track of her training rides on Remy using a Fitbit.
Celebrate Movement Milestones
Being active is something to celebrate, and many trackers cheer on their wearers' fitness pursuits.
The first time I attained 10,000 steps in one day was shortly after I received my tracker as a birthday gift. I learned about its celebration feature as my wrist started vibrating during a riding lesson. My trainer said, "What's that? It looks like a party's going on up there!" I glanced down and the flashing display lit up like mini fireworks.
The other night while retrieving my just-charged device, the message "I like you" scrolled across the screen. For the legions of equestrians who've incorporated fitness trackers into their horse passion, the feeling is undoubtedly mutual.
Susan Friedland-Smith is a school teacher who blogs at Saddle Seeks Horse (www.susanfriedlandsmith.com) about "the Real Horse Life of Orange County."
---
This article originally appeared in the May 2016 issue of Horse Illustrated magazine. Click here to subscribe!