It's no secret how much Advanced level three-day eventer Leah Lang-Gluscic paid for her off-track Thoroughbred, AP Prime. His $750 purchase price has proven to be money well spent for the former investment banker, and priceless when it came to making her eventing dreams a reality.
Horses were part of Leah's life growing up, and she evented through Preliminary level in high school. "I was that 10-year-old girl that walked around telling everyone I was going to the Olympics," she says. But in her family, college was considered mandatory, so Leah earned her degree in finance and accounting, and went to work in the corporate world. "College was to go get a great job so I could afford this horrible habit," she laughs.
After two years of investment banking in Washington, D.C., the long hours took a toll. Although she would ride occasionally, it wasn't enough. "I never got outside or had any free time. There would be the one off weekend where I'd spend the whole time riding and enjoying myself, but it was always on other people's horses, catch-riding when I could, and even fox hunting, which was a blast." But eventing was what Leah lived and breathed for, and what she wanted to do.
"It got to the point where I realized I'm young, unattached, and have no responsibilities other than myself. If I'm going to give this a go, I have to do it now."
Buying the Family Farm
When Leah first started seriously thinking about making her dream of going into the horse business a reality, it was Thanksgiving of 2009.
"I was visiting my family and we were driving. I was looking at all the beautiful farms out the window and made the offhand comment that I could be so happy if I just had a farm and a bunch of horses and a dog."
That got her mom's attention.
"We talked about it later that night, and my mom asked if that was what I really wanted to do, and I said it's always been what I've really wanted to do."
The idea took hold, and Leah put together a business plan and started looking at the numbers and what she would need to do to make it happen.
"In hindsight it was really naïve to think that anyone could have a business plan in this industry," she says. "It's a hard business. One year can be great and the next, you're eating ramen noodles."
Leah's parents are an integral part of the business, and in 2010 they purchased the Illinois farm that she works out of to help her get started. They viewed the land as something tangible to invest in, but more than that, they have invested in their daughter. "My parents aren't incredibly wealthy. It's been a huge sacrifice on everyone's part to make this viable, even now," says Leah.
The farm is truly a family affair, although Leah's parents weren't horse people to begin with. Leah credits her mom with being a big help caring for the horses and helping her with the young horses. And she reports that her dad really loves going out on the tractor to mow and taking care of the land. "He loves being a part of it in that way," she says. "It's been interesting how this farm has had its good points for everybody."
When Leah is on the road at horse shows, her family takes care of the horses and keeps everything running. "I absolutely, 100 percent, could not do it without them."
All About AP
To make it as a competitive rider, you need the horse of a lifetime. AP Prime is that horse for Leah. She found him at a small track in Illinois where she fell for his gorgeous looks right away, but he was recovering from an abscess, so he wasn't quite sound.
"My brain told me no, don't buy this horse, but at the same time, he was only $750, so it wasn't that much of a risk. I just got a gut feeling that he was the horse that I was supposed to have." And so the former finance whiz brought home the $750 horse.
Realizing AP's potential was a gradual process, but deep down, Leah knew he would be special. Early on, she had to decide between AP and another horse which one to keep and which one to sell. When someone asked her if AP was for sale as an Advanced prospect, her immediate response was "no."
"I think that's when I knew that he was going to be a horse for me for the future. I remember saying to that person, I think this horse might actually go to Rolex and I want to be the one on him."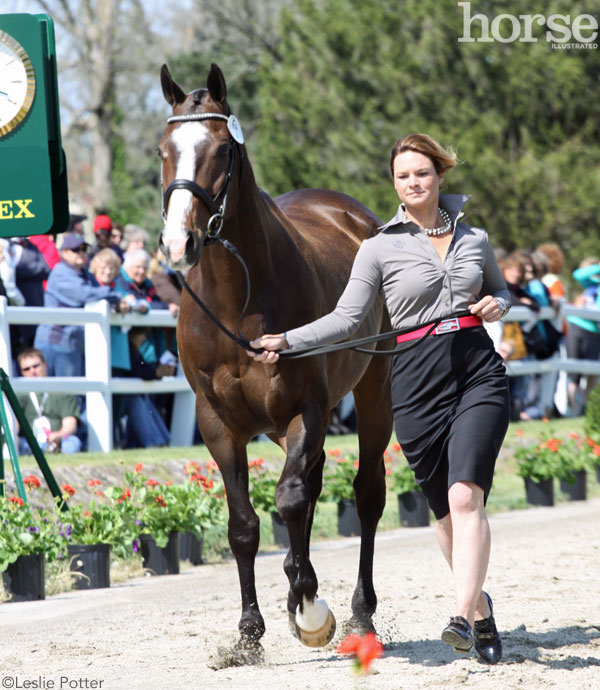 Leah Lang-Gluscic and AP Prime at the 2015 Rolex Kentucky Three-Day Event
The Road to Rolex
Those words proved prophetic as Leah and AP earned competitive success and qualified for the 2015 Rolex Kentucky Three-Day Event. "I got so incredibly lucky to find AP when I did," says Leah. "It has been a privilege to be along for his journey. We all hope as a professional to make it to Rolex, but I don't take full credit for that happening. A lot of it was luck, and lot of it was AP."
To get to an event like Rolex requires not only a talented horse and rider, but extreme dedication and discipline. The Rolex Kentucky Three-Day Event is one of only six international events at the four-star level of eventing, the sport's highest level, and more challenging than the Olympics. With $300,000 in prize money on the line, competing at Rolex is a big deal.
Over the last four years, with Rolex in their sights, Leah put together a detailed plan to prepare herself and AP for the biggest event of their lives. "You have to be 100 percent committed because it takes such a regimented program," says Leah. "Starting in the first week of December last year, almost every day of AP's life was planned out to a T: his flat rides and gallops, going aqua-treading, when he would jump and when he would compete, and which competitions would be best for him."
Leah also got her vet on board for monthly checkups to monitor AP's health. While the physical preparations are rigorous, the emotional aspect is also tough.
"It's non-negotiable. Everything else comes second, and that's the honest truth," reveals Leah. "People want to come visit, but you have to go to a horse show. Your friends come second. Your family has stuff going on that you should be there for, and you have gallop sets or something else.
"And then you have to try to not let yourself go crazy while doing all that," she says with a laugh.
Dealing with Disappointment
In the Disney movie version, of course AP wins Rolex, but in real life that's not what happened. After being so dedicated to the plan, every schooling session, every minute, Leah had to make the difficult decision to scratch AP after dressage and before the cross-country phase at Rolex, due to concerns over a minor leg injury sustained three weeks prior.
"He's only 10 years old; he has so many four-stars ahead of him. I had prepared myself that if he wasn't 100 percent right, that if he was only 98 percent, that he would not be running.
"He felt really good in the dressage, almost too good I would say, because he had quite an exuberant test. And then we ultrasounded [the leg] one more time, and it didn't look the same as it had the two weeks prior.
"It was an intense 12 hours after that to deal with the disappointment of all those months and years of work, and in the end, all that intense focus being for naught. AP has such an incredible fan base, and I was thinking how I would share that information with everyone, not knowing how it would be received. But everyone was wonderful. I got nothing but support for my decision and for putting AP first.
"Would I love to be sitting here talking to you as a four star rider? Yes, but are there still many positive things to take away. I'm fully appreciative of the experience even if it didn't go as planned."
Leah's takeaway is that she and AP will be even better prepared next year. "I got to do the dry run, and I got to mentally go there and get in the dressage ring, and up until the last moment, I was mentally preparing myself to go out on that cross-country course. Those were incredible skills to get to practice. And I had an incredible week spending time with my sponsors and fans."
After an intense week of ups and downs, going to AP's stall and having a happy, sound horse was the best Leah could ask for.
As for AP, the horse Leah describes as quirky and opinionated clearly expressed his thoughts when he refused to get on the trailer to leave the Kentucky Horse Park afterward.
"This sounds kind of funny, but I knew he would be mad that he was just there for dressage. And when I was packing up and leaving, it took me 5 minutes to get him on the trailer, and he normally auto-loads. For him to tell me that he loves to jump that much, that was pretty special."
Editor's Note: Since the original publication of this story, Leah and AP successfully completed the Rolex Kentucky Three-Day Event in 2016.
This article originally appeared in the August 2015 issue of Horse Illustrated magazine. Click here to subscribe!