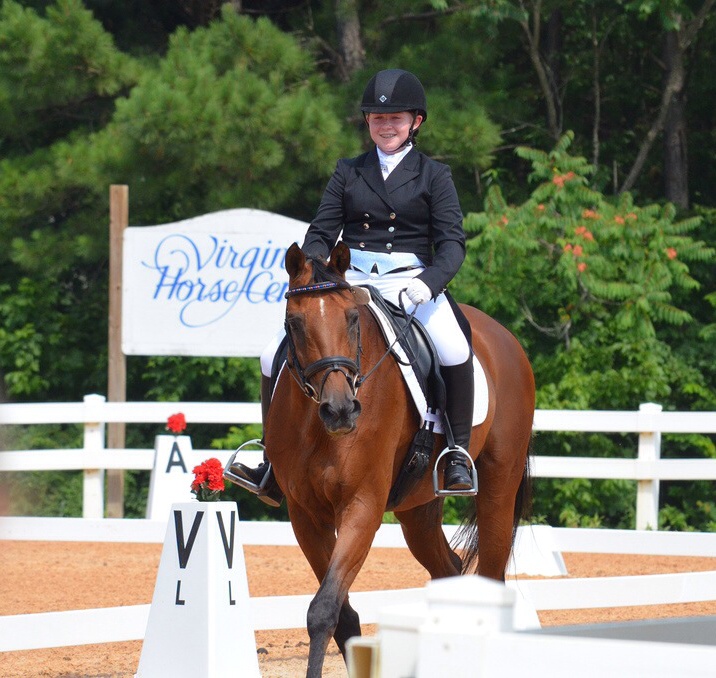 Two happy campers, Kristin and Bellinger in the summer of 2014 after their first Prix St. Georges test at Virginia Horse Center. The pair went on to win the USDF Region 1 Jr/YR Prix St. Georges Championship that year. Photo by Jeff Counterman

Kristin Counterman's young rider success story is filled with a variety of ponies, a senior schoolmaster and lots of hard work. The bubbly 14-year-old Virginia native started out riding in summer camp at age five and by the time she was barely 13, she was in the ribbons at her first United States Dressage Federation (USDF) National Dressage Championship in 2013.
Her journey to the upper echelon of junior equestrian sport is inspiring and one that any young rider would want to emulate. Along the way she's had a steady stream of equine partners, and until recently all of her mounts were either leased or borrowed. Kristin says each of them taught her something.
"I rode a lot of spunky ponies and learned to be patient," she laughs.
Her parents shared how and why Kristin started riding at such a tender age. "Kristin has always loved being around animals, so one summer she attended a horseback riding camp. She loved it so much that we found a local Pony Club where she could make friends, learn horse management and learn how to ride."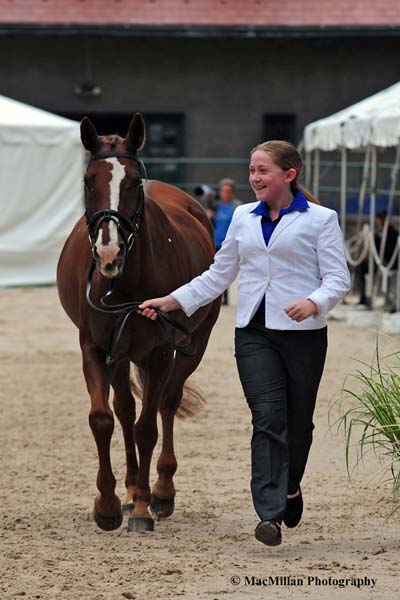 Kristin Counterman presents her pony mare Esperanza with a smile during the first horse inspection at the USEF Dressage Festival of Champions at Hamilton Farm in Gladstone, New Jersey, in June 2014. Photo by Kim MacMillan/MacMillan Photography

By the time she was seven Kristin was a member of the Misty Brae Pony Club Riding Center in Aldie, Virginia, in the United States Pony Club Virginia region. During her time in Pony Club she competed in dressage, eventing and show jumping rallies as well as tetrathalons (a competition that consists of riding, running, shooting and swimming). She won the Virginia Region Tetrathalon for her age group in 2009 and 2010. She is still a Pony Club member and recently earned her C2 certification in dressage.
"In 2010, I leased my first pony, Rambo, a Connemara gelding owned by the LaRocque family," says Kristin. "Rambo and I attended several Pony Club competitions. Even though he was in his mid-twenties when I started leasing him, he could still do it all! The lease gave me the opportunity to experience other types of riding, including fox hunting and competitive trail riding. He was also the first pony I started to focus on dressage with, including competing at dressage shows outside of Pony Club. He taught me a lot and helped me build a great foundation for my future riding. The LaRocques also loaned me a beautiful Saddlebred and in 2010 we won the Virginia Trail Rider's Association 50-Mile Novice Division."
In 2011, after her lease on Rambo was finished, Kristin leased a Welsh Pony mare named Meg from the DeMichele family. Meg opened up even more doors for Kristin.
"My lease with Meg gave me the opportunity to move up a level in dressage. We ventured out on our very first long trip to the Lendon Gray Youth Dressage Festival in Saugerties New York. Meg and I were awarded the highest equitation score at the show and we earned a silver medal in our division. I was officially hooked….dressage was going to be my future! I can't say enough wonderful things about Lendon Gray and the Youth Dressage Festival. Attending that show made me feel like I was home. It was so much fun to be around other kids who love dressage as much as me."
A chance meeting through a Pony Club dressage quadrille training session introduced her to another of her coaches, FEI rider Lauren Sprieser.
"I've been riding with Lauren for three years now," says Kristin. "I started off riding my pony Meg…until she unfortunately went lame. Then I started riding 'Billy' [Sprieser's semi-retired Grand Prix horse, a 22-year-old Trakehner gelding whose registered name is Bellinger]. We just fit right away and I loved riding him! That was such a great opportunity for me. I'm so glad I had the chance to ride him or else I wouldn't be here."
"Kristin is such a delight," says Sprieser. "She's wise beyond her years. That maturity lets her focus and be diligent in a way that even adults struggle with. But she's also a fun kid and keeps a light heart about it all. Her wonderful parents and my team are always mindful that we keep things fun and don't take it too seriously. But truthfully, that's not a struggle for Kristin like it can be with some other really focused, passionate kids. She brings her own sense of balance to it all. She's amazing. I want to be like her when I grow up!"
Sprieser, her former assistant trainer Allison Spivey, and Mary Flood are currently Kristin's main trainers. With Sprieser's and Spivey's guidance, Kristin and Billy honed their skills and developed a real partnership that stretched over two years. Kristin returned to the Lendon Gray Youth Dressage Festival in New York in July 2013, this time with Billy. They had the Overall High Score of the show earning a 75.9% at Second Level. They also scored 77% in their Second Level Freestyle and Kristin, who was only 12 at the time, scored 92% in her dressage seat equitation class. . They were the Overall Champion at the Festival, which earned Kristin an invitation to join the Emerging Dressage Athlete Program, and the opportunity to attend the 2013 Courtney King Dye Horsemastership clinic, both sponsored by Dressage4Kids.
Later in the summer of 2013 they were Junior/Young Rider Second Level Champions, and scored well in the Open Second Level Freestyle Championship, at the USDF Region 1 Finals. This qualified them for a trip to the inaugural USDF National Championships in November at the Kentucky Horse Park. They proudly took home a sixth-place ribbon in the Open Second Level Freestyle from the Nationals.
"Participating in the U.S. National Dressage Championships was an honor and a very great experience. It's nice to know that we were good enough to be competitive with the best in the country. The Kentucky Horse Park was such a nice facility and I loved riding in the fabulous Alltech Arena. It was such a positive and supportive atmosphere. Everyone was so nice," says Kristin.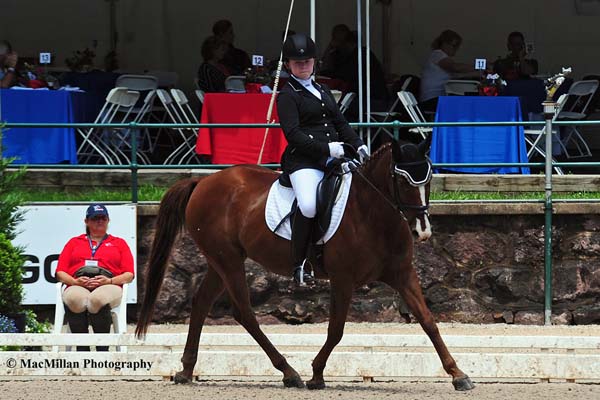 Kristin and Esperanza competing at the USEF Dressage Festival of Champions in June of 2014. Kristin re-trained the ex-barrel racing pony in less than a year for the FEI Pony class, which is a beefed up Second Level test. Ponies from across the country competed in this by invitation-only event. Photo by Kim MacMillan/MacMillan Photography

Kristin and Billy topped off their year in 2013 by earning a USDF bronze medal. Late in 2013 a new horse entered Kristin's life. Sprieser had found a grade Quarter Horse pony mare for sale and suggested that the Countermans consider buying her, which they did. Finally, after leasing so many talented horses and ponies, Kristin had a horse of her own! Esperanza, a.k.a. "Whisper", had been a successful barrel racer then began a new career as a very green dressage pony.
Kristin is proud of her accomplishments with her pony. "Lauren recommended that we purchase Esperanza to be my project pony with the goal of transferring the skills I had learned on Billy," she says. "It was a pretty big transition for her. We worked slowly and steadily and I realized that learning to train Whisper made me a better rider on Billy. We only had a few months to get ready for the 2014 qualifying season. Whisper is a great pony and works really hard. The improvement we made as a team in such a short time was amazing!"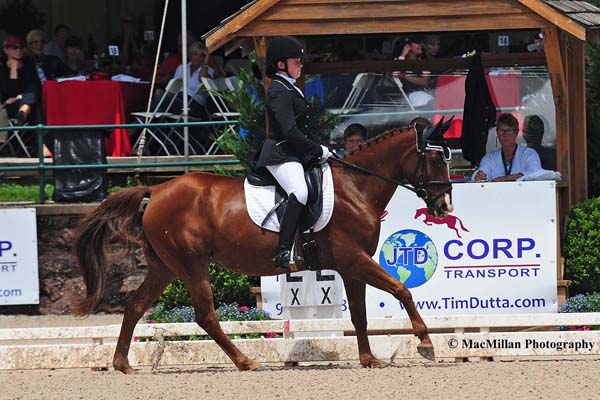 Kristin pilots Esperanza at a canter past the judge's booth at the 2014 USEF Dressage Festival of Champions. Photo by Kim MacMillan/MacMillan Photography

The next year, 2014, brought more opportunities for Kristin. She earned an invitation to participate in the United States Equestrian Federation (USEF) Dressage Festival of Champions at Hamilton Farm in Gladstone, New Jersey, in mid-June with both Billy and Esperanza. Kristin earned ribbons with both of them at the Festival.
The historic farm is the home of the United States Equestrian Team and only the nation's best are offered the chance to compete there. "I had never been there before. I was so excited to meet so many new people who ride at such a high level. It was really cool. The facility was awesome too!" recalls Kristin.
After the Festival of Champions, Kristin and Billy moved up to Fourth Level and Prix St. Georges. "In July and August of 2014 we earned the required scores for my USDF silver medal and qualified for Regional Championships. We went on to become the USDF Region 1 Junior/Young Rider Reserve Champion at Fourth Level, and Junior/Young Rider Champion at Prix St. Georges. I was very honored to earn the Prix St. Georges Championship on Bellinger. It was his last official FEI ride and it was very fitting that it resulted in one more blue ribbon," beams Kristin.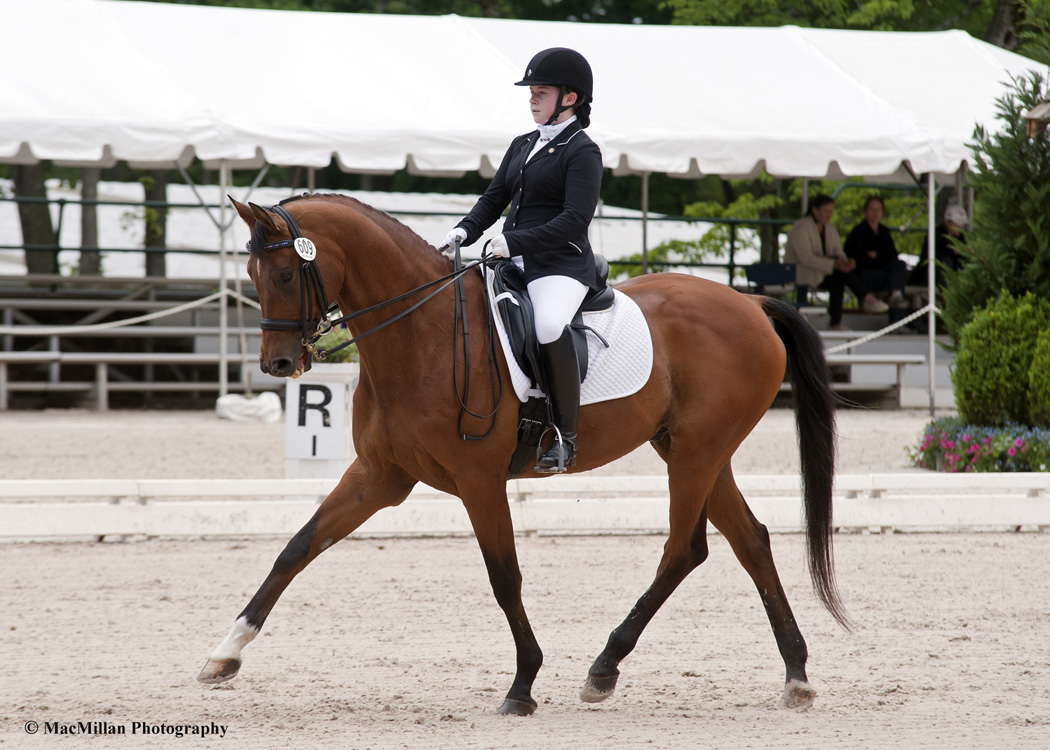 Bellinger, a.k.a. "Billy", and Kristin trot down the center line at the 2014 USEF Dressage Festival of Champions at Hamilton Farm in Gladstone, New Jersey. Billy, who was 22 years young at the time, is owned by Kristin's coach, Lauren Sprieser. The pair finished ninth in the Junior Rider division. Photo by Kim MacMillan/MacMillan Photography

With her time leasing Billy over, Kristin rode in the 2014 USDF National Dressage Seat Medal Finals in Illinois on a 20-year old Hanoverian gelding named Pip loaned to her by Amanda Johnson. They placed sixth. She and Whisper also took Reserve Champion in the 2014 Region 1 Dressage Seat Medal Semi-Finals in Virginia, which qualified them to compete in the finals again this year. Another highlight of 2014 for Kristin was participating in the Courtney King Dye Horsemastership program at Riversedge in Maryland with Fiero, an eight-year old Oldenburg gelding owned by Beverley Thomas.
While she still has Esperanza who she hopes to qualify for the Festival of Champions again this year, Kristin has two more new horses in her life now too. Her coach Mary Flood helped her find her first sponsor, Dr. March Enders, who purchased a four-year old Oldenburg gelding named Louboutin HW (barn name "Louie") from HW Farms in Germany for her to bring up the levels. Sadly Dr. Enders passed away recently, so Kristin is riding Louie in her honor and she hopes to get him into the show ring later this year.
Sprieser also helped her to establish a lease from owner Caroline Stephens on Three Times, (nicknamed "Dutchie") a 15-year-old Dutch Warmblood gelding. She is competing Three Times in the FEI Junior Rider division this year and hopes to earn a trip with him to the Adequan FEI North American Junior Young Rider competition in Kentucky in July. So far this year she and Dutchie have already earned one Junior/Young Rider High Score of Show at the first spring Virginia Dressage Association (VADA) show at Morven Park.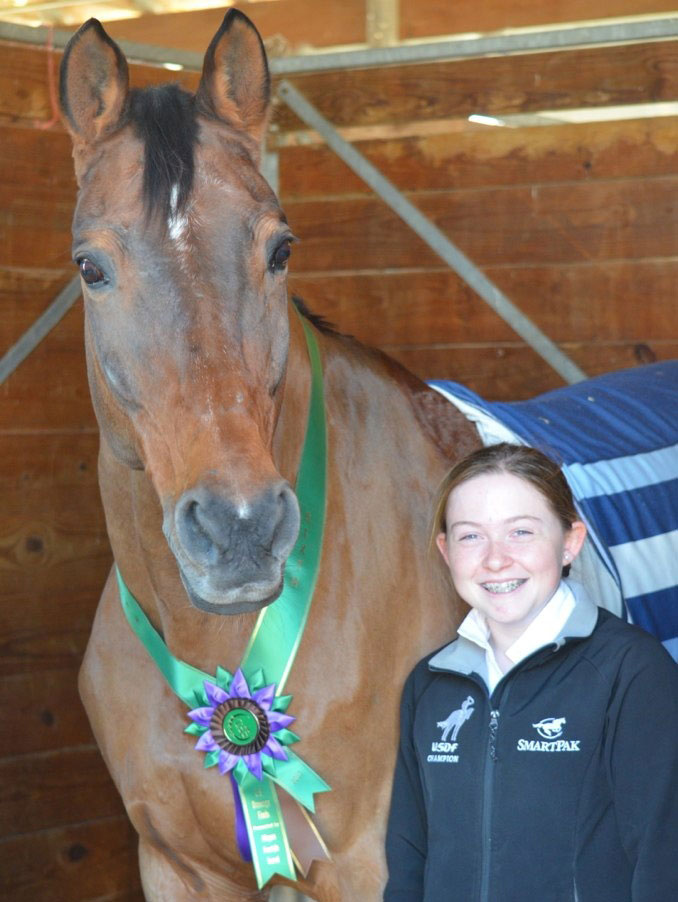 Billy and Kristin celebrating the ribbon they won in the Open Second Level Freestyle class at the inaugural USDF National Championships held at the Kentucky Horse Park in November 2013. Photo by Jeff Counterman

Kristin's schedule would be daunting for most people. Asked about how she does it all she responds, "To make my schedule work, I have to be very disciplined. I know what I would like to achieve. I make a rough plan to get there and try not to get distracted. I spend time doing the things I love, which makes staying focused easier. I also have a great support network that helps me!"
No matter what she plans for the future, one thing's for sure, she'll be working hard with a ton of enthusiasm and a big smile.