"If you fall off the horse, you just get right back on."
Most riders have heard that advice a million times. But no matter how familiar, it may not be the best recommendation an equestrian can get. In fact, regardless of their age or skill level, equestrians are frequently bombarded by all kinds of bad—even dangerous—advice from trainers and other riders, says physician and equestrian, Dr. Naomi Betesh, OD.
"Some riders have been getting bad advice all their lives and have a tendency to share it, and others – especially women coming to the sport later in life – accept whatever advice they are given," Betesh said. "Either way, it's all bad advice unless it limits your risk."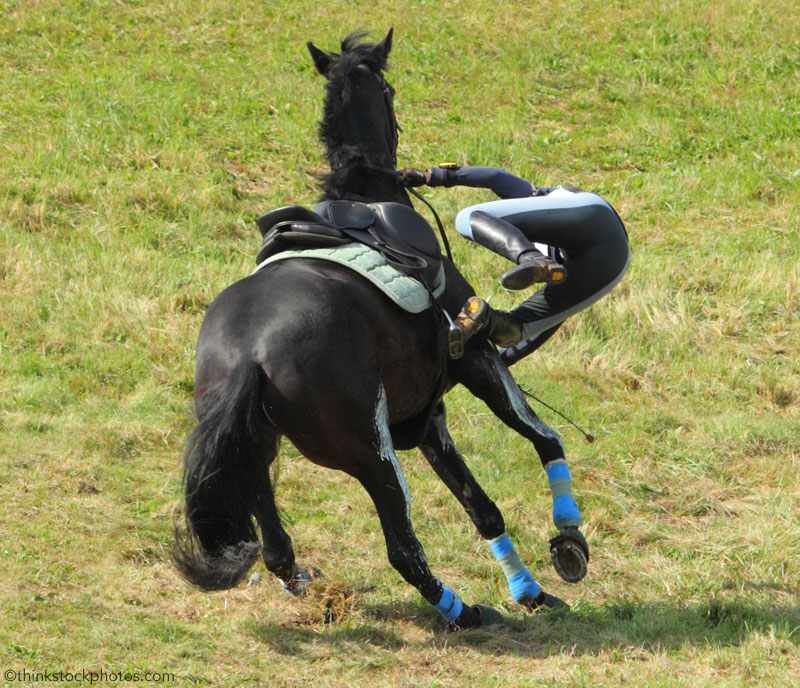 As a result, Betesh believes that recognizing bad advice and responding appropriately is crucial to any rider's safety.
So what's the worst advice riders can get? Here are some examples.
"Get back on the horse"
According to Betesh, this recommendation may seem pretty reasonable to equestrians who want to avoid the fear a fall can foster. But even a seemingly innocuous fall can mask a more serious an injury that is dangerous or even life-threatening.
"Think concussion," Betesh says.
The National Institute of Health (NIH) defines a concussion as a short loss of normal brain function in response to a head injury. Common symptoms generally include headache or neck pain, and some concussions may cause a dazed feeling for several days after the initial injury. More serious symptoms include seizures, trouble walking, weakness, numbness, decreased coordination, vomiting and nausea, confusion or slurred speech. Riders experiencing those symptoms should be evaluated by a health care professional as soon as possible.
According to Betesh, some riders may not be aware that they have had a concussion. As a result, resuming the ride may worsen the injury.
"You don't need to hit your head in order to be stunned, but you could still have a concussion," Betesh says. "That's why you are not the best person to decide whether or not you should get back on the horse."
Instead, Betesh recommends that riders rely on a trainer or other companion to help determine the scope of a fall-caused injury.
"Others are more likely to see how you came off the horse," she says. "If you even suspect an concussion, or other serious injury, go to the emergency room right away."
Riders with less serious injuries should at least go home and rest.
"Any time you get back on the horse, you risk making any injury – including a minor one – even worse," Betesh said.
"You can still do this"
When it comes to returning to the sport after a long absence, many riders are most likely to be highly competitive and tend to over estimate their skill levels. While the notion of working though a challenge may be attractive, it can also be a recipe for disaster, Betesh says.
"Older riders think that because they were able to do something when they were 16, that they can still do it," Betesh says. "In fact, we just don't heal as fast as quickly as we used to."
Instead of pushing the envelope, Betesh recommends encouraging returning riders to slowly expand it by polishing up old skills and building new ones over time. Meanwhile, riders of any age and skill level may benefit from asking a more experienced person to ride a newly acquired horse or try out a new discipline first.
"It's always better to have an expert do something before you do," Betesh says. "After that, if you're a beginner start at the beginner's level and stay there as long as you are comfortable; if you think something is too aggressive, don't do it; it's all about minimizing your risk."
"A trainer's a trainer's a trainer"
Not so, Betesh says. While some are best suited to young riders who are willing to take risks in order to achieve competitive goals, others are better suited to working with riders who have been away from the sport or who are older beginners. In any case, finding the right trainer is key.
"You have to find a trainer that best suits your personality and goals," Betesh says. "It's an important discussion to have with any trainer before you even have the first lesson."
"You're too big, too small, too old or too short to do that"
Finally, thanks to poor, and usually unsolicited advice, some riders flatly reject certain disciplines or decline opportunities to participate in shows or other equestrian events on the grounds that they lack the physical characteristics usually attributed to more competitive riders. Rather than cave in, Betesh recommends that riders remember what it takes to be a good rider, and why they took up the sport in the first place.
"For example, I don't think size matters because you can be a smaller size and still have a weak core," Betesh said. "The question is ultimately about how strong you are, and about being physically able to ride as long as you can."