Wyoming is known for majestic mountains, pristine rivers and the legendary plains of the Old West. The 44th state abounds with a wealth of natural beauty and enthralling history that makes it a magnificent vacation destination.
The best way to take in the breathtaking beauty of Wyoming is from the back of a horse. A great place to start is in the town of Jackson Hole, which is located next to Grand Teton National Park and just outside Yellowstone National Park. Popular outfitter Wilderness Trails, Inc., can get you on a horse and give you an experience like no other.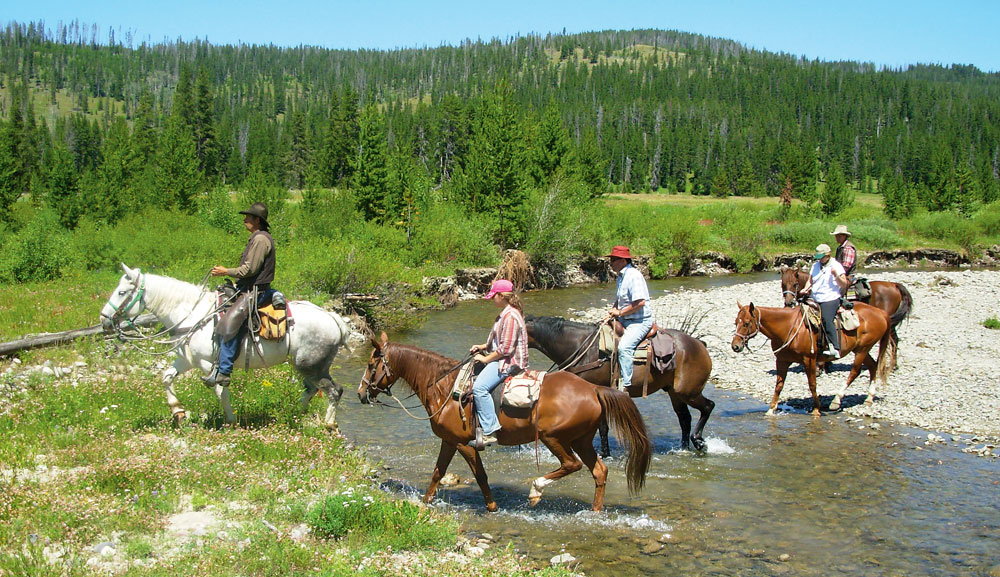 Wilderness Trails offers half- and full-day guided rides, along with overnight nature tours. Overnight accommodations feature a lantern-lit wall tent and bunk bed, and include a cowboy cookout in the evenings. For those interested in one of the day rides, the outfitter provides unrivaled access through both Grand Teton and Yellowstone National Parks.
"We've been offering professional, custom-tailored wilderness experiences for three generations now," says proprietor Galloway Clover. "Our guests follow the trails blazed by the Indians and mountain men of the past."
Wilderness Trails rides feature miles of backcountry trails that can only be traveled by riders and hikers. Yellowstone's lakes and streams, herds of wildlife grazing on ranges, and sweeping vistas are just some of what you'll see on one of these rides. Jackson Hole boasts some of the most breathtaking landscapes in all of the United States. Seeing the Tetons towering above the valley at sunrise or sunset is a highlight of the outing.
"Full-day ride guests travel over gentle terrain leading to the Snake River Hot Springs in Yellowstone Park," says Clover. "Or, they may ride the high slopes of Huckleberry Mountain in Bridger-Teton National Forest." Sweeping vistas of Yellowstone and the Teton Wilderness provide the view during the lunch included on this ride. "The peace and quiet they discover will change them forever," he adds.
The half-day ride takes you from the Teton Wilderness Area to Yellowstone National Park, where you'll observe the Teton Wilderness from a gently rising and falling trail that leads into Yellowstone National Park.
"We have visitors from all over," says Clover. "In all our years of doing this, everyone comes away feeling like they've never had any experience quite like this."
If You Go
Wilderness Trails provides its guests with mountain-wise, surefooted horses and mules. Riders of all levels of experience can participate on the tours.
For more information, visit www.wildernesstrailsinc.com.
Audrey Pavia is a freelance writer and the author of Horses for Dummies. She is based in Southern California.
---
This article originally appeared in the July 2016 issue of Horse Illustrated magazine. Click here to subscribe!