Riding your horse is a workout. We've been exploring ways to get physically fit for riding in the Fit Rider column in Horse Illustrated this year. But have you thought about appropriate fuel for the ride?
A lot of equestrians will be hitting the trails this summer, and if your rides go longer than a couple of hours, you'll want some nutrition as you ride. You might think that easy-to-grab granola bars are the best bet for a healthy snack, but did you know some of those granola bars have more than 20 grams of sugar? That's almost half of your entire allotment for sugar in a day (based on a 2,000 calorie diet) in a single bar.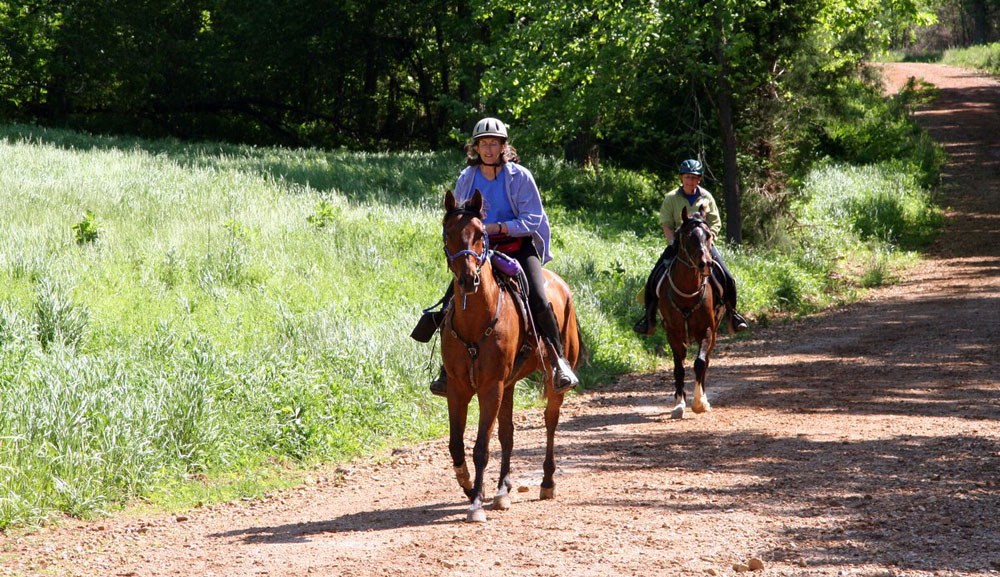 Of course, you might not feel compelled to snack on the trail on a hot day, but you need that little extra boost of protein and carbohydrates to get you through that last mile.
"Choosing healthy snacks that contain lean protein can keep you from getting overly hungry, which can lead to overeating later in the day," says Lindsay Livingston. Livingston is a registered dietician from Columbus, Ohio, who also has a blog at The Lean Green Bean, a website full of healthy and delicious recipes that are easy to make and friendly for people of all ages and walks of life.
Livingston also points out that when choosing snacks, you want to try to aim for a combination of protein and carbs—that will give your snack more staying power.
Some easy-to-pack ideas for the ride include:
Carrot sticks (dual purpose—can be a treat for your horse!)
Sliced apples with nut butter in a small container (another dual purpose snack)
Almonds
Mini rice cakes (these can withstand rough riding better than some crackers/chips)
Homemade protein balls and bars are also easy make and pack away, plus you have the bonus of knowing exactly what's in your food, without any extra sugar. Here are a couple recommended recipes:
Homemade No Bake Protein Bars
from The Lean Green Bean
Ingredients:
1.5 cups oat flour (simply grind oats in food processor)
1.5 cups vanilla protein powder (3 heaping scoops)
1.5 cups Rice chex cereal
3 Tbsp chia seeds
3/4 cup peanut butter
1/2 cup milk
1/3 – 1/2 cup honey, depending on sweetness preference
2-4 Tbsp water, if necessary
3 Tbsp chocolate chips, optional
Instructions:
In a large bowl, combine the flour, protein powder, cereal and chia seeds.
In a small bowl, combine the peanut butter, milk and honey.
Microwave if peanut butter is not liquidy.
Add liquid mixture into dry ingredients and stir to combine.
Add water if necessary to make sure all dry ingredients are moistened. (Mixture will be crumbly).
Use parchment paper to press the mixture into a 9×9 pan.
Freeze for 20 minutes.
Cut into 12 bars. Top with melted chocolate chips if desired.
Store in an airtight container in the fridge or freezer.
Cinnamon Apple Energy Bites
from Recipe Runner
Ingredients:
1 cup dried apples (not freeze dried)
½ cup medjool dates, pits removed
½ cup unsalted, dry roasted almonds
½ cup old fashioned oats
1 tablespoon maple syrup
1 teaspoon cinnamon
1/8 teaspoon allspice
2 tablespoons water (may need to add more, if needed)
Instructions:
Soak dates in hot water for 10 minutes
Add all of the ingredients into a food processor or blender and blend until mixture is a dough-like consistency
Scoop into balls, store in an airtight container in refrigerator or freezer (I'd recommend a freezer prior to the trail ride, so they're in good shape for the ride)
Also, homemade trail mix allows you to put your favorite things in an easily packed zipped baggie—nuts, seeds, dried fruit (but watch the added sugar on some dried fruit), some low-sodium pretzels.
Don't forget to pack plenty of water. Avoid sugary and caffeinated drinks and alcohol, as these drinks will dehydrate you rather than hydrate.
And, one last point, make sure you don't litter while on the trail. Store your food packaging away until you get back to the trailer or the barn and can dispose of it properly.