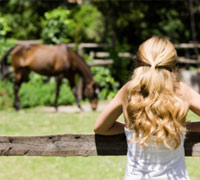 There's no such thing as a perfect horse just like there is
no perfect rider. Part of the appeal of working with horses is getting through
those imperfections, building a stronger
bond and becoming a better equestrian in the process.
When you look back on your life with horses, what is the
greatest challenge that you've overcome with your horse (or a horse that you've
worked with)? For some riders, common training issues such as a fear of water
or a tendency to bolt on the trails are the biggest problems. For others,
regaining an abused horse's trust or working through an injury marks the
biggest difficulty. In other cases, it is the horse that helps the rider get
through fear, injury or trust issues rather than the other way around.
Tell us what your greatest challenge was and how you and
your horse got through it by clicking "Submit a Comment" below. Some of the
responses may be published in a future issue of Horse Illustrated!
One selected response may be selected by the editors to win a monthly prize! If you would like to be eligible for the prize, please include your email address in the comment form (email addresses are not publicly displayed.)
See all HI Spy Questions >>