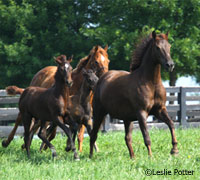 Look into your crystal ball. What do you see?
Probably—and hopefully—lots of horses.
None of us know with certainty what the future
holds, but we can take a good guess. Imagine your life in the year 2022. If you're
just starting out now with riding lessons, perhaps you see yourself as an
experienced equestrian and a horse owner in the future. Maybe you're training
hard today so that you can be working towards an Olympic qualification for
2024. Or if you're a rider of a certain age, perhaps you see yourself winding
down a bit and spending your golden years on the back of a reliable trail
horse.
On the other hand, if you've got a reasonably young
horse and a happy farm today, your vision for 2022 might just be to still be
enjoying the company of the same horse on the same farm with the same friends.
Ten years ago, you could not connect to your
favorite equine retailers or celebrity trainers via Facebook and twitter. You
couldn't upload videos of your rides to YouTube (or to HorseChannel.com, for
that matter) and get critiques from strangers thousands of miles away. When you
look into the future, do you think major changes in technology will affect the
horse world?
Click "Submit a Comment" below and share what you
think the future holds for the horse world and for yourself as an equestrian.
One selected response may be selected by the editors to win a monthly prize! If you would like to be eligible for the prize, please include your email address in the comment form (email addresses are not publicly displayed.)
See all HI Spy Questions >>