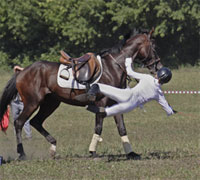 You go in for a job interview at a professional office dressed in your best business suit and feeling very confident and put-together. Things are going great until the interviewer points out that you have a bit of hay in your hair.
You've just finished telling your friend what a great bond you and your horse have, and that you've really earned his trust and respect, and as if on cue, he reaches out and bites you on the arm.
You're out on a date and you're having a good time, except that your date keeps asking, "Do you smell that? It smells like a barnyard in here." You shrug your shoulders as you remember that you forgot to change your shoes after walking through the pasture to throw your horse his evening hay.
Horses keep their humans humble. No matter how experienced and confident you are as an equestrian, your equine friends won't let you go too long without a reality check. Because of that, horse people are typically quite willing and able to laugh at themselves.
So 'fess up. Tell us about your most embarrassing moment as an equestrian, whether it was an incident at the barn, a wardrobe malfunction at a show, an experience when part of your equestrian life followed you into the outside world, or something else entirely. Click "Submit a Comment" below and share your story. Some of our favorite responses could be published in a future issue of Horse Illustrated.
One selected response may be selected by the editors to win a monthly prize! If you would like to be eligible for the prize, please include your email address in the comment form (email addresses are not publicly displayed.)
See all HI Spy Questions >>