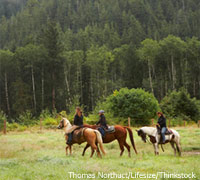 A ride on your favorite trail or open field can turn a mediocre day into a day worth celebrating. Whether it's the scenery, the terrain or the way your horse seems to perk up when you get there, having a favorite place to ride is almost as important as having a favorite horse to ride there.
Some riders prefer the familiar trails that wind around their own property or boarding stable. Knowing exactly what you're going to face can help you customize your ride to be a relaxing way to unwind or a challenge to work on training and conditioning.
Other riders have a favorite off-site location, a network of trails they can only visit on certain weekends or even just once a year. Perhaps your favorite place to ride is somewhere you've only visited once.
If trail riding isn't your thing, your preferred location could be the main arena at a showgrounds you frequent, a cushy indoor arena with footing like a cloud at a stable where you once attended a clinic, or even the reliable training area in your own backyard.
Click "Submit a Comment" below to tell us about your favorite place to ride. Some of our favorite responses could be published in a future issue of Horse Illustrated.
One selected response may be selected by the editors to win a monthly prize! If you would like to be eligible for the prize, please include your email address in the comment form (email addresses are not publicly displayed.)
See all HI Spy Questions >>