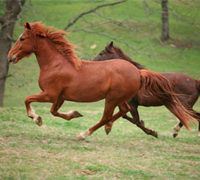 When you decided to get involved in horses, you probably assumed you would learn how to ride and maybe a thing or two about equine care. It's true that the horses can teach you as much as your human riding instructor, but they can teach you much more than just how to ride.
Horses teach patience. If you try to rush to the finish line of a training goal, you'll likely find yourself having to redo it, and it will take twice as long the second time around. Horses teach us to be focused. If you let your mind wander while you're working with horses, there is always one who will take advantage of your inattentiveness. They teach us compassion. Treat a horse with aggression and you'll get an unpleasant experience every time you get in the saddle, but treat a horse with kindness, and eventually it will pay off.
This month, we want you to tell us the most important lesson you've learned from horses. Tell us about the one horse that brought you to a breakthrough in your riding or how your involvement with horses in general helped you learn a valuable life lesson. Click "Submit a Comment" below and share your story. Some of the answers may be selected for a future issue of Horse Illustrated.
One selected response may be selected by the editors to win a monthly prize! If you would like to be eligible for the prize, please include your email address in the comment form (email addresses are not publicly displayed.)
See all HI Spy Questions >>