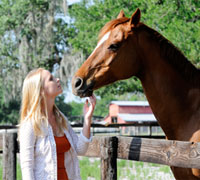 It's finally happened. You've finally convinced your friend, coworker or classmate to give horses a try. She's getting ready for her first riding lesson, or maybe has signed up to volunteer at a therapeutic riding facility to learn more about these magnificent beasts. Before she takes her first trip out to the barn, what advice do you give her to help her in her journey from horse-world newbie to full-fledged equine enthusiast?
Think back to when you first started with horses. While there are some lessons that can't be learned until they're experienced firsthand, there is probably a tidbit of wisdom that you wish you'd known back then. Whether it's practical advice (don't wear your favorite shirt to the barn, even if you swear you're just going to pop in and won't get dirty) or a bit more abstract (prepare to have your life changed in ways you'd never imagined) it can all be helpful to a first-timer.
Click "Submit a Comment" below and share your advice. Some of the answers may be selected to be published in a future issue of Horse Illustrated.
One selected response may be selected by the editors to win a monthly prize! If you would like to be eligible for the prize, please include your email address in the comment form (email addresses are not publicly displayed.)
See all HI Spy Questions >>