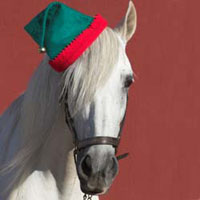 Giving gifts around the holidays can be just as much fun as receiving them, but sometimes it's hard to find the right present for friends and family members. Check the horse lovers in your life off your list by using the following gift ideas as inspiration.
Good Gifts Given
Before you hit the stores in search of the perfect gift, consider the fact that you may already have it at home. Marie Dimonte knew what she had to do when her friend's beloved old mare suddenly passed away: She went through a collection of snapshots she'd taken over the years of her barn buddy and the mare and selected her favorite. "In the picture, the mare had her ears up, her neck was arched, and you could see her beautiful dapples. It was the way everyone would want to remember that mare."
Next, Dimonte sent the photograph to a local print shop that enlarged the image and then transferred it onto a canvas-like backing. After the picture was framed, it looked much like a painting. "When I saw the finished product, I knew it was the perfect gift," says Dimonte. "My friend cried when she opened it, but it was a good cry. That picture still hangs on the wall in her living room as a memorial to her favorite horse."
When You Least Expect It

You never know when or where inspiration will strike. You may just suddenly come across the right gift for a horse lover.  Jenny Stanley found one at a simple country store while she was on vacation in New Zealand. 
"I really wasn't Christmas shopping," recalls Stanley. "I just happened to see this really intriguing casserole dish. The lid had an ornate horse head handle on it. My friend Denice, whom I've ridden with for decades, loves to cook and have people over for dinner. So I bought that casserole dish and carried it in my luggage all the way home to the states from New Zealand. It sounds extravagant, but it really wasn't expensive. It was just unusual. The point is, Denice loved it and still uses it all the time when she has company."
Frugal Finds

Don't think you have to spend a lot of money to give the right gift. Hand-made items can be just as meaningful. Andi Rigby presented her young riding students with hand-written gift certificates. "A couple of the kids I teach come from homes where there really isn't any extra cash for lessons. But the kids are horse crazy, so over the summer I found ways for them to do a few extra chores around the stable, such as cleaning tack. Then at Christmas, I gave them each a certificate for a free riding lesson. They were so excited! And all it cost me was an hour or two of my time."
Still stuck for an idea? Consider putting your head together with like-minded friends for a group gift. That works especially well for a big-ticket item. For example, Lori Heinzel collected about $10 from each of the boarders at the stable where she kept her horse. "The lady who owned the place was really a great gal. We put together just enough money to buy her a really nice, professionally made sign for the property. She appreciated the present, and it was fun for all of us to be in on the surprise together."
Good Gifts Received

It might indeed be better to give than to receive. But there's no denying that it's a happy holiday when you receive an extra-special present. Hunter/jumper competitor Kristen Eno opened up a gaily wrapped box one year and still smiles when she describes what was inside.
"My mom and Aunt Kim had secretly worked on a ribbon quilt for months. In addition to the tails of most of the championship and blue ribbons I'd won, it included screen-printed photos of all the horses I'd shown over the years, transferred to blocks of white fabric within the quilt."
Eno says her mother surreptitiously borrowed a ribbon quilt owned by another rider in the barn and used that as the basic pattern. The result was a treasured wall hanging that reminds Eno every day of her memories on horseback. "It's really special," she says. "I love that it was made just for me."
Debbie Bisbee is also reminded of fond memories whenever she looks at the framed art print she received from her husband. Titled "Playing with Giants," the artwork by Robert Duncan depicts a snowy scene of kids and draft horses on a farm. Though she has owned warmbloods, Thoroughbreds and Appaloosas throughout her life, Bisbee has a special place in her heart for draft horses. "I grew up on the family farm in Iowa," she recalls. "Every time I look at that print, I feel like I'm there. I love the kids and the draft horses depicted in the scene. It looks so real."
Heart-felt and Practical

Equestrians love receiving items they can use again and again at the barn, so give a gift that keeps on giving. "Everyone always teases me because if it dips below 70 degrees, I start saying that I'm cold," admits riding instructor Emily Jones. "During the winter, I'm teaching lessons bundled up like an Eskimo. A couple of years ago, one of the moms knitted me several beautiful scarves. I thought they were awesome; I can braid and band a mane, but I can't knit to save my life. I use them every winter, even when I'm not at the barn."
Yet another practical gift that cheered a horse lover's heart was the clip-on watch Samantha Kellogg got last year. An avid trail rider, Kellogg says she wrestled with wristwatches for years before finally giving up on them. "I was always asking other riders what time it was because I wouldn't wear a watch anymore. I was always banging it on the saddle horn, or the watch face would get all goobered up with horse sweat. Then my dad came across a clip-on sports watch when he was at a sporting goods store and bought it for me as a present. I love that watch! I can snap it on my belt or to the D-ring of my saddle, and away I go. It was the perfect present for me."
See? It isn't so tough to buy a horse lover a meaningful gift after all. With a little bit of imagination and a moment or two of inspiration, you can put a smile on the faces of your horse-loving friends and family members this holiday season.
Read more ideas for a horsey holiday >>