Thanks to Central Kentucky Riding for Hope, Cardinal Hill Rehabilitation Hospital, and rider Hallie for their assistance with this video.
Do you enjoy working with horses, and not just riding? Is teaching a passion of yours? Are you driven to help people in your career? If you've answered yes to all these questions, read on: Physical therapist might be the job for you!

Horse Illustrated: What is your title and who do you work for?

Lisa Harris: I am a staff physical therapist who specializes in Hippotherapy. I work for Cardinal Hill Rehabilitation Hospital in Lexington, Kentucky and the hospital is partnered with Central Kentucky Riding for Hope to be able to offer this treatment strategy.

HI: How long have you been practicing physical therapy? How long have you been using this treatment strategy?

LH: 19 years.

HI: How did you decide that working in the physical therapy field and specializing in hippotherapy was a good fit for you?

LH: I wanted to combine my love and knowledge for horses with my desire to help people.
HI: What did you anticipate doing when you were younger?

LH: Like most horse-crazy kids, I thought I would grow up to be an equine veterinarian!

HI: What is your educational background?

LH: I have a Bachelor's of Science in Animal Science from Auburn University and a Master's of Science in both Veterinary Science (specializing in Equine Biomechanics) and Physical Therapy from the University of Kentucky.
HI: What is your background with horses?

LH: I grew up showing 4-H and doing Pony Club. I am a graduate A-level in Pony Club and have evented through the Intermediate two-star level. I also instructed Pony Club children through the Preliminary level of eventing.
HI: Did you have any experiences that really stuck with you that made you want to do this job?

LH: I had an internship while in physical therapy school with Terri Barnes, one of the physical therapists who went over to Germany to learn about Hippotherapy, and returned to the United States to help found the American Hippotherapy Association.
HI: Are there many other places other than Lexington where you could do this job or is it very region specific?

LH: This profession is available throughout the United States and even internationally!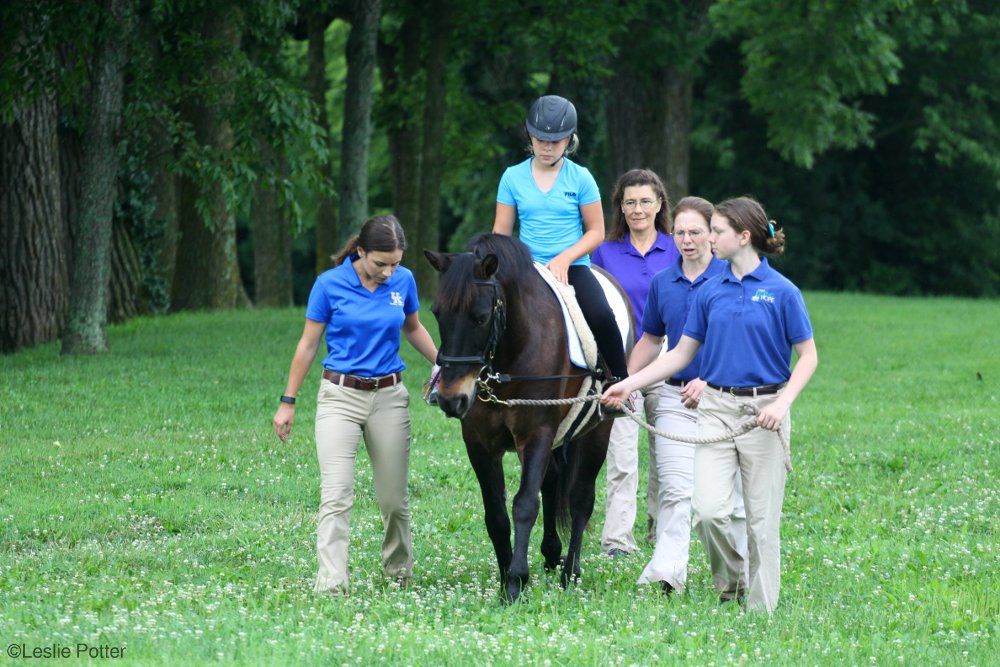 HI: What do you think are key qualities for people who might want to go into your field?

LH: In this field, it is important to possess the desire to learn continually and to be able to teach what you have learned to others.
HI: Can you please briefly describe what you do on a day-to-day basis (if there is a "daily routine!")?

LH: I see clients in physical therapy, both children and adults, and use a variety of treatment strategies to help them function better in everyday life. One of those strategies is using the horse's movement and adapting this movement appropriately to create an active response in my client to allow him to function optimally.
HI: Do you travel for your job at all? If so, about what percentage of your job includes travel?

LH: I only travel because I also teach how to use horses in therapy through the American Hippotherapy Association, Inc.
HI: What is your favorite part of your job?

LH: The favorite part of my job is working with a client to achieve his/her goals; it's quite rewarding to see a child take his first steps!

HI: What is a difficult part of your job?

LH: My job is physically demanding, so I need to make sure and use good body mechanics to ensure I can work over a long period of time.
HI: What is one thing you learned or know now you never would have expected from this job?

LH: I have learned about how powerful a horse's movement can be in improving a client's function.
HI: What advice would you give people who are interested in pursuing a job in your field?

LH: Spend as much time with horses as you can. Learn about equine behavior, as well as conformation and movement.

HI: What do you think you would do if you didn't have this job?

LH: I would still be a physical therapist specializing in orthopedics.
Hippotherapy isn't for you? Maybe being a saddle fitter, working as an equine extension specialist, or something else will capture your interest. Find out! See more Careers in the Horse Industry interviews >>