When Anna Roberts was nine years old, she went to the racetrack in New Orleans and was amazed to see Hall of Fame jockey Julie Krone leaping into the saddle. It was the first time Anna realized that women could be jockeys too. Ten years later, Anna is a student at the North American Racing Academy in Lexington, KY.
The North American Racing Academy was launched by famous jockey Chris McCarron. Chris won the Kentucky Derby twice: on 
Alysheba
in 1987 and Go for Gin in 1994. Chris wanted to create a college where aspiring jockeys could learn not only race riding, but the care and management of racehorses as well. And he wanted his pupils to earn college degrees, too. The academy is affiliated with the Kentucky Community and Technical College System and the jockeys will graduate in two years with an associate degree in Applied Science in Equine Studies.
Anna's mother heard about the Academy and she suggested that Anna take a look at it.
"When I was younger, I took lessons at a hunter/jumper barn. And I read Young Rider!" says Anna.
The opportunity to learn how to be a jockey and to get a college degree at the same time appealed to Anna so she applied to the program.
Applicants to the jockey academy have to be at least 18 years old and they must have a high-school diploma or a GED. They've also got to weigh no more than 114 pounds and be no taller than 5'6".
Anna was accepted to the first class of the academy, along with 11 other students: four women and seven men. But not all of the future jockeys were experienced riders like Anna. In fact, a few of them, like Jason Truett, had never even been on a horse. This didn't bother Chris McCarron. Applicants to the jockey academy didn't have to know how to ride. Chris planned to teach them!
The students began taking riding lessons on the Kentucky Horse Park's group of Mustangs, but soon moved on to riding Thoroughbreds. Some of the students hit the ground more than once, but no one gave up.
Young Rider spent a morning with Anna at the Academy. The students have to be up early because they have to be at the Kentucky Horse Park by 7.30 a.m. for the classroom section of their course. They spend two hours sitting behind desks learning about horse management, equine science and physiology. They also learn about eating healthily so they can stay strong and fit.
"I really enjoyed learning about horse reproduction," says Anna. "We went to horse farms and saw mares giving birth."
After their class work is finished, the students pile into cars and drive to the Thoroughbred Training Center a few miles away from the Horse Park where they meet up with their instructor, Chris. Each student is assigned two Thoroughbreds at the Training Center to care for. Most of the mounts are ex-racehorses that have been donated to the academy.
Anna takes care of Tux and Polo. From 9.30 a.m. to 10.30 a.m. Anna mucks out their stalls, grooms them and tacks them up. The students don't always ride the horses they look after though. Each morning, Chris writes down on a chalkboard which horse they are assigned to ride.
"Polo is pretty easy going. I like to ride him," says Anna. "Tux can be tough sometimes."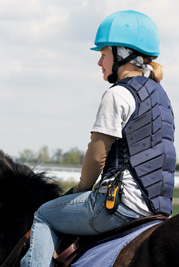 Then the students slip into their body protector vests and put on their helmets. It's time to ride! They hop onto their horses and begin warming them up by walking them around the shed row for about 30 minutes. When Chris hops into the saddle, the jockeys know that it's time to head out to the track.
Chris wears a headset with a microphone and all of the jockeys wear earpieces so Chris can communicate with them while they're galloping their horses. "It's so Chris can tell us what we're doing while we're riding," explains Anna. "Sometimes he'll tell us that we're going too slowly and that we need to speed up."
At the beginning of the program, the jockeys galloped around the track in pairs. But as they grew more experienced they rode in bigger groups.
Anna loves the time spent on the track. "Galloping the horses is exhilarating!" she says, but she can get nervous sometimes. "I might have a nervous day, but you just have to kick it out of your system if you want to be successful in this business."
The students ride two horses a day. Occasionally they take the horses out in a big, grassy field so they can feel what it's like to ride on a turf track. They also practice galloping out of the starting gate.
When they're done riding, the students groom their horses again, clean tack and pick out the stalls for a second time. Then they have their lunch break.
At 2.30 p.m. the group meets at the training center again. It's time to improve their fitness levels on the Equicizer, a machine that simulates riding a horse. It's neck bobs and its barrel moves up and down so it feels like you're riding a horse.
The students take turn riding the Equicizers.
"When I first started riding the Equicizer, I could only stay in the jockey's position for about one minute," says Anna. "It's so hard. You have to have stamina to stay in the correct position. Now I can stay up for three minutes.
"When I rode hunters and jumpers, I could ride with my knees bent. In the jockey position your legs are straight. It took a while to get the hang of that. You just have to practice. Doing leg stretches helps."
Now in their second year at the academy, the students are expected to walk around the training center and "rustle" up rides. This means that they ask trainers if they can exercise their racehorses. The students need to spend as much time as possible in the saddle because they will soon be heading out to spend a semester being interns in the racing industry. One student is going to exercise horses for Todd Pletcher, a top racehorse trainer. Another will stay at the training center and work as a freelance rider. Anna's heading back to her hometown of New Orleans to ride for a trainer there.
Chris hopes that one day, he'll see his students riding in races and his dream is to see one riding in the Kentucky Derby!
It won't be long before the first class graduates from the North American Racing Academy. If you're interested in learning more about the jockey school, visit this website: www.nara.kctcs.edu.