Jen Oliver talks about her career in the video above. To find out more about what takes place during a massage session, scroll down to the bottom of this article and watch the video below.
HorseChannel.com spoke with Jennifer Oliver, an equine masseuse based out of Georgetown, Ky. Jen works on elite sport horses, retired show horses, trail horses and everything in between. While she sees many of her clients on a regular basis, others she sees only when they travel to compete in Kentucky or Florida. A college athlete with a degree in kinesiology, Jen has a unique understanding of the rider's body and how it affects the equine athlete.
HorseChannel.com: What is your equestrian background?
Jen Oliver: I loved horses as a kid and rode as often as I could. When I began high school and started getting serious about volleyball, my time with horses diminished. I had a volleyball scholarship to Georgetown College (Ky.) where I became and Equine Scholar. As I had time, I slowly began getting more involved with horses. I was the assistant trainer at Gayla Driving Center to help break horses to drive, then I was the barn manager at Maplecrest farm with Reese Koffler-Stanfield. These connections helped me get a good starting point for my business.
HC: What got you interested in equine massage?
JO: To be honest, I didn't know equine massage even existed until I was a sophomore in college. I had a knack for massage and was a kinesiology major with plans to go to massage school for humans after I graduated. Once I heard about equine massage, I knew that this was the perfect job for me, as well as a perfect way to transition my kinesiology degree into the horse industry.
HC: Do you have any specific training for this job?
JO: Including my kinesiology degree from Georgetown College, I have a certification in Equine Sports Massage Therapy from a program called Equissage based in Round Hill, Va. (www.equissage.com)The course required book work, hands-on training and a video made of me completing the massage sequence correctly on a horse. I received my certificate in 2007. Knowing how the muscles work and what techniques to use to release tension are vital to my success as an equine massage therapist.
HC: How did you begin your business and what do you pride yourself on?
JO: I started my own business when I was a senior at Georgetown College. I felt that it was important to start my business as soon as possible to build a name for myself within the equine industry. I filled my head with as much information via videos, books, clinics, and tips and tricks I could get my hands on within the equine community. I did not shadow or apprentice with anyone—instead, I used my ongoing experience to create my own unique technique based on each horse as an individual.
HC: How long have you been massaging horses? Do you do any other animals other than horses (dogs, cats)?
JO: This is my eighth year massaging horses. I will occasionally massage a friend or client's dog if the dog is having a particular problem. I don't charge for this service–I simply enjoy making animals feel better. If a dog needed regular work, I recommend them to a canine specialist. If one cannot be found, I set up a fee schedule to help them out.
HC: What does a typical appointment entail? How long does each appointment take?
JO: When I arrive at a new farm, I introduce myself to the client and then I introduce myself to the horse. This is very important because if you just go up and start rubbing on a horse without saying hello sometimes they get offended. Once I feel they're comfortable, I begin working on their less tense side and then move to the more tense side. My starting point on the first side varies depending on the horse. I try to pick an area where they enjoy what I am doing and relax and then move onto more difficult areas where it might be more painful. They are much more tolerant of the painful areas if they trust you. This is why each session is unique to the horse. Each horse prefers different hand strokes, different areas and different speeds. The first session usually takes the longest, usually running over an hour. Once the horse is on a regular schedule, a session usually lasts about 45 minutes– I always stay as long as the horse needs for a flat rate.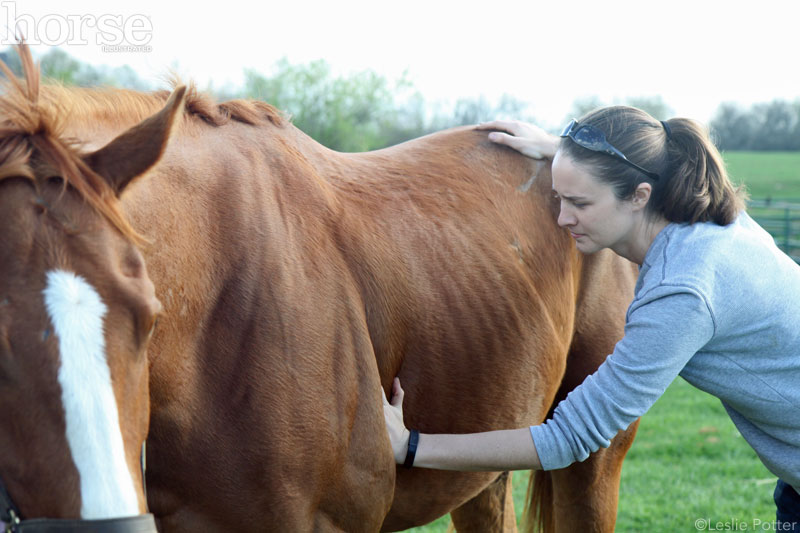 HC: How can you tell what areas on a horse need to be addressed? How does the horse act when you first address the problem area through when you are done addressing it?
JO: When I move around the horse, I feel for tension, which can present itself in a few ways, like hard knots, tight, stringy muscles, and/or a painful response when palpated, I watch for a horse's reaction, and I wait for a release, where you feel a softening or fluidity return to the muscle. . Most horses do not offer much resistance when I need to release an area. However, sometimes the problem area causes enough pain or discomfort that I'll get a slightly aggressive response. They want to fight the pressure instead of releasing the area. As long as I hold through the resistance, there is almost always a big release on the other side of it. Releases usually come from lowering the head, blinking, yawning and stretching. There are some horses that are better at releasing than others, and the results can vary. Usually you can see an immediate difference in the muscle once it is released.
HC: Do you ever ask your clients to ride or longe the horse to see its way going?
JO: No, I have to be careful how I evaluate horses so as I do not enter into the veterinarian realm. In the state of Kentucky, massage therapists work closely with or under veterinarians to best care for the horse. Massage therapy is a form of body work that is not to be mistaken for veterinary care.
HC: Do you travel a lot?
JO: Yes, I travel all over Kentucky, and I do some work in surrounding states. I will drive up to 2.5 hours for more than six horses. I also go to Florida once per month in the winter (Ocala and Wellington). I drive about 30,000 miles per year.
HC: What is your favorite part of your job?
JO: Getting to interact with so many horses on a day-to-day basis and enjoy each of their personalities. They are all so different. It's so rewarding to make them feel better.
HC: How can you tell when a horse needs a massage? Do most horses need to be on a set schedule?
JO: To me, massage is about balance. When you ride, your horse has a favorite side he prefers to travel on, you have a favorite side and sometimes a combination of everything can get the horse imbalanced. An imbalanced horse can be heavy in your hands, not want to bend one direction, have trouble with certain canter leads or become suddenly difficult to ride….just to name a few. I normally recommend that a horse that competes go on a once-per-month massage schedule. That way, we keep them balanced through training, showing and off-season to help prevent any injuries that can be caused from imbalance. It's always easier and less expensive to prevent injuries than to fix them. I do sometimes recommend more work for horses that are competing at high levels and less work, maybe on an as-needed schedule, for horses that are pleasure rides. The owners love doing this for their horses knowing they enjoy it and it's helping them stay healthy.
HC: What horses can benefit from your services?
JO: All horses can benefit from massage. Massage helps prevent atrophy in old horses, it helps get young horses used to being handled and touched all over. Competitors would be the biggest portion of my clientele. People who go out and have fun competing or who are professional riders all want to keep their equine athletes healthy. Massage is beneficial for every horse, across every discipline and breed.
HC: What do you think you would do if you didn't have this job?
JO: I don't think there is a job in this world that I would enjoy more than the one I have. But then my 30,000-miles-per-year-of-driving mind wanders and I think I would love to be a financial adviser. I have a passion for helping people save for retirement and build wealth. I also have thought about having a business to help older people get to the doctor, grocery, and just have a friend around to go to lunch. I have an elderly friend that I visit once per week and help her with these things, and I know my visits are so important to her. I bet there is a real need for something like that.
HC: Is there anything you think people considering going into your profession should know? Do you have any words of advice for them?
JO: This job is a ton of fun, but it also really hard to get into the equine industry. This job requires a lot of skill physically as well as socially. You have to be able to connect to your equine client and your human client at the same time and that is very difficult to do. Most people that start out to be equine massage therapists do not succeed. So if you decide to take this route, be prepared for a lot of hard work the first few years. It was not until my fourth year massaging horses that I brought in the income to be able to support myself without a second job.
Liked this article? Here are others on careers with horses:
Horse Industry Careers: Saddle Fitter

---
Sarah Coleman has a soft spot for chestnuts with chrome, including
her two off-the-track Thoroughbreds that she competes in the hunters.
Based in Lexington, Ky., she is the Director of Education and
Development for New Vocations Racehorse Adoption Program.