The grief that comes with losing a horse is often profound and difficult to manage. With these feelings, both normal and justified, it's important to remember that you are not alone. Although friends and family members may not fully understand what you are going through, there is an entire community of support for those who are either currently or have at some point experienced a similar tragedy.
One place to find this support is through e-mail horse loss support groups. These services allow members to add their e-mail addresses to a group, then exchange stories, memories, personal experiences, questions and advice on coping with the sorrow of losing a horse. E-mail support groups seek to provide an environment of respect and understanding for those who have suffered the death of a horse or for those who are anticipating a loss.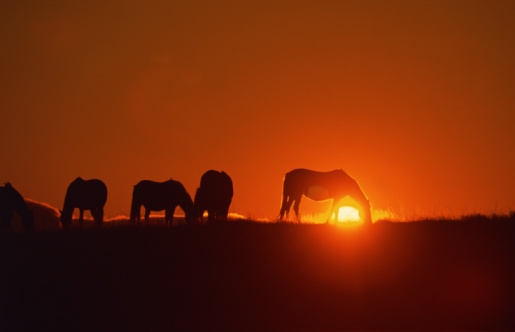 If e-mail support groups aren't enough, perhaps individual telephone support could help. Offered by many college veterinary schools around the nation, most programs supply toll-free numbers with complimentary services. In most cases they cannot offer mental counseling or specific clinical advice, but they can lend an ear and give encouraging words of support.
If you find the support of someone in person more comforting, then consider pet loss support groups or individual bereavement counseling. Lead by a therapist, sessions often cover educational topics on grief and normalizing the subject. "People attached to animals don't necessarily get the support they need from society when they experience a loss," says Andrea Keith, psychotherapist for pet loss bereavement counseling and a support group provider in Irvine, Calif. "The participants of therapy find out that number one, they have permission to grieve and number two, they're not crazy. They're not the only ones who feel this way." Many pet loss websites give listings for bereavement therapists by state and some local veterinarians may be able to give recommendations.
To keep your horse's memory alive, it may also help to create a horse memorial website. Posting photographs and stories on the internet can help you share your special equine with others, while leaving an electronic tribute in his name. Once complete, webrings are available that allow you to link your memorial website to others. Through this channel, you can connect your love and memories of your horse with other websites honoring horses that have passed. Not web-savvy? Several sites that have already been built allow you to add your horse memorial to them, often free of charge.
Sometimes, regardless of support, you just need to understand how to grieve. For this, several websites are available. With information guiding you step-by-step through the grieving process, it can help to know that the emotions you're feeling are normal. Further, these sites can help give forewarning on stages you still might experience as you go through the grieving process.
However you choose to cope with your grief, healing is a long journey. As you work through the pain, remember that the resources and support of those who have been there can be an outlet for you.
Further Reading
A Final Farewell
Coping with Loss