The dream of taking a riding vacation abroad may remain just a dream for many of us. Not everyone can afford a week-long riding vacation in Europe or the opportunity to trail ride through tropical rainforests. But just because exotic locales are out of reach at the moment doesn't mean you have to put a horsey vacation on hold; you just need to adjust your expectations. Read on for some of the best North American travel destinations for horse lovers.
---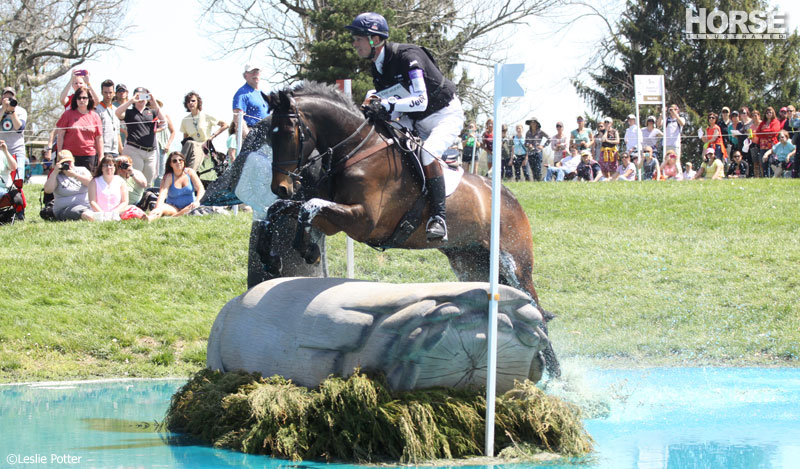 The Rolex Kentucky Three-Day Event
Few horse events achieve a truly iconic reputation, but the Rolex Kentucky Three-Day Event is one of the most beloved equine competitions in the nation. First run in 1978 as the World Three-Day Event Championships, Rolex (as it fondly called now) encompasses four full days of four-star level eventing competition at the beautiful Kentucky Horse Park. Dressage is held on Thursday and Friday, cross-country is run on Saturday and show jumping takes place on Sunday afternoon.
While it's advisable to buy tickets early and in multi-day packages, attendees can expect to spend between $60 and $105 depending on if you want a three- or four-day pass, as well as how far in advance you buy your tickets. These prices don't reflect the cost of stadium seating for the dressage and show jumping phases, which cost between $10 and $40. Various hospitality packages are available if you would like to upgrade your experience.
If you plan on attending Rolex with friends, be sure to check out the tailgate packages available for cross-country day. Ranging in price from $330 to $500, the package provides admission for six people.
Kentucky weather in April can be a bit volatile, so be sure to pack sunblock, comfy walking shoes, and a raincoat and waterproof boots in case of rain.
Held in conjunction with Rolex is the Kentucky Reining Cup, featuring the world's most elite reining horses and riders. On Friday night, spectators can watch competitors vie for more than $100,000 at the CRI3* event.
Saturday night the fun really begins, with riders competing in the World Championship Freestyle Reining, which allows them to dress up in costume and perform a custom-choreographed pattern to music of their choice. This night also includes an interesting twist: in addition to reining pros, eventing celebrities try their hand at the sport; past performers include David and Karen O'Connor.
Reining tickets range in price from $15 to $25; packages including a ticket to cross-country day are also an option.
Lexington is close to three major airports: the local Bluegrass Airport, Cincinnati, and Louisville. Hotels and dining options abound, but be prepared to stay in a small town surrounding Lexington (Georgetown or Paris are likely spots) if you book your hotel late. The Kentucky Horse Park also offers a campground on site if you want RV hookups or prefer primitive camping.
For more information, visit www.rk3de.org.
---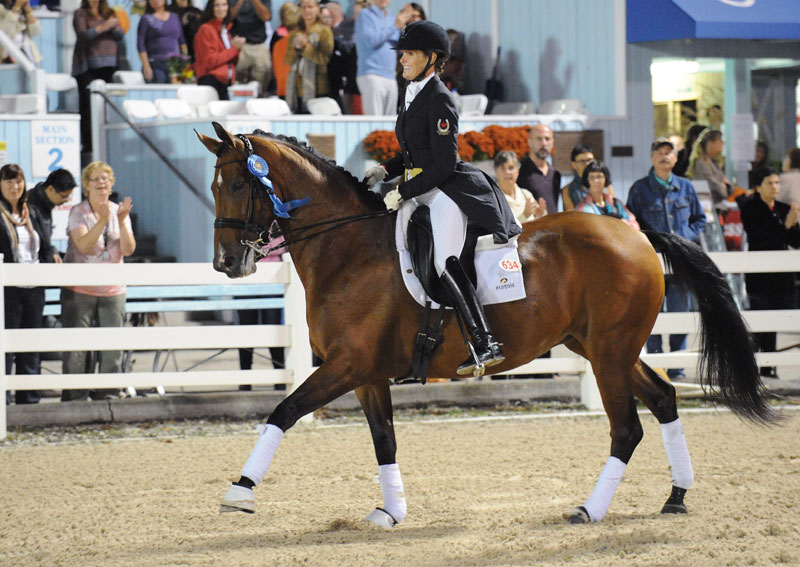 Dressage at Devon
One of the premier North American equestrian events since 1975, Dressage at Devon offers one of the highest-rated international dressage competitions outside of Europe at the Devon Horse Show Grounds in Devon, Pa. In 2014, more than 700 horses competed and 35,000 spectators came to watch the greatest riders and up-and-coming stars compete in the Dixon Oval.
The show opens with a three-day breed division, where over 29 breeds are represented in both breed classes and performance classes. On Thursday, the performance division begins. Most classes are Fédération Equestre Internationale (FEI) levels, including four Grand Prix classes. Also included in the dressage class roster are musical freestyles, which are always a fan favorite. Also well received is "Dressage with the Experts," which allows attendees to hear live commentary on headsets.
Along with the show, the Fall Festival offers shops for even the staunchest non-horsey companion, including apparel, antiques, fine art and collectibles from more than 65 vendors. Food options range from delicious burgers to full gourmet meals. If you bring your horse-crazy kids to the show, they're sure to enjoy the Kids Corral, which is chock full of exhibitions and activities geared toward family fun.
General admission to Dressage at Devon is $10; reserved seat tickets are for the entire day and can be purchased for between $10 and $25 (which includes general admission). It's also a surprisingly affordable way to see some of the best riders and horses competing outside Europe! Minutes from the Philadelphia Airport, it's also easy to take the train in from Philadelphia and arrive right across the street from the showgrounds.
For more information, visit www.dressageatdevon.org.
---
All-American Quarter Horse Congress
If you've never been to the All-American Quarter Horse Congress, prepare yourself: At over 40 years old, Congress is the world's largest single-breed horse show, garnering more than 17,000 entries each year and stabling almost 6,000 Quarter Horses during its three-week duration.
Held at the Ohio State Fairgrounds in Columbus, Ohio, Congress competition takes place in three arenas with almost every event you can think of, including barrels, cutting, equitation, horsemanship, halter, jumping, hunter hack, hunter under saddle, driving, longeline, pole bending, reining, roping, showmanship, ranch horse pleasure, trail, western pleasure, western riding and working hunter.
Other competitions include everything from judging contests, horse bowl and a Congress Queen contest. Overwhelmed yet? We haven't even mentioned the shopping! Multiple buildings on the fairgrounds are packed to the rafters with every form of tack, apparel, barn necessities and jewelry you can imagine, plus a showcase of trucks and trailers. Even if you don't come with a "need" list in hand, you're sure to find something to bring home as a souvenir.
It's not just the fairgrounds that lend this show a fair-like atmosphere; the food choices, demonstrations, Puppy Alley, Super Sale and ability to camp for the show's duration make it feel like a three-week-long festival. While the majority of events and shopping are under cover and climate controlled, be sure to wear your walking shoes.
The Fairgrounds are a hop, skip and a jump from the Port Columbus International Airport, but it's just as easy to get there by car. While Congress itself is free to attend, you will have to pay to park. Day passes are between $15 and $25, but a multi-day pass is available for $70 and is good for the entire event. Just be warned, the large sticker can be a bear to get off your windshield glass.
For more information, visit www.oqha.com/aaqhc.
---
Breeders' Cup World Championships
For the first time in its 30-year history, the Breeders' Cup World Championships will be held in the Horse Capital of the World: Lexington, Ky. Held at one of the most beautiful tracks in the United States, Keeneland Racecourse, the Breeders' Cup is Thoroughbred racing's year-end championships; the two-day race meet encompasses 14 races and offers purses totaling more than $27 million.
Southern hospitality will be evident in every aspect of the weekend, from the track to the surrounding restaurants, bars and special events designed to showcase the races.
Break out your hat and fancy garb, but plan for the weather if you'll want to head to the paddock to watch the horses get saddled or take a stroll on the grounds. November in Kentucky can be either beautiful and warm with temperatures in the 60s, or cold and raining with temps in the 40s. It pays to be prepared, so check the weather before you head to the Bluegrass state.
Following on the heels of the races will be the November Breeding Stock Sale, which, should you have a few extra days to spend in Lexington, is well worth a trip back to Keeneland. The largest sale of its kind in the world, the atmosphere and ambiance you'll find here is second to none. With celebrities, powerful players in horse racing and some of the most expensive horses you'll ever lay eyes on, the atmosphere at the sale is electric, both in the walking rings and at the auction itself.
Be prepared for the city to be booming; also taking place in Lexington is the CP National Horse Show at the Kentucky Horse Park; a University of Kentucky home football game (versus Tennessee), and of course Halloween. If you plan on heading to Lexington in October, it would be prudent to book hotels and rental cars early. At press time, ticket prices had not been released, but numbers will be limited.
For more information, visit www.breederscup.com.
---
Horse Shows in the Sun
The Desert Horse Park in Thermal, Calif., hosts an eight-week equine extravaganza of a horse show. One of the most exciting and well-attended classes is the AIG $1 million Grand Prix. With classes every Tuesday through Sunday, daytime admission Tuesday through Saturday is free; Saturday evening and Sunday admission is $5.
HITS Ocala, considered by many to be the heart of HITS shows, is a 10-week series set on 450 beautifully maintained acres in Florida. Grand Prix classes take place at 2 p.m. every Thursday and Sunday; admission is free every day but Sunday, when $5 will get you onto show grounds. On March 23, 2015, admission will be $10 for the AIG $1 Million Grand Prix.
The HITS Tucson six-week series allows spectators to see hunter, jumper and equitation divisions in a spectator-friendly setting in the Arizona sun. Grand Prix classes take place at 2 p.m. every Sunday and admission any day is free.
All HITS venues offer spectacular shopping full of equestrian gear, apparel, jewelry and more. Also available are galas, barn contests, and location-specific special events.
For more information, visit www.hitsshows.com.
You don't have to travel abroad to experience a horse-filled vacation. Many equine events around the country are perfect for quick getaways filled with shopping and events that center around your favorite four-legged loves.
SARAH E. COLEMAN is a freelance writer based in Central Kentucky.
---
This article originally appeared in the April 2015 issue of Horse Illustrated magazine. Click here to subscribe!