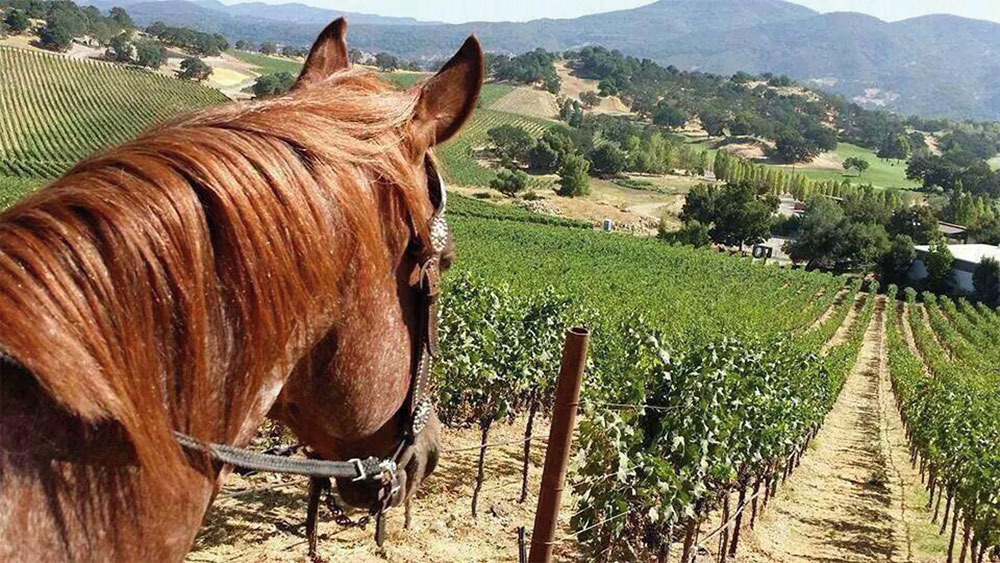 Imagine riding through the rolling hills of Northern California wine country, vineyards on either side of you. You learn about the art and science of winemaking, all while soaking in the sunshine from the back of a horse.
Napa Valley Horse Company provides this experience. They offer rides through the vineyards of Chateau Lane Winery, located on the 24-acre Rapp Ranch. Chateau Lane is a small boutique winery known for estate-grown and single-vineyard Bordeaux style wines.
Napa Valley Horse Company's rides are designed to show visitors the beauty of wine country while giving them an enriching horse experience. Sweeping views of Mount George and the Napa Valley Golf Course are part of the scenery.
"We provide stunning vineyard tours on horseback, allowing our guests to enjoy the Napa Valley from a different perspective," says co-owner Karen Kaiser. "Ours is a leisurely ride that's enjoyable for all levels of riders so our guests can take advantage of the beautiful views overlooking Chateau Lane Winery."
The ride is guided by experienced wranglers who provide information on the grape varieties grown on the vineyard property and the harvesting and winemaking techniques of Chateau Lane Winery. They also tell the history of the Rapp Ranch, which used to be the largest Quarter Horse breeding facility in Northern California, and is still a working ranch and boarding facility today.
Several different rides are available at Napa Valley Horse Company, from romantic sunrise and sunset rides available seasonally to leisurely family rides year-round. After each ride, guests are given a bottle of Chateau Lane Sauvignon Blanc per couple, or offered a wine tasting on the Chateau Lane Winery patio with optional food pairing.
The vineyards and mountain views are not the only special aspects of this wine country ride. The horses used for trail riding are primarily rescues, pulled from the kill pen by Napa Valley Horse Rescue, which works closely with Napa Valley Horse Company.
"We give our rescue horses an easy retirement as well as a second lease on life," says Kaiser. "We focus primarily on middle-aged ranch geldings that have extensive training as well as a great work ethic."
---
This article originally appeared in the May 2016 issue of Horse Illustrated magazine. Click here to subscribe!