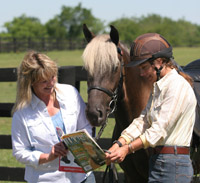 "No, we can't afford a horse"… Those words are hard to hear as a child, and grownups even find that particular financial reality difficult to cope with. Since horses are a luxury, many horselovers are relegated to watching a horse graze in a nearby field, staring at a horse trailer out on the road hoping to catch a glimpse of its occupant or imagining a stable of Breyer horses as living, breathing steeds. But even if you are horseless, there are loads of ways you can incorporate them into your life. Here are seven options:
1.
Help out at a local riding stable. Instructors, stable managers and trainers are always looking for assistance. They'll let you groom, turn horses out, clean stalls, and if you are competent enough, they might let you ride. They may also exchange work for riding lessons.
2. Volunteer. Options such as therapeutic riding centers and horse rescues run on volunteer power. Jobs can entail helping disabled riders mount and dismount, supporting the riders or leading the horses. Welfare organizations need workers to clean stalls and groom horses.
3. Sign up for riding lessons. You don't always need a horse to learn to ride; you can take lessons on a school horse. That lesson horse will be yours for an entire hour, and instructors usually encourage riders to care for the horse before and after the lesson. That's at least two hours of pretend horse ownership!
4. Become a free horse sitter. Many owners look for people to take care of their horses while they are on vacation or during busy work periods. Post a note in your local feed store outlining your abilities and times available.
5. Get the knowledge. Make the most of your horseless status by studying. Read books, magazines and websites to learn more about health care, riding skills and horse management. You never know; there may be a horse in your life someday in the future.
6. Take a horsey holiday. Offering a wide selection of choices, riding vacations are more popular than ever with outfitters such as Cross Country International, Equitour and Hidden Trails. You can gallop on a beach in Spain, explore Native American lands on horseback in Arizona, or take riding lessons in the beautiful Yorkshire Dales of England.
7. Dust off those Breyer horses and exhibit them at a model horse show. These shows are gaining popularity with horselovers and there are many ways to show off your models. These plastic horses pose at everything real horses do in the show-ring and more. One exhibitor dropped her Breyer horse and broke its leg. So she created a surgical unit scene complete with vet dolls working to repair the horse's leg. Visit /redirect.php?location=www.breyerhorses.com for more information on model horses.
Sharon Biggs is an American journalist currently based in England.