Sometimes horse breeds are influenced by several prominent foundation stallions. One example is the Thoroughbred, for example, which was heavily influenced by the Godolphin Arabian, the Byerley Turk, and the Darley Arabian. Over time, the characteristics of these three stallions made their mark on the breed we all know and love today.
But the Morgan breed owes its development not to three foundation stallions, or even two—but just one. One astounding stallion with unparalleled prepotency and the ability to outrun, out-trot, and out-pull all of his competitors. The stallion's name was Figure, but he was also known as "The Justin Morgan Horse."
Oddly enough, although Figure became the foundation of the Morgan breed, many of the key details of his pedigree are unconfirmed. It is generally believed that his sire was True Briton, a well-known English horse, but there have been other suggestions, including a claim that Figure was sired by Traveller, an imported stallion. As for Figure's dam, her name has long since been lost to history, but she is described as being attractive, bay, and with a "bushy" mane and tail. An article by Brenda L. Tippin in the January 2015 issue of The Morgan Horse magazine states that the mare was by the sire Diamond, "…a thick, heavy horse of about middling size," and out of a mare by Sportsman, a horse with Arabian heritage.
Figure was born in 1789, and that is essentially the only indisputable fact of his early life. It has been claimed that Figure was standing at stud in 1792 before being given as a debt payment to Justin Morgan, a jack-of-all-trades farmer and music teacher from Vermont. Many sources state that Justin Morgan owned and bred Figure's dam, and was quite possibly her owner at the time of Figure's conception. It's generally believed that Figure was not in Justin Morgan's possession until the colt was two or three years old.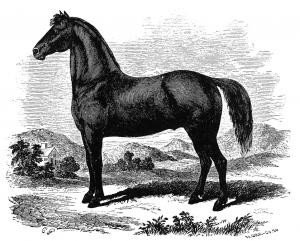 It could be assumed that, with a lineage so apparently unimportant that no one bothered to keep a record of it, Figure shouldn't have amounted to anything as a stallion. But he was evidently in great demand at stud from 1792 to 1795, and was in even greater demand as a work horse; Morgan repeatedly leased Figure to various farmers in the region and he gained quite a reputation as a weight-puller.
Figure led a varied and busy life; he was constantly changing hands, and any given day might find him winning races, clearing fields, competing in pulling contests, or strutting in a parade. He had at least fourteen different owners in his lifetime and sired an unrecorded number of foals, including many colts that went on to become prolific sires in their own right. Their names sound like they might belong to humans rather than horses, for example, Sherman Morgan and Woodbury Morgan, but it easy to see that the respect for Justin Morgan's horse was already very high.
Figure died in 1821 at age 32, but the immense respect continues. The Morgan Horse Club, Inc. (now called the American Morgan Horse Association) established a monument to him in Tunbridge, Vermont, and a statue of his likeness was unveiled at the Government Morgan Horse Farm (now the UVM Morgan Horse Farm) in 1921. It's hard to imagine a better legacy for a very special horse.
More Horses of History:
*Raffles
Doc Bar
---
Samantha Johnson is a freelance writer and the author of several books, including The Field Guide to Horses, (Voyageur Press, 2009). She raises Welsh Mountain Ponies in northern Wisconsin and is a certified horse show judge. Follow her on Twitter: @miraclewelsh.