Ninety years ago, in 1926, a little brown colt was born at Lady Wentworth's Crabbet Arabian Stud in Sussex, England. The sire of the foal was the famous Skowronek; the dam was *Rifala, herself a Skowronek offspring. The colt was named *Raffles. He would soon lose his brown coat in favor of a dappled gray one, and would eventually turn completely white like his parents. Ultimately, this exquisite Arabian colt would go on to become one of the most influential Arabian stallions in America.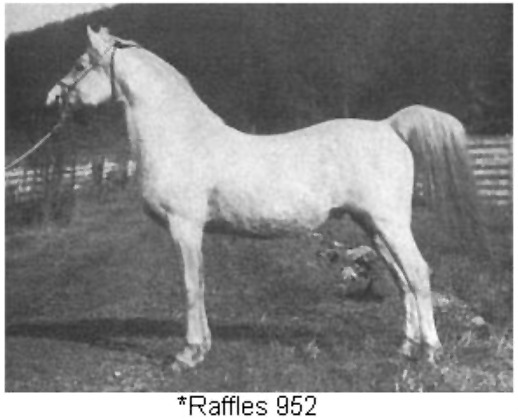 Image via Wikipedia
But surprisingly, the foal that was to leave such a legendary mark on the breed didn't sire a single purebred foal until he was eleven years old. This wasn't a purposeful choice; the folks at Crabbet Stud simply believed that *Raffles was sterile. Lady Wentworth had planned to use him as a pony stallion, and had in fact bred him specifically in the hope of producing a stallion of small size ideal for crossing with Welsh Ponies. *Raffles turned out to be the right size, maturing at only 13.3 hands, but he failed to sire any foals. So in 1932, Lady Wentworth gave *Raffles to Roger Selby, a breeder in the United States who had already imported several Crabbet Arabians, including *Rifala, to his stud farm in Ohio. Lady Wentworth thought *Raffles might make a suitable riding pony for Selby's children.
Subsequent testing at Ohio State proved that *Raffles was indeed sterile, but Jimmy Dean, trainer at Selby Stud, theorized that anxiety and excess energy could be at the root of *Raffles' problem. In 1936 *Raffles was successfully bred to two pony mares and produced foals that, according to Dean, looked startlingly like *Raffles.
The rest, as they say, is history. *Raffles was not only fertile, he was extremely prepotent, almost invariably stamping his offspring with his splendid conformation and beauty. *Raffles' son, Indraff, was one of the foundation stallions at Bazy Tankersley's Al-Marah Arabians, leaving an amazing legacy at that farm. Over the years, *Raffles sired over 100 foals that were eventually registered with the Arabian Horse Association. Not bad for a stallion once given away as a child's riding pony!
In 1949, *Raffles kicked a wall in his stall and fractured his hind leg, but with careful treatment, a cast, and a complicated sling designed to prevent him from putting weight on his leg, he eventually recovered and went on to sire fifteen foals after being sold to Alice Payne in California.
*Raffles died in 1953, but his legacy remains. Generations of foals later, a high percentage of American-bred Arabians are descendants of this great sire, and many breeders owe the classic beauty of their animals to the little Arabian known as *Raffles.
---
Samantha Johnson is a freelance writer and the author of several books, including The Field Guide to Horses, (Voyageur Press, 2009). She raises Welsh Mountain Ponies in northern Wisconsin and is a certified horse show judge. Follow her on Twitter: @miraclewelsh.