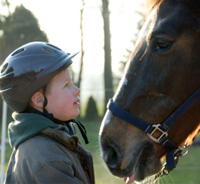 Therapists did not recognize the advantages of horse-assisted therapy until Denmark's Liz Hartel, a rider suffering from polio, won a silver medal for dressage at the 1952 Helsinki Olympic Games. Since that time, therapeutic riding has grown throughout Europe, Canada and the United States to become an accepted form of therapy for many disabilities, both physical and mental.
There are three basic classifications for therapeutic riding: sport, education and medicine.
The sport classification includes riding, driving and vaulting as forms of therapy. People with physical, mental or psychological impairment can participate in these adapted forms of equine activities. Sport helps disabled riders learn to control their bodies and their mounts in an enjoyable way.
The educational classification emphasizes incorporating goals to help the student think and reason, to improve behavior, to deal with psychological strengths and weaknesses and to improve physical condition.
In the third classification, medicine, therapists integrate principles of medical or psychological treatment into various abilities with the horse. The emphasis is on movement and not necessarily on the student controlling the horse. These students are often immobile and unable to leave their wheelchairs for regular abilities.
The Therapy Horse
The most important quality in a therapy horse is a calm and gentle temperament. The therapeutic mount must be level-headed and accept new experiences willingly.
The preferred size of the therapy mount is about 12 to 15 hands, which makes it easier for volunteers to assist the rider from the ground. The horse must have three good gaits, be no younger than 5 years old and should not be green. The horse should be trained to accept mounting and dismounting from mounting blocks, and must stand quietly for long periods of time. It must become accustomed to wheelchairs, crutches and walkers that sometimes will be used around it and occasionally bump into it. Also, it must learn to accept working with up to three people around them on the ground while the rider is mounted.
The horse must also become familiar with verbal commands as well as occasional spontaneous loud screams of joy from an excited rider.
Horses chosen for equine therapy programs seem to understand that their special riders are different than the normal riders they have carried previously. Some horses have been known to shift their body weight and balance to correct a rider who has moved off balance. They listen carefully to the riders who can use leg aids and seem to be able to understand and ignore flailing legs of other riders who have little or no control over their leg movements. Therapy horses seem to enjoy their work and the company of their human companions.
Therapy People
Volunteers range from young students to retirees. Some volunteers help tack up and groom the lesson horses. Some handle barn duties, such as feeding and cleaning. Many volunteers enjoy being involved with the students as leaders, teachers or sidewalkers, providing physical support for the disabled rider. Those volunteers whose skills lie in administration help perform office work, fundraising and committee work.
Getting Involved
People interested in a career in therapeutic riding may want to consider some of the educational opportunities in the field. There is a need for certified therapeutic riding instructors, therapists with horse experience and program directors. The North American Riding for the Handicapped Association (800-369-RIDE) is a nonprofit organization that provides operating-center accreditation, instructor-certification classes, operating-center insurance, public relations and workshops, among other things.
In addition to NARHA, CHA — The Certified Horsemanship Association (800-399-0138) — also offers programs for instructor certification and safety certificates. While not specifically designed for therapeutic riding, they offer valuable, informative classes for prospective instructors and volunteers.
If you decide to get involved with a therapeutic riding organization, the rewards are many. Both volunteers and riders recount the many miracles that happen daily. When you become a part of this, it may forever change the way you look at horses and life.