When Helen Yakin Palmer's mare underwent colic surgery last fall, there was no shortage of fear and worry. But she didn't have to shoulder it alone. From the time the horse went into surgery and through the long, frustration-fraught recovery that followed, Yakin Palmer relied on members of her barn family for support.
"Our trainer stayed with me all night until my horse got out of surgery, was there when the vets released her, and helped me get her home," Yakin Palmer recalls, "Later, while the horse was recovering, another boarder knew we'd gone all day without food so she brought us dinner."
From equine-related emergencies and serious human illness; from bridal showers, holiday feasts and weekly riding sessions, the women who board their horses with Yakin Palmer have established a friendship that goes beyond their shared interest in horses.
"We have been through it all," Yakin Palmer says. "And really, I don't think you could find a more bonded bunch."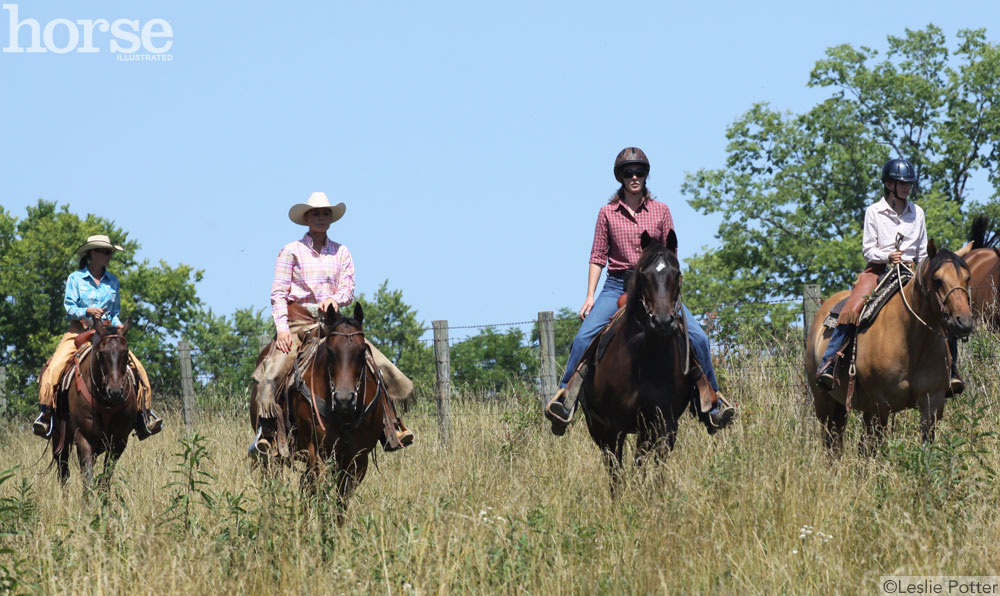 In fact, good relationships among the humans who spend time at their boarding barns are vital to their own well-being, as well as to that of their horses, says psychologist Mary Ann Simonds. An equine behavior specialist, and equestrian coach, Simonds has spent years studying the relationships between horses and humans. She says, barn families are established when horse owners forge friendships initially based on their mutual interests, she says.
"Initially, you see yourself as a member of a community," Simonds says. "Through the group, you are making sense of the world."
Here are 6 more reasons why it's great to keep your horse at a boarding stable >>
But over time, those friendships change and can grow to include not only each other, but the horses residing at the barn.
"We find that women who care about the care and nutrition of their horses have an abundance of oxytocin, the nurturing hormone," she says. " Generally, there is an unspoken message that says 'I know what you're gong through and if you care about your horse, I care about you.'"
As a result, the relationship exists even if the people involved don't have much else in common.
"Even if they don't care about each other very much, people in barn families will all pitch in and do what it takes to help the horse," Simonds says.
Horses that are boarded where strong barn families exist do better too, Simonds says. That's because horses react to the unspoken messages their human handlers send.
"When people at the barn are bickering and shouting, the horses generally tend to be nervous," Simonds says. "But if the people are calm and speak kindly to one another, horses are calm, too."
For Yakin Palmer that level of concern is vital, especially when she is not with her horse. Yakin Palmer was at work when another barn mate noticed that the mare had developed a swollen node on one side of her neck. After a calling the veterinarian, Yakin Palmer relied on members of her friends to care for the animal until she would get to the barn.
"Even when I'm not here, I know that other people at the barn are looking in on my horse," she said. "It gives me a level of peace of mind."
But horses are not the only ones to benefit from healthy barn family friendships, according to Dianne Welde. In part, Welde became involved in equestrian sports for their fitness benefits. She complements her solo training sessions with the group lessons she shares with two other riders. Initially, Welde had mixed feeling about the group training sessions.
"I worry sometimes that I am taking attention away from the others and that they are not getting enough out of the group class," Welde says.
Generally, she says, that fear is short lived.
"I watch (the other riders) and I learn things, and I know they are watching me," Welde says. "And when I finish a pattern or master a new skill, they'll say 'That was wonderful,' – I feel good – I feel their support."
And support is what it's all about, says Yakin Palmer. On a recent Saturday, Yakin Palmer noticed that a hurried handler had failed to turn out a horse belonging to one of her barn mates. After getting permission, Yakin Palmer turned out the animal and saved its owner from a special trip to the barn.
"It's no big thing," Yakin Palmer said. "We look out for each other; it's what we do."