Andrea Fappani and Custom Cash Advance at the 2014 Alltech FEI World Equestrian Games in Normandy.
Reining champion Andrea Fappani had to overcome a pretty big obstacle to get where he is today. At the age of about 3, Fappani's father put him on his first horse. The experience didn't go well. "I was walking and the horse took a couple of steps at the jog, and that was it for me," says Fappani. "I started crying like crazy, and I was terrified of horses from then on."
It was nearly a year before Fappani even entertained the thought of getting on a horse again. But when he did, he was determined to ride that same horse, and with his courage on the mend, he began taking English lessons. After two years of riding and general horsemanship training, Fappani, then about 7, was getting ready to begin jumping ponies, until he and his dad took up a friend's offer to try out a reining horse. "That was pretty much the beginning of the end," says Fappani. "We took one lesson and they put us on a horse that could slide. I remember the first time we slid the horse, I fell in love with [reining]."
At that point, Fappani and his father made the switch from English riding to reining. Fappani's dad owned a successful dairy farm in their hometown of Bergamo, Italy, and was able to build a barn and an arena. "I liked [reining] because the horses seemed to be a little bit quieter, and I didn't have to ride on a tight rein," says Fappani. "I was never a fearless rider. I was always kind of scared of horses from that first experience. The fact that I could ride on a loose rein on a quiet horse that would lope around slow all day unless I asked him to go fast gave me the confidence I needed to develop a passion for it."
Fappani and his dad worked hard to forge their own way in the European reining industry by doing a lot of research, getting a little help from a trainer friend, and learning from their mistakes.
"We went to Canada in 1986 and bought our first horse that we used for lessons," says Fappani. "We came home with a 4-year-old mare that was way too much for what I needed. Looking back, we probably would have been a lot safer buying one of the older geldings I was taking lessons on. She was an open horse, and I was only 8 years old when I started showing in reining. I just wasn't ready for her, but she pushed me to get better quickly."
The Fappani stable grew to house between 10 and 15 horses, including broodmares and young up-and-coming horses. And because they wanted to do it all on their own, Fappani says he learned a lot about the horse industry. "I wasn't just on show horses," he explains. "I had to learn how to break horses, and I've learned how to take care of broodmares and tack shoes back on. I learned a little bit of everything at an early age."
Vying for Greatness
Today, Fappani is the youngest National Reining Horse Association (NRHA) Three Million Dollar Rider, but the road to get there started out a little bumpy. Recalling his first competition at age 8, Fappani says it went well but that he scored a zero. "I think I over-spun or under-spun, and I did that like three times in a row when I first started showing," he says. "My dad said, 'I understand that you can go off pattern the first time you do it, but this is not our horse and Alberto [the horse's owner and a trainer who sometimes helped them] said if you're going to go off pattern, he just can't let you keep showing that horse.'
"The trainer never said that, but that's what my dad told me," continues Fappani. "I wanted to show that horse, and I told myself, 'This is it. I will not go off pattern anymore.' Knock on wood, I think I went off pattern a couple of times for backing up too much, but not for not remembering the pattern."
By the time he was 18, Fappani was a successful non-pro reiner in Italy, but he wanted to continue climbing the ladder. After giving college a shot for a few months, he decided he wanted to move to the United States and pursue his dream of being a professional reiner.
"I've always set pretty high goals for myself," says Fappani. "When I came here, I told myself that if within a year I had the feeling that I wasn't going to be good enough to get to the top, I was going to go back to Italy and stay a non-pro and just keep reining as a hobby. But if I thought I had a chance to get to the top, then I wanted to stay in the States and give it a chance. And it worked out really well."
Fappani worked for reiner Todd Bergen in Oregon for a few years before turning professional in 1999. In 2001, he became the youngest competitor and first European to win the NRHA Futurity Open, riding the first Paint Horse to win the title. The following year, he and his wife, Tish, set up their own training facility, and in 2006, he officially became a U.S. citizen.
"The thing I love about the States is the chances people gave me," says Fappani. "In Europe, it's more about politics, who you are and what kind of connections you have. I came here, I showed I had a little talent, and Todd gave me a job as an assistant trainer without having any guarantees that I was going to make it.
The main thing I love about here is that if you put in the work and show you can do it, there are many chances to succeed."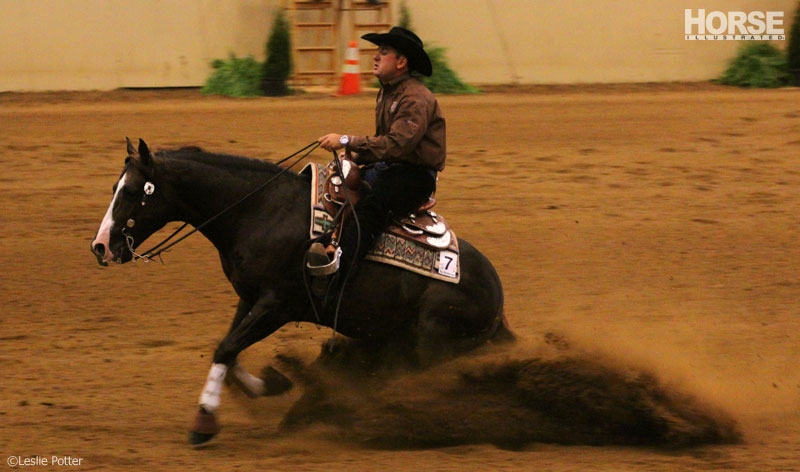 Fappani has certainly been rewarded for his dedication. He became the youngest NRHA Million Dollar Rider at the age of 30 in 2008, and for the first time, he represented the United States at the 2014 Alltech FEI World Equestrian Games in Normandy, France, in August 2014. He continues to work hard in hopes of staying at the top of his game for as long as he can.
"When I'm not going to be able to stay on top, I'll find something else I can be successful at," says Fappani. "There are a lot of other things you can do to be involved and be successful: maybe training without showing as much, or maybe a little bit of breeding. I just want to be successful no matter what I do."
Fappani credits his success to all of the learning opportunities he received through his father's assistance and the kindness of leading trainers within the sport. And with the help of his sponsors, he's able to continue fighting for elite status and run a successful performance horse training operation. "It's a lot easier as far as the daily expenses," he says. "I've got Classic Equine that helps me out with all the products I need for my horses; I've got Nutrena that helps me out with nutrition; and Bob's Custom Saddles helps me out with all the equipment. They're helping my brand succeed, and hopefully I'm helping their brands get connected with some of the top trainers. It goes both ways. And I think it's reassuring that you're doing a good job and that people want you to represent their name."
For more information about Andrea Fappani and Fappani Performance Horses, visit www.fappaniperformance.com.
---
This article originally appeared in the July 2014 issue of Horse Illustrated magazine. Click here to subscribe!