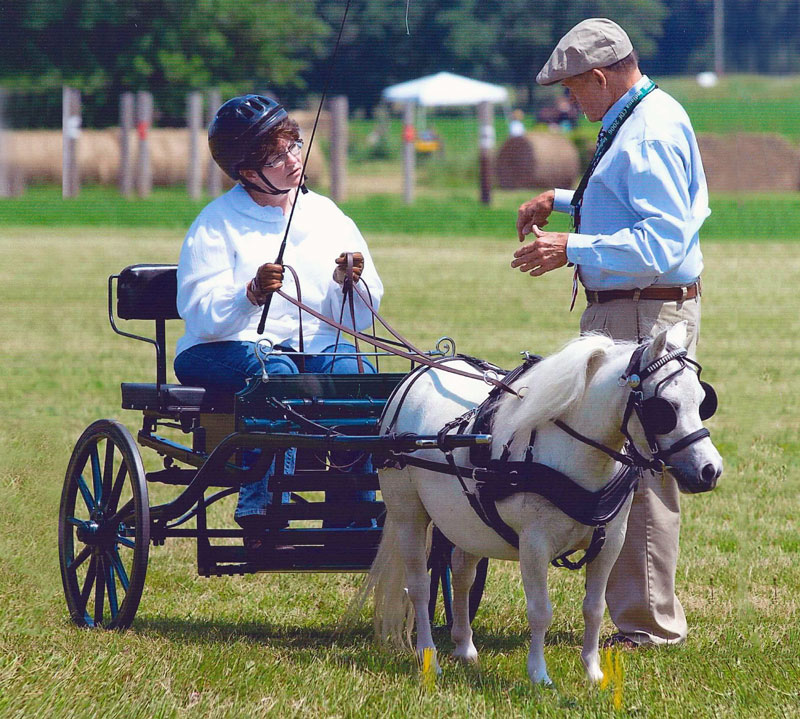 I think some people are just born horse-crazy. I know I was. The longing for a horse when I was young was so overwhelming that it was downright painful at times. My family could never afford a horse, or riding lessons—just the occasional ride at a local stable. But those short rides kept my desire alive and fueled recurring dreams of galloping across green hills on a horse of my very own.
I was in my late 30s with two young daughters when I finally decided to pursue that dream and took the plunge. Call it an early midlife crisis. That fateful choice started me on a long, sometimes heartbreaking, journey searching for just the right horse. A green rider who is new to horses encounters many unscrupulous people willing to take advantage of the situation, a story I am sure sounds familiar. Eventually, I did find some truly wonderful horses and a fantastic riding instructor. Sounds like a happy ending, right? Not yet.
Shortly into my training, my beloved instructor retired and moved away. Though I loved the horses, riding was not the taste of freedom I thought it would be. I have never been the most graceful or coordinated. Riding well is very much like a dance, and I had two left feet. Overwhelming fear and worry also spoiled the fun. What would happen to my kids if I was seriously hurt, or worse?
The straw that broke the camel's back — or should I say, almost my back — came from a bad fall. My mount shied on the trail; nothing dramatic, but just enough to throw a clumsy rider off balance. I hit the ground hard and heard a loud snap come from my spine. I was wearing a helmet, but I landed on my back directly on a large rock. As I lay there trying to catch my breath, I thought to myself, "Well, you've done it now. You've broken your back." Fortunately I had no serious injuries, but what little courage I had shriveled and died. When you have lost several friends to cancer, you quickly come to the realization that life is too short and time is very precious. After years of struggling to enjoy what I thought was my dream, I decided I should stop wasting that precious time on something that wasn't making me happy.
But this story does have a happy ending. In spite of all the misfortunes, nothing could erase that childhood dream. But how would I attain that dream without riding? The "short" answer came in the form of a Miniature Horse gelding that I bought out of pity. When I brought him home, my husband asked, "What are you going to do with that?" To which I replied, "I don't know, but he's so cute!"
So one day as I looked at that little pasture ornament, I had an epiphany. I would get him trained to drive! He turned out to not be the ideal driving horse, but that introduction to driving was a revelation. Driving was the way to finally realize my dream, especially driving Miniature Horses. Driving Miniatures was not as physically demanding as riding. Their smaller stature and being in a cart close to the ground was so much less intimidating for me than riding was.
I now have several driving Miniatures and am learning to drive pairs. I have a whole new circle of friends who share my love of driving Minis. We create quite a sight as we venture out on the trails to spend the day with our tiny, trusted steeds. They can easily cover many miles if properly conditioned. There is so much in nature to see at a lower level that you miss on horseback. My favorite time to drive is early spring when the wildflowers begin to bloom.

As part of my homegrown therapy program to overcome personal insecurities, I began to compete in fun shows (costume class was my favorite). As my confidence grew, I ventured into American Miniature Horse Registry (AMHR)-sanctioned shows, driving in pleasure, draft, and obstacle classes.
Then I read an article on Miniatures and Shetlands competing in American Driving Society (ADS) shows, and it piqued my interest. Some friends and I traveled to Prairie du Chien, Wis., to watch the Villa Louis Carriage Classic, an ADS competition held on the grounds of a historic mansion on the Mississippi River. It was one of the most beautiful events I have ever seen. I was instantly hooked and wanted to be a part of that world, so I added ADS competitions to my list of driving activities.
I can't brag that I'm always in the ribbons at these events, but just having the courage to get in the show ring is its own reward. I am an active member of both the AMHR and ADS, and highly recommend both organizations for those interested in small equines or driving. Each offers unique opportunities whether you like to compete or not, and their diverse activities complement one another very well.
Even if you do ride, you should consider giving driving a try. There is a very special relationship that develops between a driver and a harness horse. Driving also gives you the chance to share your horse with your non-riding friends and family members. And if you've never been on a sleigh ride, complete with bells, you are really missing out!
My short horses and the joy of driving have fulfilled my childhood dream. I can't imagine my life without either. These pint-sized equines have so much to offer—big personalities and even bigger hearts. They are the perfect option for those who don't have the space, desire or capability to handle a full-size horse. Driving allowed me to develop that special partnership with a horse I couldn't experience as a timid rider.

Share your story in "Your Horse Life"! Send story submissions to horseillustrated@luminamedia.com
---
This article originally appeared in the October 2014 issue of Horse Illustrated magazine. Click here to subscribe!