Sometimes all it takes is a moment—a glance down at a map, a slight miscalculation—to profoundly change your life forever. It was just such a moment in January 2010 that put avid rider Amberley Snyder's life on a new course—one filled with challenges, newfound strength and, luckily, her horses. After a car accident left her paralyzed, Amberley Snyder is blazing new trails as a barrel racer and motivational speaker.
Amberley, then age 18, was driving through Wyoming from her home state of Utah on her way to the National Western Stock Show and Rodeo in Denver when she glanced down to check her map. She had just stopped at a gas station and had forgotten to re-buckle her seatbelt.
"As I looked up, I realized I had faded over a lane and was heading towards a metal beam on the side of the road," she recalls. "I tried to correct my truck, but I slid off the road, and my truck turned completely sideways. I was ejected and hit a fence post on the side of the freeway. I knew I must have broken my back because I didn't have any feeling in my legs. I underwent five hours of surgery, which left me with a whole lot of hardware in my back. The doctor's prognosis was that I would not gain any feeling below my waist nor would I have any chance of regaining the use of my legs."
To Ride or Not to Ride
Doctors told Amberley she wouldn't ride again—not the kind of riding she had in mind, anyway.
"I've been in love with horses for as long as I can remember," she says. "I started riding at 3 years old. I feel like it's just been in my blood. It's something I love to do, and it stuck with me from the time I got on a horse to the first time I did a barrel pattern at the age of 7."
Prior to her accident, Amberley was competing in barrel racing, pole bending, goat tying and breakaway roping. In 2009, she qualified for the National High School Finals Rodeo. She also won the World All-Around Cowgirl title at the National Little Britches Rodeo Association.
"I think I love barrel racing in particular because it gives you the speed, the horses and the rodeo atmosphere," she says. "After the accident, not for one second did I doubt that I'd ride again."
However, it took her four months of rehab and a lot of convincing before her mother and the doctors agreed to let her try it.
Her first day back in the saddle wasn't exactly a dream come true, however.
"Honestly, that was one of the hardest days in my life because I realized it wasn't going to be the same," she says. "I had built it up in my mind that if I got back on a horse, it would be the one place that would never change for me.
"I was happy to be back on, but at the same time, my heart was broken that I couldn't feel my legs around my horse."
Despite the heartbreak of that first ride, Amberley carried on riding throughout that first summer, adding modifications to her saddle, including a padded seat, a seatbelt pulled from an old car and Velcro around her legs and stirrups.
"A lot of it was trial and error since no one had done what I was doing—wanting to not just ride but compete again someday."
But the disappointments kept coming. "At the end of that summer, I was on a ride with my mom and my little sister. My mom's horse started acting up, and for me, that was usually when I would get on to fix it. I was the one that was in charge of doing that, and I couldn't do it anymore. It flipped a switch in me that I honestly didn't expect. I went home that day, and I told my mom and my little sister to sell my horses."

Pushing Through
Luckily, Amberley's mother did not sell the horses—Wrangler, her roping horse, and Power, her barrel horse, whom she had trained herself. Instead, the horses remained at her family's farm while she attended Utah State without them.
"I went a whole semester at school without them and without even going out there to see them. I wasn't sure when I was going to get back to it."
It wasn't until the following spring—about 18 months after her accident—that Amberley made her first post-accident barrel run. Less than a week later, she was signed up for a barrel racing competition.
"It was wonderful competing again. There are definitely frustrations like not being able to kick, but being back competing was spectacular. It's what I've always loved to do and still love to do. The meaning for it now has even grown because it's a place I don't have to be in my wheelchair. I get to be on my horse, and I get to move around like everyone else. It's a joy I have."
Since then, Amberley has competed on her college rodeo team in the competitive Rocky Mountain region. "To be able to keep up with them and win a rodeo or two has been awesome."
Then came an even bigger surprise in March of 2015: Amberley was voted in as fan favorite to compete at RFD-TV's The American, the richest one-day rodeo in the sport. "It was such a blessing from beginning to end—meeting the people who have been my idols and who I've watched for years. Just making a run in the same arena with those people was nothing short of amazing."
Next up on the barrel-racing front, she hopes to go pro. "I'm hoping to get my permit this year. A big goal is to make the National Finals Rodeo someday."
Adaptable Equines
Amberley's horses have adapted to her being in a wheelchair in ways she never imagined.
"They are smarter than I gave them credit for. The very first time I got Power out of the field, he walked behind me with his head down—very careful. He just knew when to take care of me. It's a miracle really. It's something I didn't expect."
While she had trained Power and Wrangler prior to her injury, she's learning to train her upcoming colt without the use of her legs. "He's the first one I've trained to do barrels after my accident. It's been a challenge, but it's been fun at the same time."
At the time of the interview, he was the only horse at school with her, and she says the experience brought out a whole new side of him. "He has taken on this whole other role. He comes to the fence for me to catch him. He makes sure that he puts his head in my lap for me to bridle him. It's crazy how they step up and want to be that protector. All of my horses have done that."
Everyday Challenges
"Balance is definitely the hardest thing for me," Amberley says of riding. "If I'm not a couple of steps ahead of my horse, or if he makes a duck or a dive or something I'm not expecting, then I can fall onto his neck.
"Not being able to use my legs is also hard, and getting my horses to move forward like I want them to. I know my barrel horse has a lot more speed than what he gives me. We're working on helping him to know that he can give that speed, and that's OK."
Groundwork offers its own difficulties. "I have to be careful about the horses that I get around on the ground. I've been flipped over a few times in my wheelchair. I've learned which situations to avoid.
"Obviously height is a challenge, and not being able to reach everything I want to reach. Saddling and doing chores are challenging. Everything you don't think twice about is a whole new ballgame for me.
"In order for me to feed my horse, the feed usually has to go on my lap between the barn and where I feed him. It's a constant game for me to think ahead on how I'm going to get things done, and I have to allow more time to do it."
Motivating Others
Amberley graduated from Utah State in May 2015 with her bachelor's degree in agricultural education, and she's now pursuing a master's degree in school counseling.
In addition to barrel racing, she's found a calling as a motivational speaker, sharing her story with audiences of all ages across the country.
"I feel like it gives me the opportunity to make a difference in the lives of many people.
"Everyone faces challenges in their lives, not just someone who is in a wheelchair or has a physical ailment on the outside. If I can help other people, then I'm willing to share those moments that are hard to talk about sometimes.
"I want people to know that not every day is easy, and having a positive attitude is challenging sometimes. There are moments that are hard and times when I get very upset. But I feel like as long as you keep going regardless of those moments, that's what makes you successful. It's OK to have those moments, as long as you pick yourself up at the end of the day."
For Snyder, picking herself up and carrying on with a positive attitude has certainly equaled success: in the saddle, on the stage and in the classroom.
You can find Amberley Snyder on Facebook to enjoy photos, updates and special "Wheelchair Wednesday" video segments.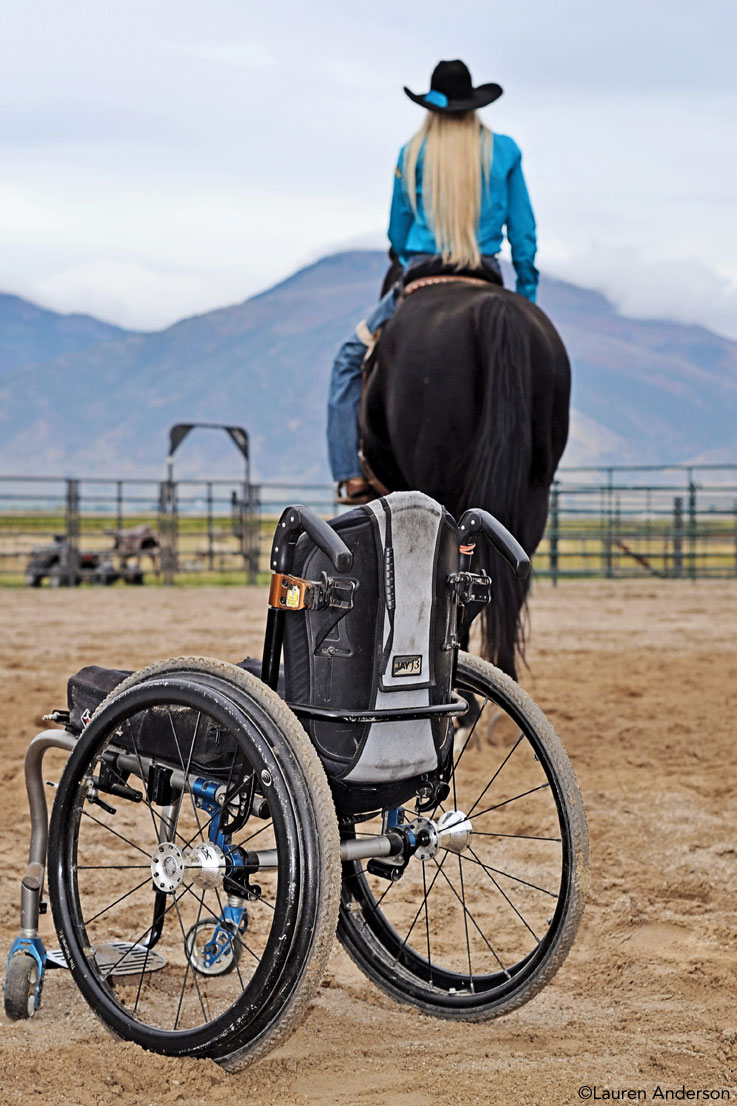 Bonus: Amberley's Barrel Racing Tips
"Spend a lot of time on your horse outside of the arena. I feel like we do a lot of focusing inside the arena and around the barrel or pole pattern. Clear your mind and let your horse clear his mind, and really get a feel for your horse. That's something that's been a huge blessing for me—the time I spend on my horse outside the arena. Even if you lope your circles in a field versus inside an arena. Go up to the mountains or work on some cows—give them something else to do other than think about barrels."
"The second thing is to always have soft hands. Not having my legs for communication, I've had to remember to have those soft hands in my horse's mouth."
---
This article originally appeared in the September 2015 issue of Horse Illustrated magazine. Click here to subscribe!