The massive glass doors to the office of Tom McCutcheon Reining Horses open, and dogs, kids and Mandy McCutcheon step into the room filled with trophy saddles and win photos. Cade, 14, and Carlee, 9, stream over to the window to check out the horses being worked in the football field-sized adjoining indoor arena, while Mandy pokes her head into her husband Tom's office to make sure the United States Equestrian Team (USET) two-time gold medalist has the right shirt for the photo shoot.
As we sit down for our interview beside a wall of bronze reining trophies, she's snapping photos of American Quarter Horse Association (AQHA) registration papers from a large binder while joking around with the potential buyer and laughing at Carlee modeling a shock of horse hair as a ponytail. Mandy is an anchor in the hubbub; a mix of mom, wife and horsewoman. She's a woman of many strengths—not the least of which are a lifetime of hard-earned accolades in the horse industry. So who is Mandy McCutcheon, anyway?
Born to Ride
Mandy was destined to eat, sleep and breathe horses. Her father is National Reining Horse Association (NRHA) Hall of Famer Tim McQuay. Tim, a NRHA Three Million Dollar Rider, was a member of the 2006 World Equestrian Games gold medal-winning team and also earned an individual silver medal in the event. During his career, the reining horse trainer has earned championship titles in every major NRHA competition. Mandy's mom is Colleen McQuay, a winner of numerous United States Equestrian Federation (USEF) championships in hunter divisions, as well as AQHA world championships and All-American Quarter Horse Congress titles. An NRHA Hall of Fame inductee herself, Colleen has coached her students to achieve championships in AQHA and USEF competitions.
From a very early age, Mandy rode and competed.

"I've always known horses would be my life's passion," says Mandy. "I started showing when I was 3 years old." Beginning with walk-trot classes, the native Minnesotan won a horsemanship class at age 5, and got her first pony hunter, Peppermint Bon Bon, at age 6. She mainly showed in hunter/jumper competitions until she was 10 years old. During that time, Tim began specializing in reiners and Colleen narrowed her focus to hunter/jumpers. Mandy chose to do both.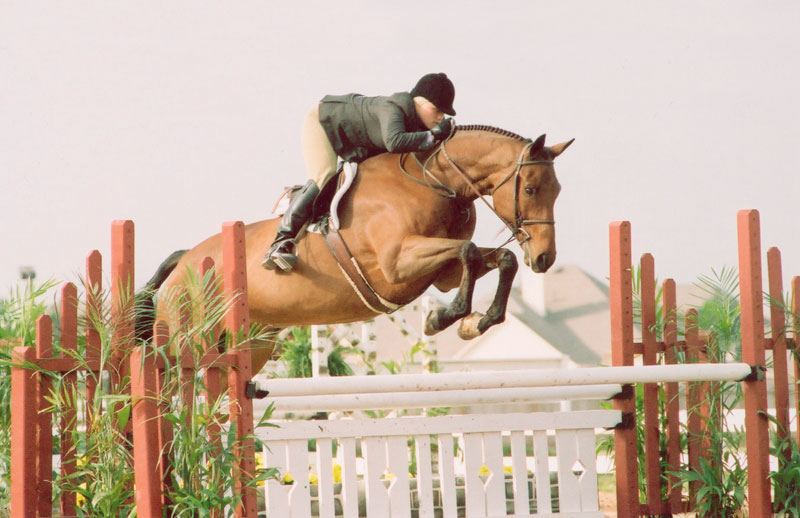 Mandy showed in both reining and hunter/jumpers until her daughter was born.
"From the time I was 10 until right before I had Carlee, I did both reining and hunter/jumper competition," says Mandy. "But after that, our business got so big and with two kids, I just couldn't do it all."
But she has done it all. During her youth and amateur competitions, Mandy racked up top awards, including a reserve champion large junior hunter title and winning the prestigious Winners Stake at the Pennsylvania National Horse Show. Mandy was amateur owner hunter grand champion at the Greater Cincinnati Classic Horse Show, and was amateur owner hunter champion seven out of nine times throughout the country her last year on her horse River Rhodes. Mandy also placed in many Grands Prix in the Southwest and was the winner of the $10,000 Cosequin High Jumper Classic at HITS Commonwealth Park, Culpeper, Va.
Mandy credits a lifetime of mentoring from talented trainers to help her along the way. In addition to her parents, she's learned from Mike McCormick, Tracy Fenney, Debbie Arballe and Olympic show jumper Laura Kraut.
"In the hunter world as a kid, I catch rode a lot—that's how I got to show so much," says Mandy. "So for whoever I happened to be catch riding, that trainer would help me. I think growing up doing that is what got me where I am today, being able to show the reiners like I do."
As a reiner, Mandy was inducted into the NRHA Hall of Fame in 2011. Mandy is the NRHA's highest money Earning Non Pro and the Association's only female and non-pro Million Dollar Rider. She has won events such as the NRHA Futurity, NRHA Derby, All American Quarter Horse Congress Non Pro Futurity, and USET reining championships.
Despite her accolades, Mandy is always looking to improve her riding. She seeks advice from her dad, Tim, and husband, Tom, as well as reining greats such as Dell Hendricks, Duane Latimer and Todd Bergen.
"I'm lucky because I'm surrounded by the best horse trainers there are," Mandy said. "That really makes a difference—knowing I can ask for help from any of them."
A Meeting of the Macs
The horse industry is a small one, and kids that show horses often form friendships on the circuit. Such was the case for Mandy and Tom McCutcheon. They became friends as youngsters, but grew apart when Tom, 10 years her senior, moved to Italy for a few years. When he returned, Mandy was 18 and their friendship grew into something more. After dating for several years, the pair married when Mandy was 22. The merging of two highly successful equestrian families was just beginning.
Tom's father and three brothers are all horse trainers, so his decision to train reining horses was a natural one. Originally from Wisconsin, Tom is a talented NRHA competitor, an NRHA Million Dollar Rider and he has won gold and was named the 2010 USEF Equestrian of the Year.
In 2014, Mandy and Tom were both members of the U.S. team at the Alltech FEI World Equestrian Games. Because Mandy is an amateur and Tom is a professional, they rarely compete against each other. Even in that competitive format, they approached their rides with a collaborative mindset.
"Between us, it didn't really matter who won what," says Mandy. "At the Games, he was just really excited for me to get to go and be on the team too. After being on the team with his brother, Scott, my dad, and now me, he says his goal is to be on a team with Cade. That would really be a full circle."
Mandy took home an individual bronze medal aboard Tim and Colleen's stallion Yellow Jersey, and both McCutcheons captured WEG team gold medals.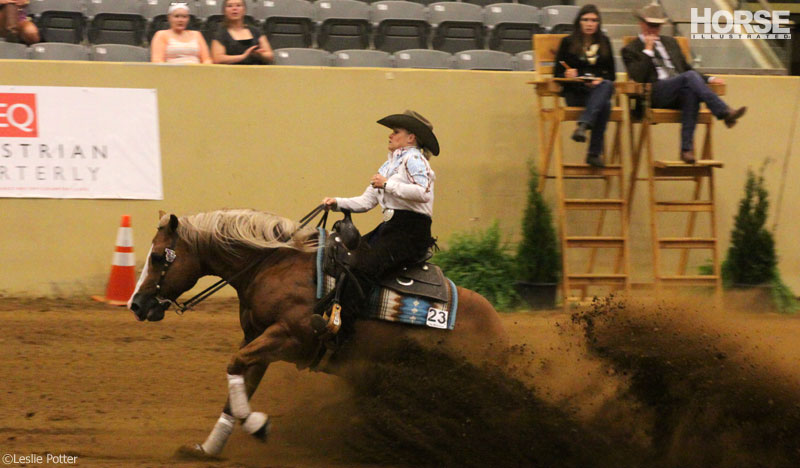 Mandy and Yellow Jersey at the 2014 Kentucky Reining Cup.
When asked about the coaching dynamic, Mandy says Tim, Tom and Colleen help her tremendously with her riding. Tom says that Mandy helps him too.
"She tells me what I'm doing wrong—in everything, not just riding," Tom jokes. "She's clearly trying to make me a better person."
After training out of Green Valley Ranch in North Texas, Tom and Mandy built their current facility in Aubrey, Texas, eight years ago in collaboration with a business partner. The facility rests on 150 acres and houses 150 stalls, round pens, turnout, a large covered arena, rehab facilities and a breeding center. The layout is unique, with a high roof and stalls that are built with open-air windows to the horses on all sides.
The farm stands four stallions: Electric Code, A Sparkling Vintage, Smart Luck, and 2010 Alltech FEI World Equestrian Games double gold medalist Gunners Special Nite.
"I'm so appreciative of the great staff we have," says Mandy. "I know if I'm not here, things are taken care of and we have people looking out for our horses. Everybody works hard and is on top of their job."
The Next Generation
It seems only fitting that Mandy and Tom's children are horse crazy. Though they've never been pushed, both Cade and Carlee are avid riders and count their parents and grandparents as mentors.
Cade has achieved success at an early age. In 2012, he made the NRHA Futurity finals as a Level 4 Non-Pro at age 12, breaking Mandy's previous record for youngest rider with that distinction.
"I think Cade will be a horse trainer," says Mandy. "He wants to do it—he wakes up and rides two horses every day before I take him to school. He wants to ride all the time."
At the 2014 NRHA Futurity, Cade rode in the Level 4 Non-Pro class—the same division as Mandy, with just one horse competing between their rides. Mandy said she had a hard time keeping her composure after Cade's stellar ride. He earned the Reserve Champion Non Pro Level 4 title at the event.
"I was a little emotional after he went into the arena," says Mandy. "Tom told me, 'Don't you weaken!' before my ride. But it was a great feeling watching him go."
Carlee is making her way in the hunter/jumper world with her pony, and she's also dipping her boot into reining.
"I'm not sure what Carlee wants to do yet," says Mandy. "She says she wants to be a veterinarian and a Grand Prix rider—lots of things. She's only 9. She's got time."
Though horses occupy a large part of the McCutcheon family's time, Cade and Carlee also have other interests. Cade plays basketball and baseball; Carlee plays basketball and softball.
Mandy's two families often dominate at events such as the NRHA Derby and Futurity, but she says they are usually too busy to socialize at these events. Outside of shows, family get-togethers happen as often as everyone's schedules allow. Parties with the McCutcheons and the McQuays are full of ping-pong matches, billiard games, shuffleboard competition, pinball matchups and even charades.
"No matter what we do, everything has to be a competition," says Mandy. "That's how the whole family is. We even turn skiing into a competition."
Girl Power
When asked what it's like to be one of the few women competing in reining at competitions like the World Equestrian Games, Mandy says she doesn't pay attention to gender—only riding abilities.
"People made a big deal about me being a woman on the team with all these men," Mandy says. "To me, it's not about being men or women—it's about being a showman. When I walked into that ring, I didn't want to let my team down. For me, it was more about being successful with my team than it was about being a woman."
Mandy says her success in the horse world is attributed to hard work, but the results are worth it.
"You've got to be dedicated to the horses, to the barn, to the business and to the hours," says Mandy. "But if you want it, and if you are dedicated, it's worth it. There's no greater feeling than walking out of the ring knowing you had a good run and hearing your score. But now, there's no greater feeling than when my children walk out of the arena and they've had a good run."
With the interview and shoot completed, Tom returned Gunners Special Nite to his stall with a pat, Carlee and Cade raced off to get ready for a family outing, and Mandy checked in with each member of their staff to make sure everything was in order for the night. She says every day is different, but each one is an adventure.
"There are horses everywhere," says Mandy. "But I don't ride as much as I used to. I do ride here and at my dad's as often as I can. I wrangle kids, I help manage the day to day at the ranch and at horse shows. We're lucky to have a great staff, but I still keep an eye on things."
ABIGAIL BOATWRIGHT is a freelance writer and photographer based in Texas.
---
This article originally appeared in the April 2015 issue of Horse Illustrated magazine. Click here to subscribe!