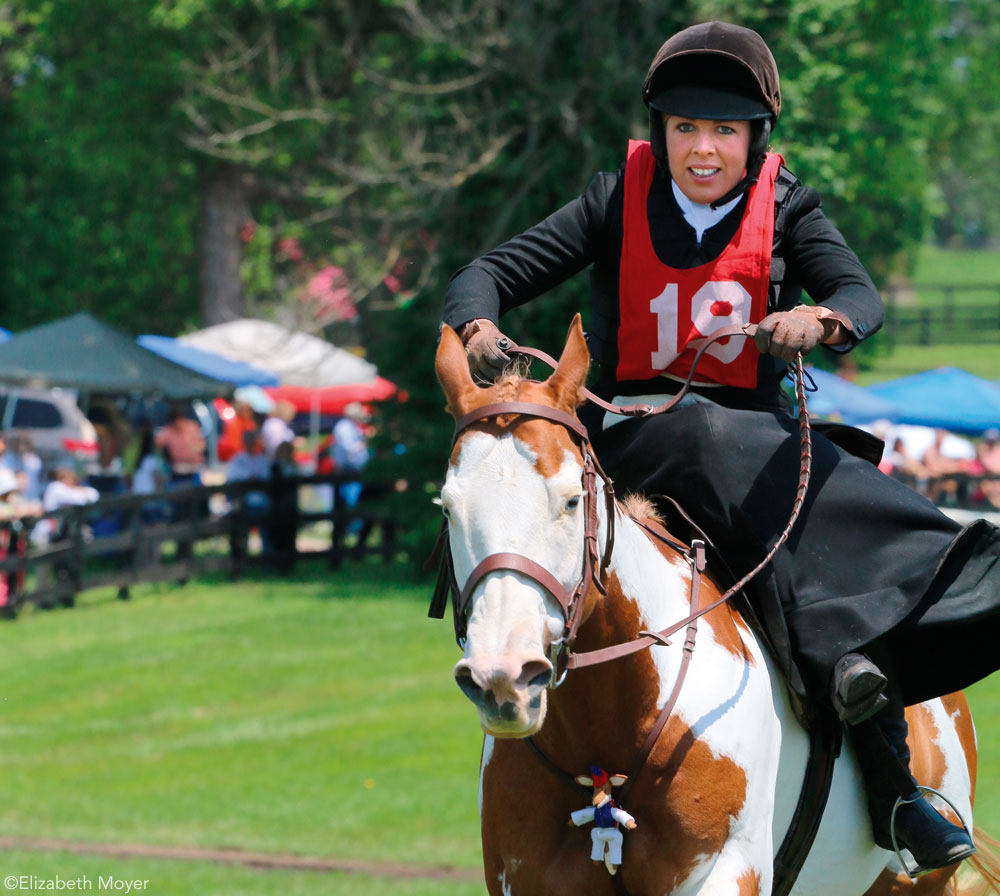 Since the age of 4 when Irish native Susan Oakes first started riding aside on her donkey, Rosie, she has been raising the bar for herself, literally. Oakes currently holds the sidesaddle world record over the puissance wall (6'8″) and the triple bar (6'5″).
A self-proclaimed adrenaline junkie who enjoys pushing her limits, Oakes competes in steeplechase racing and show jumping. She also fox hunts and plays polo, both aside and astride.
"[Steeplechase] racing keeps my adrenaline up," says Oakes. "I race every weekend. I've also done sky diving and some of the biggest bungee jumps in the world."
While Oakes keeps her eyes set on the stars, she has already seen some of her dreams come true. "[Most memorable] was riding sidesaddle in the U.S. at the first race at the Cheshire Point to Point in Pennsylvania," says Oakes. "I had been sick for the previous two years with an immune virus, and it was my first major competition back. It was a dream come true because I'd always wanted to ride aside in the U.S."
Even fracturing some vertebrae in her lower back several years ago hasn't kept Oakes from the saddle. "It was the simplest fall I've ever had," she explains. "My sister was riding with me, and her horse took off and so did mine. And I just slid to the side—a really slow-motion fall. When I hit the ground, I had no feeling from my waist down."
Side Mounts
Despite the fact that her old injury can cause soreness in the saddle, Oakes hasn't let it stop her. Luckily, she has an equally adventurous and determined steeplechase partner in Fort Henry, a bay Irish Thoroughbred gelding owned by Stephanie Boyer of Grey Lakes Stables in Pennsylvania.
"Fort Henry is one of the nicest, most genuine horses I've ever ridden," says Oakes. "He only had the sidesaddle on twice before our first race. He pricks his ears at the start and he gallops from fence to fence. He's one in a million, and I'm so grateful to be riding him in the races."
In the puissance arena, Oakes faced a heartbreaking setback last year when she lost her three competition horses within six months. She's currently getting back up to speed with her new Irish-bred horse, Cisero. With 19 puissance wins last year and a 7'4″ high jump, he just might be the horse to help Oakes beat her own puissance record. Oakes admits, however, that the pair has some hard work ahead of them.
"Cisero is a difficult horse to ride," explains Oakes. "He's very calm at home, but once I get him to the show ring, he's a completely different horse. He charges; he's very strong." As someone who enjoys a good challenge and faces it head-on, Oakes doesn't seem daunted.
Side Note
While working toward her goal of breaking her own sidesaddle puissance world record of 6'8", Oakes will travel to the United States, sharing her passion for and knowledge of sidesaddle riding. Here are her tips if you try riding aside:
Remember to keep your right shoulder back and sit squarely in the saddle.
Your core becomes even more important, so strengthen it and don't forget to use it!
Susan's secret: "My little tip to everyone is to wear a corset underneath [your riding gear]. It really reinforces your core."
Kim Klimek is a freelance writer based in Kentucky.
---
This article originally appeared in the September 2016 issue of Horse Illustrated magazine. Click here to subscribe!