Anyone that knows me will tell you that I am an avid reader. I'm always in the middle of at least one book, sometimes more, and read dozens of them each year.
Not surprisingly, as a huge fan of
Thoroughbred
horse racing, my reading interests tend to revolve around the "Sport of Kings" and its rich history. I'll venture to guess that I've between 100 and 150 books on the topic, and suffice it to say that the best of them rank among my very favorite books.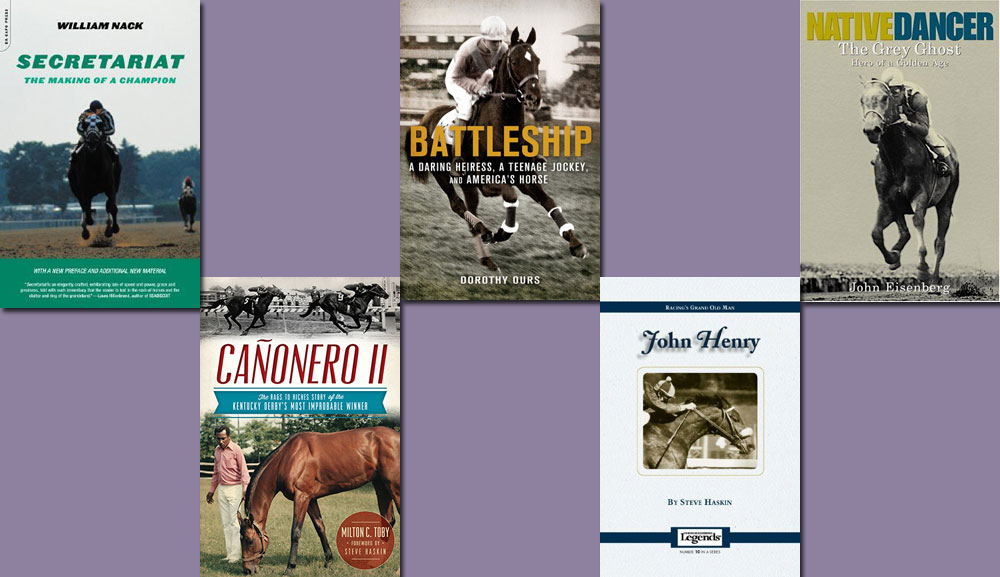 I particularly enjoy reading racehorse biographies, especially stories of unknown horses rising from obscurity to become champions. If you're looking for some exciting, heartwarming summer reads, here are my five favorite racehorse biographies:
John Henry: Racing's Grand Old Man, by Steve Haskin
John Henry was the quintessential "champion from nowhere." A gelding with a modest pedigree, he raced in relative obscurity for three years before landing with horse trainer Ron McAnally, who seemed to make a connection with John Henry and unlock the champion within. This story of an ornery horse with a vivid personality is brilliantly told by author Steve Haskin and is part of the "Thoroughbred Legends" series published by Eclipse Press.
Battleship: A Daring Heiress, a Teenage Jockey, and America's Horse, by Dorothy Ours
With his small size, few people believed that Battleship could handle the testing course of England's historic Grand National, but the American colt proved his doubters wrong with an unprecedented win in the world's most famous steeplechase race. Written by Dorothy Ours and published by St. Martin's Griffin, Battleship is an impressively well-researched volume that is as much about Battleship's owner, Marion DuPont, as it is about the starring horse, making it a must-read for fans of horses and history alike.
Secretariat, by William Nack
Originally published in 1975 under the name Big Red of Meadow Stable, the definitive story of the 1973 Triple Crown winner Secretariat is told in masterful fashion by Bill Nack, an eloquent writer with a knack for finding the heart in any story. Republished by Hyperion in time for the 2010 release of the Walt Disney film Secretariat, this book is filled with fascinating details and tidbits about arguably the greatest racehorse in American racing history.
Cañonero II: The Rags to Riches Story of the Kentucky Derby's Most Improbable Winner, by Milton C. Toby
If the story of Cañonero II were told in a Disney movie, people would write it off as unrealistic and far-fetched, which says something about the unprecedented nature of Cañonero II's 1971 Kentucky Derby triumph. No one believed that an unknown colt from Venezuela could win the Derby, especially after he lost weight during a nightmarish trip to the United States. The story of Cañonero II's rise to glory—written by Milton Toby and published by The History Press—is a gripping account you'll want to read again and again.
Native Dancer: The Grey Ghost, Hero of a Golden Age, by John Eisenberg
If you could read only one of the books on this list, this is the one I would recommend. Written by John Eisenberg and published by Warner Books, this lengthy and well-researched book details the career of Native Dancer, whose only defeat in 22 races came in the 1953 Kentucky Derby. It also seamlessly weaves in the story of Native Dancer's iconic owner, Alfred Vanderbilt Jr., to create a riveting book that might be my favorite racehorse biography of all.
Which horse biographies have you read and enjoyed?
Want more horse books? Here are some to add to your list:
30 Best Horse Books
Forgotten Favorites: Horse Books You May Have Missed
Finding Inspiration from Classic Horse Books