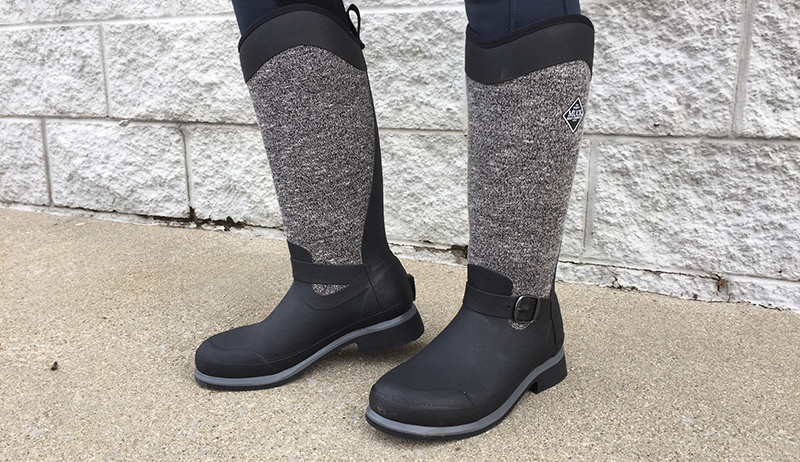 Liz Moyer
I am exceptionally picky when it comes to boots. I have worn the same kind of paddock boots for as long as I can remember and have even taken to using the old foot beds from them in my other shoes once I have worn through the soles. Therefore, when I tried the Muck Boot Company's Reign Supreme Tall boots, I was a little hesitant.

I wanted to give these boots the 'complete day-in-the-life' experience. It was a chilly morning, so I was excited to see how warm they were able to keep my feet. Their temperature rating is -20 to 50 degrees Fahrenheit, and they live up to that expectation. The boots went on at 6 a.m. and didn't come off until past 10 p.m.and even with thin socks, my toes felt never went numb.

Perhaps the biggest compliment that I can give the Reign Supreme Tall boots is that I forgot I was wearing them. Between feeding, turning out, and doing afternoon chores at a 40+ horse facility, plus a solid eight hours at a desk, any shoes not-up-to-par make themselves known. In the middle of cleaning stalls I looked down and remembered what I was wearing. It caught me a bit off guard since I thought it was too good to be true that Muck Boots could be this comfy. I also definitely dumped an entire water bucket on myself. And my feet stayed dry!

While I don't spend truthfully that much attention on what my 'get barn work done' outfits look like, I do try to appear at least somewhat put together. The Reign Supreme definitely completed my fleece jacket, winter breeches, and hair-shoved-into-a-hat look perfectly. They are surprisingly attractive and don't appear as clunky as a lot of other winter barn boot options. The buckle at the top is a nice touch and I would wear these out and about without a second thought.
Just A Couple Notes
You may want to bring a pair of shoes to change into while driving.

T

he rubbery material that makes the boots so useful makes them a bit clunky to drive in.

Don't wear them when they hay delivery comes.

Bits of hay clung to the top fabric section and made for a bit of an amusing surprise when I didn't notice the horsey snack clinging to them until the next morning when I was wearing them sitting at my desk in the office.
The Muck Boot Company's Reign Supreme Tall boots will definitely be a staple in my wardrobe this winter. I look forward to seeing how they hold up once the temperature really drops and there is snow on the ground, but I have high hopes that they will live up to all of their promises as they have done so far.
Pick up a pair for yourself or give them as a gift this holiday season.